To date, my most popular photo is of a classic British Red Telephone Box. The photo this is based upon  was taken on my second trip to the UK in May of 2005.  As far back as I can remember, I have had a fondness for a traditional British Red Telephone Box and was determined to get a good picture of one. I know I'm not alone in thinking this, but there's something about these old phone booths that immediately says Britain. I know that must be why you often find them in British styled pubs the world over.
Every time I spot a red telephone box I have to stop for a picture. Obviously I love them, but there's also that nagging thought that slowly but surely they will vanish from the streets. They are loved by many of us but phone booths are an anachronism in a world of mobile phones! It's a testament to how popular the design is that you still find them. In the states, our equivalent telephone booths have all but disappeared.
That first Red Telephone Box was the result of a competition in 1924. The winning entry was designed by Sir Giles Gilbert Scott.  There were a few iterations of the booth that culminated in the current design in 1935 to celebrate the silver jubilee of King George V.  This is the familiar design of the red telephone box that found its way throughout the United Kingdom and lands beyond.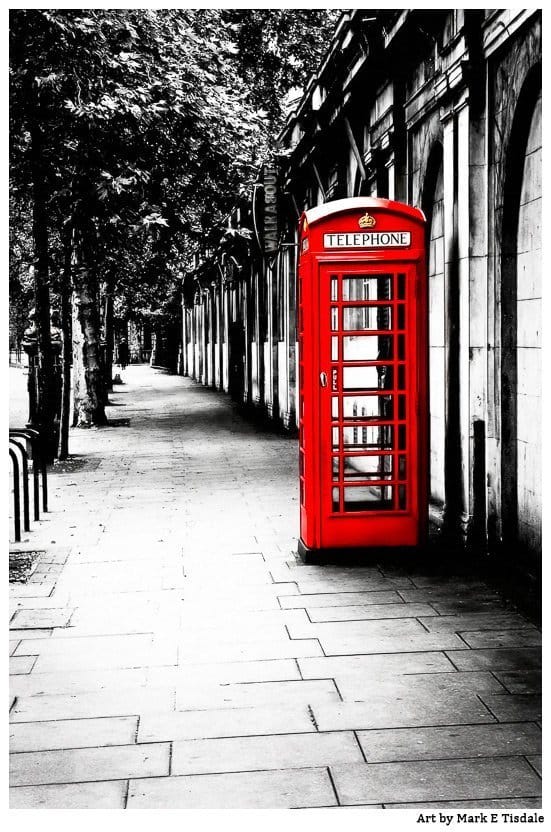 Find Out How To Get Your Own London Calling Print
This classic red telephone box was photographed near the Temple Tube Station near the Thames Embankment in London. To create this dramatic London Calling print, I converted the image to black and white. After that, I used a photoshop brush to remove the black and white layer stroke by stroke by hand just from the phone box in the picture to highlight that brilliant red.  This is a treatment that doesn't work for every photo but when it really works, it's a true treat. And year after year, this remains my most popular print from London and beyond. It's truly a hard act to follow!
Through the years, most of my artwork is done with the expectation it will be printed for wall art, but this classic red  telephone box art is one piece that I have also converted into a popular t-shirt which is also available.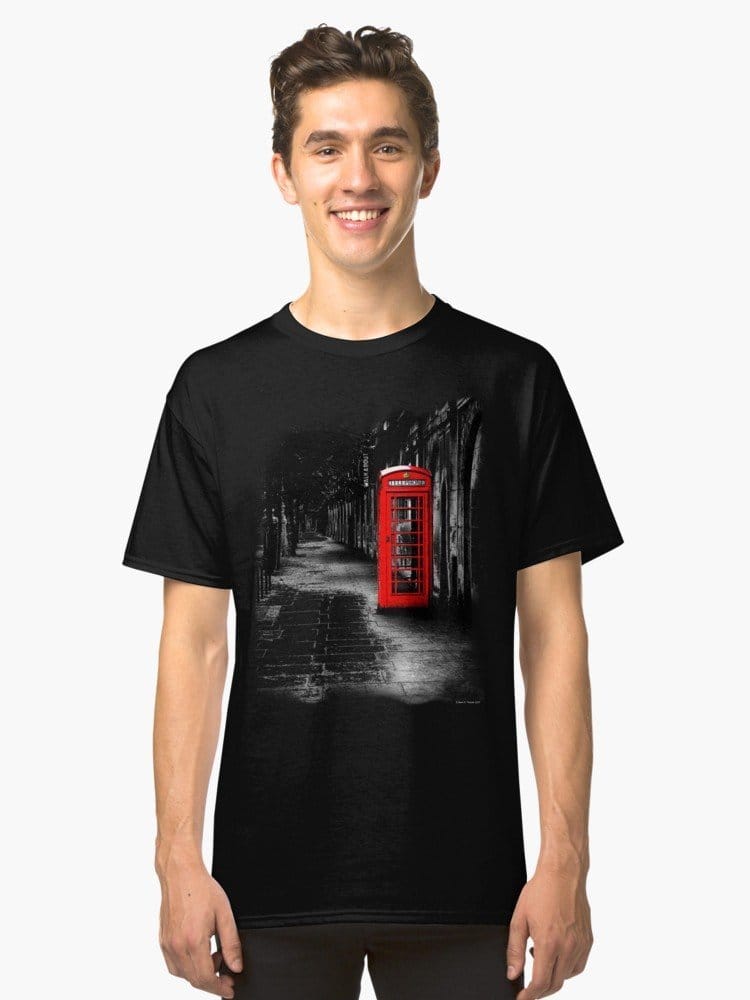 Find Out How To Get Your Own London Calling T-Shirt
Whenever I wear this red telephone box t-shirt, I tend to get nice reactions and people asking me where I purchased it. I have to say there's more than a small amount of pride saying that it's based on my own artwork!
If you enjoyed this London Calling Red Telephone Box art print, be sure to check out my other Telephone Box art. It's, as you can see, a subject near and dear to me!