The city of Cambridge is well known as the home of the University of Cambridge.  The heritage of the area is ancient, having been the site of habitation since well into pre-history.  It was occupied in Roman times as Duroliponte.  In Saxon times, it was Grantebrycge.  The name of the place continued to mutate through the ages, becoming Grentabrige or Cantebrigge with the river at the heart of it becoming known as the Granta.  Eventually, the name became Cambridge, and just the part of the River in Cambridge became the River Cam.  Even today, north of Cambridge, it's still the River Granta.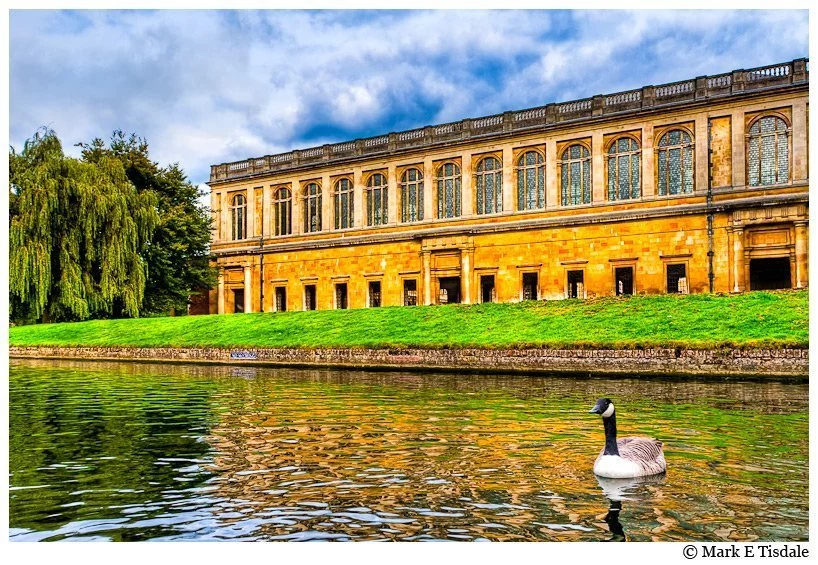 This photo was taken while punting on the River Cam.  Punting is simply gliding on the River in a flat wooden boat while someone propels it with a long stick pushed against the river bottom.  I say simply because it can be very amusing to watch an amateur try it and since boats can be rented without pilot, you can do this yourself.  My London Walks group gladly allowed someone else to do the piloting.  The views on the river are pretty gorgeous.  As pretty as Cambridge is, there's no doubt some of the best of the architecture is reserved for what they call The Backs.  This view is most likely one of the many colleges that form Cambridge but I'm not sure which one.  Loved the lone duck in this one.  He had been attempting to solicit food from us.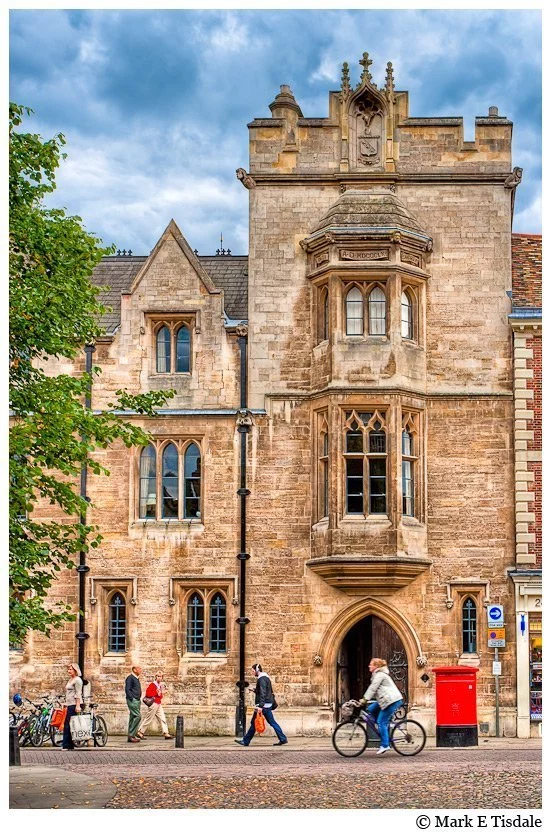 This photo is another little slice of Cambridge, a fairly typical street view of this storied city.  Gorgeous architecture from across the centuries.  And a ubiquitous bicycle!  Cambridge has the highest level of bicycle use in the UK, with over 25% of residents using a bicycle to commute.  This picture for me really reflects what you'd remember of Cambridge from your average day trip to the city.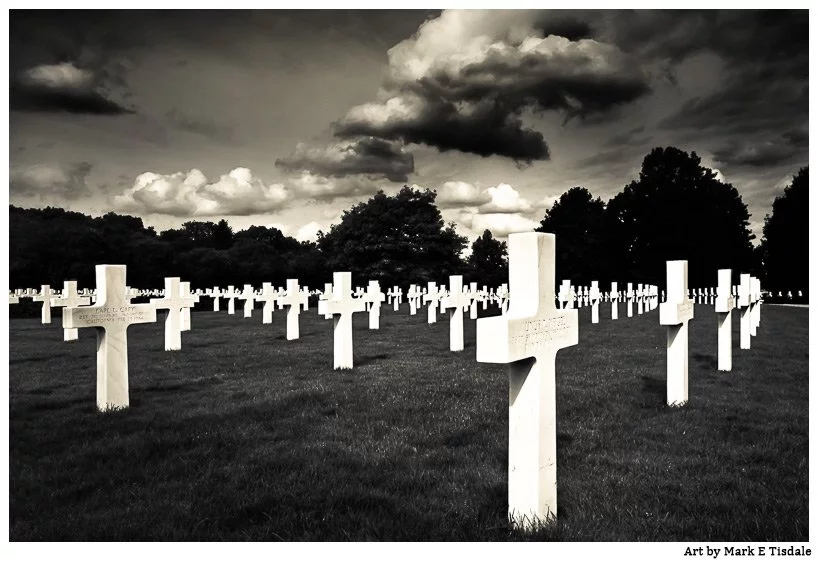 Now, my fellow Americans can feel free to tell me if this was my personal ignorance or not, but I had never heard of the American Cemetery near Cambridge.  One of our early stops, this is the pictured here is a place of burial for over 3,000 members of the American forces who died during WWII.  There's also a memorial wall with the names of the missing and a chapel.  As most war memorials tend to be, it's both a sobering and beautiful place with row upon row of white crosses in a park like setting.
For more prints from England and the rest of the UK, please visit my Britain Gallery.