Do you ever have the best of intentions and find time slipping between your fingers? I know I do! And for me, reminding people about calendars always slips through until I suddenly look at the calendar and it's December already! So, I'm doing good to post about 2014 Calendars in September! Which makes the superstitious pessimist in me cringe a bit!
Anyway, I usually post something about this on various social media but it's normally too late to really count, so without further fanfare, I want to let you know that I have already have some 2014 Calendars available. You can find the ones on offer in my Zazzle and Redbubble shops.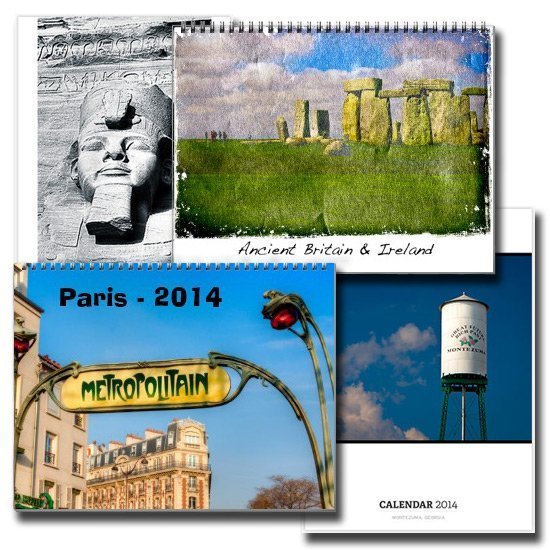 The 2014 calendars available at the links above are different products both in style and content, although there's a wee bit of overlap. You'll notice for instance that I have Paris and Italy 2014 Calendars available at both shops. I may add some more calendars before the year is out, but that greatly depends on inspiration for a theme.
That point actually leads me to the whole reason for this post. I'm not here to simply tell you 2014 calendars are available, but to let you know if you have your own idea for a theme you'd like, contact me with details. If you can pick a dozen pieces of my artwork, I can most likely assemble and make available a custom themed 2014 calendar for you!
I've made that offer in the past, but honestly it was always so last minute that there were few requests. Since I have my act together this year, I feel justified in pointing out that I well know 2014 still feels a ways off, but if you are thinking of getting a calendar for yourself or as a gift, it's not too soon to start thinking about it.
Be sure to give me a shout if there's a calendar theme crying out to be done, whether you want it yourself or just think it's too good a theme to pass up.