A Curious Case – Bring Your Creative Spirit
I was very excited recently to discover that the folks behind Fine Art America are expanding their product range. And first out of the gate is the addition of phone cases! If you'd like more information about their new direction, you can find the news here.
The only phone cases available so far are designed to fit your iPhone, but it has been said that more cases and other products are on the horizon.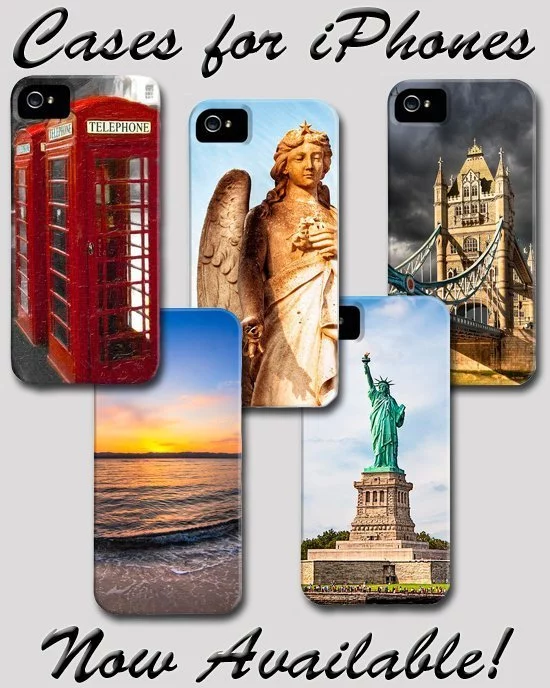 I'm really excited about the direction that they've taken with the new phone cases. As you may know, I've offered cases for iPhones on other print-on-demand sites before. And I've had a few pretty popular ones. The problem is that for those other sites, the artist must design each and every case individually. That's for every combination of images and phone styles, and new mobile phones seem to come out every three weeks and they are never quite the same as the last generation. It's a herculean effort to keep existing case designs up to date never mind designing for the latest and greatest phones! I've personally never found the phone case market quite lucrative enough to constantly keep up with the influx of new phones.
So, how are these cases different? You, the customer, gets to bring your own creativity to the design of your new phone case! Each of the cases in my illustration above are how I chose to crop my particular image for the iPhone case, but in some cases, you might choose to focus on a completely different part of the image. And you have the ability to zoom and move the focus of the image around to suit yourself! In essence, you design the look of your case using my artwork.
Things To Know About The New Phone Cases
Sometimes I have no doubt you won't be able to use the zoom and scroll tools to quite zero in on the part of the image you want to use. Sometimes the focal point of a particular image is simply too close to the edge of the image for this type of simple design tool. Additionally, for the moment, you can't rotate the image, although that's said to be coming soon. With all that in mind, you may find a particular picture that you would love on your very own phone case but you lack the precision tools to customize it as you'd like.
In that instance, just drop me a note with the details and I can most likely help you get the look you were after and make your new phone case available.
You'll find phone cases available now for the iPhone for many of the images I have available in my shop – hope you'll take a look and share with your friends who love to decorate their phones! If a case is not available for a given image, ask me about it!
Check Out My Shop For Available iPhone Cases
Check Out My Shop For Available Galaxy Phone Cases
Ed Note: At this time, I'm not offering phone cases through my Fine Art America shop. You are welcome to contact me if there's something you're specifically interested in.