Decorative Throw Pillows – Reviewed
Around a year ago give or take, one of the various print on demand companies I use started offering throw pillows. It wasn't really a product I ever thought of offering but I decided to give it a go. Since then, one by one, each POD seems to be adding them to their offerings and I've had some repeat buyers. So, when my main site started offering them, curiosity finally got the better of me and I decided to get a few, one for me and the others as gifts.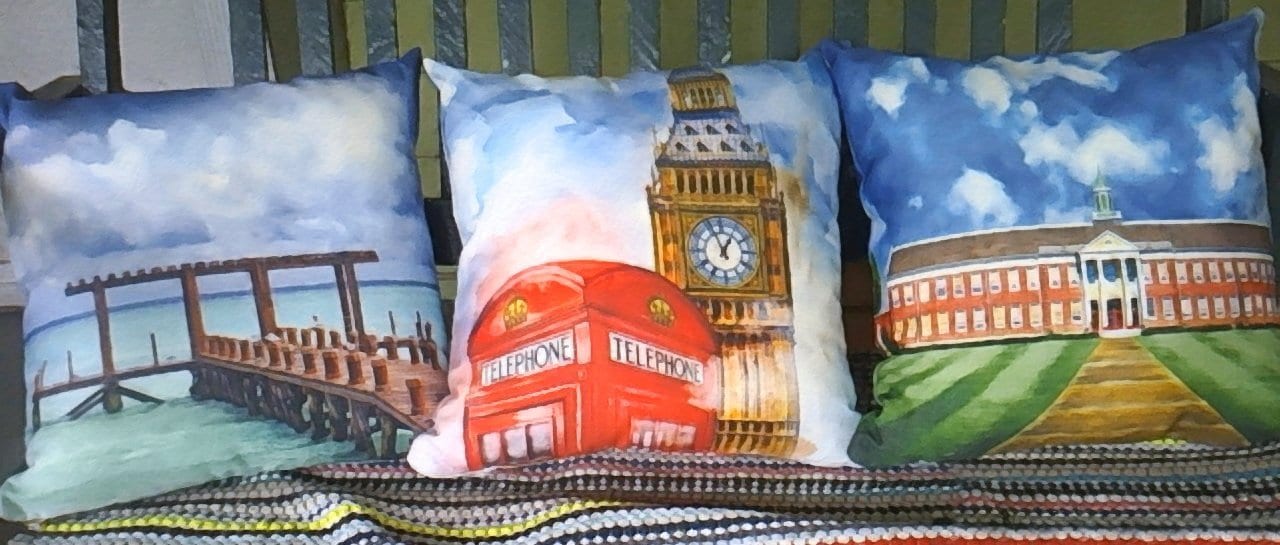 These are the three throw pillows I received last week. They were printed through Fine Art America, the folks who power tisdaleart.com – as one of the few to offer throw pillows printed on cotton, these were the ones I was most interested in trying out personally. I've heard that printing on polyester is more true to the original colors, but I'm a cotton kind of person. In time, perhaps they will add fabric type as a choice the customer can make, but I've heard nothing definitive about that.
I fully admit, I'm not a product photographer. I tried to take a photo of my pillows inside the other night and predictably had color balance issues with indoor lighting. I'm far more used to natural light in my work, so I figured I'd have better luck capturing them outside in indirect but natural light. And this is much closer to what they look like in person. Not quite spot on but I think close enough for you to get a feel for them. These are the small 14″ pillows.
In general, I'm very pleased with these throw pillows. I bought them with the inserts provided rather than hunt for pillow inserts locally and no regrets on that point. Both the printed cover and the insert are nice and soft. In fact, they are huggably soft. I had long considered these products as a purely decorative element. However having now held one,  these throw pillows can certainly be functional as well as pretty – a really nice revelation.
I've offered t-shirts for long enough to know that printing on fabric is not the same as printing on canvas or paper. Each material has its own quirks. And while there is no comparison between the thin fabric of a t-shirt and these throw pillows, the variability in colors holds true. If you were to look at the above as art prints in my gallery, the colors are a bit deeper. Neither my photo nor the throw pillow previews quite capture the effect of a three dimensional pillow with the design printed on it. There's just a tad more depth to the colors in the original work. That's the only way I can explain it.
The pillows are absolutely beautiful printed, mind you. I was actually surprised at the level of detail in the image. I didn't expect that on fabric. I often suffer from buyers's remorse to the point I really hate to buy anything, but I have had zero regrets at having purchased them since I opened the box last week. In fact, now that I have held them, I'm even happier to offer them to customers! I do wish it were possible to preview them exactly as they will look printed, but how on earth do you really portray a three dimensional object printed on fabric on a flat computer or tablet screen? By comparison, offering 'ordinary' prints for sale is so much more straightforward!
If you are one of the folks who has purchased decorative throw pillows from me in the past I'd love to hear your feedback either here or sent to my inbox via the form on this page.
If you would like to see the pillows I have on offer, be sure to head on over to Tisdale Art – Throw Pillows
Note: Since I wrote this review, FAA now only offers their pillows on polyester. I have not had occasion to buy anymore of them but the customers who have communicated with me have still been delighted with their purchases. I wish there was a choice of fabric but the bulk of the print on demand companies who offer this product only offer polyester now. Not sure why as I loved my cotton pillows but I'm happy to continue offering them on the available fabric. If you've bought one from my shop, I'd love to hear about your experience with pillows or any other printed product!