Photos from Galway & Around – Part 1
Ah, at last I can say I have been through all my photos from around Galway, Ireland.  I haven't added up the days, but if I didn't spend most of my time here, it was a close tie to the time I spent in Dublin.  I'm not sure if the photos capture the vibe in Galway, but it was somewhere I'd gladly go again.  In fact, I'd be surprised if I don't make it back one day.
My first foray into Galway was aboard the Shamrocker tour bus.  It was after sunset and it was snowing and cold, but I'd read about the Aran Islands and Galway in general and the general feeling there was enough to make me want to come back.
Our first morning out of Galway included a stop at a beach that for the longest time I could not identify: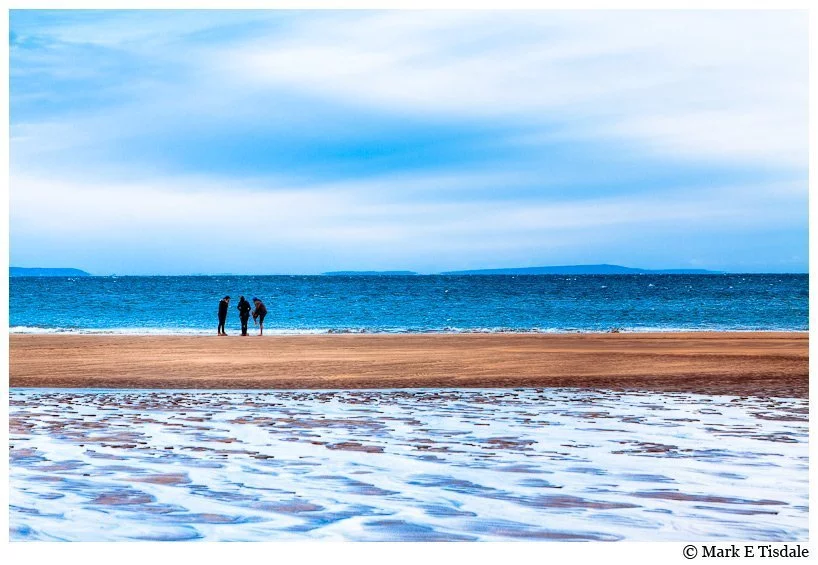 I looked at the maps for the longest time and despite knowing the stops before and after, I was unsure where this beautiful beach might be, but I was truly dazzled by it. I will never forget sprinting off the bus and whipping my camera out long before I reached the cold sea. It was one of a few stops where despite my best efforts, I was one of the last to re-board and slowed down the group. I do my best not to be that person, but I was so taken by the beach. And then it lived amongst my photos in anonymity for nearly two years before someone felt pretty sure it was taken at Fanore in County Clare. I've looked at photos of that beach and compared it to my shots and I think they are correct! I would love to go back and photograph this beach again some day at my leisure…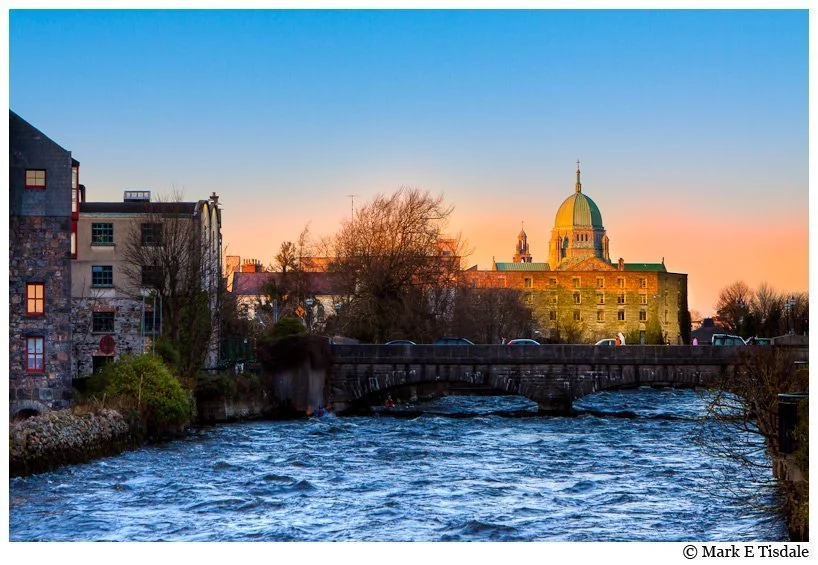 After the tour ended, I spent a little time in Dublin before returning to Galway.  By then, it was deep into the grips of the coldest winter in 40 years in Ireland. Yet, there is a quality to winter light, however short the day may be, that is really different than anything you get on the longest summer day.  Check out the above photo of the River Corrib where you can see Galway Cathedral's dome on the skyline. Even after several winter visits to Europe, I am still shocked by the winter light (when there is any!).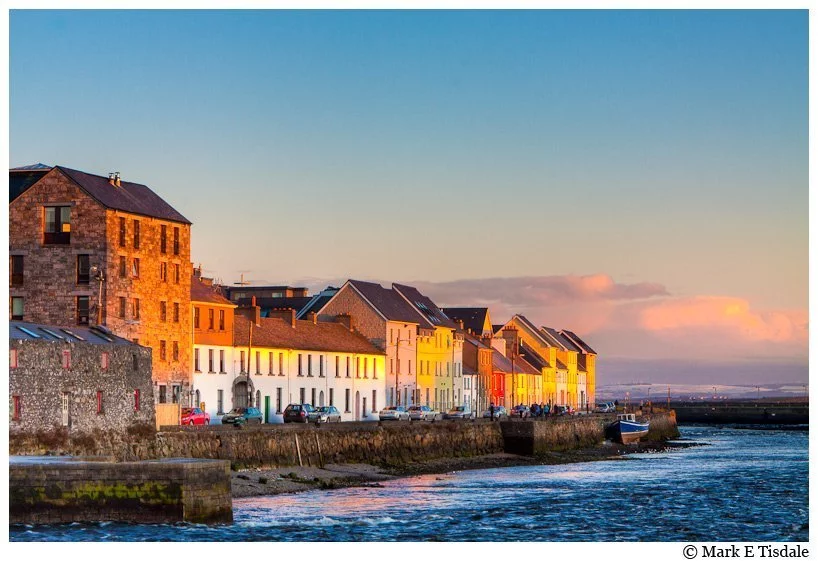 Pictured here is more of that special light. This photo is from the harbour area in Galway.  Check out those colorful seaside homes soaking in the last rays of daylight!   I spent a lot of time walking in this area as the harbor and bay are fantastic places to walk.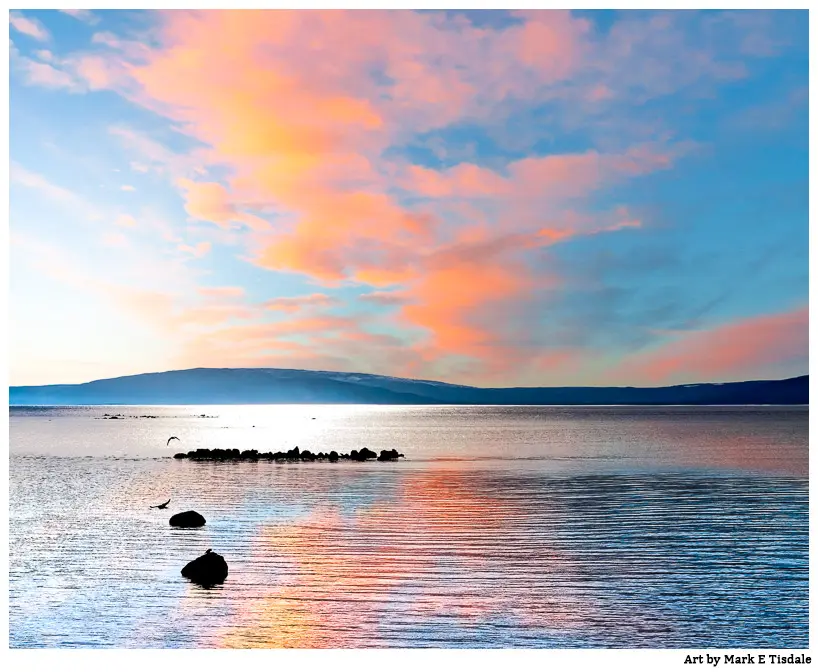 This photo is one of those chance moments of being at the right place at the right time. I was walking on the causeway to Mutton Island on a beautiful day when I looked over my shoulder and saw the clouds had this great warm pink and gold light bathing them and reflecting in the waters below. This beautiful scene begged to be captured. Isn't it a gorgeous view of Galway Bay?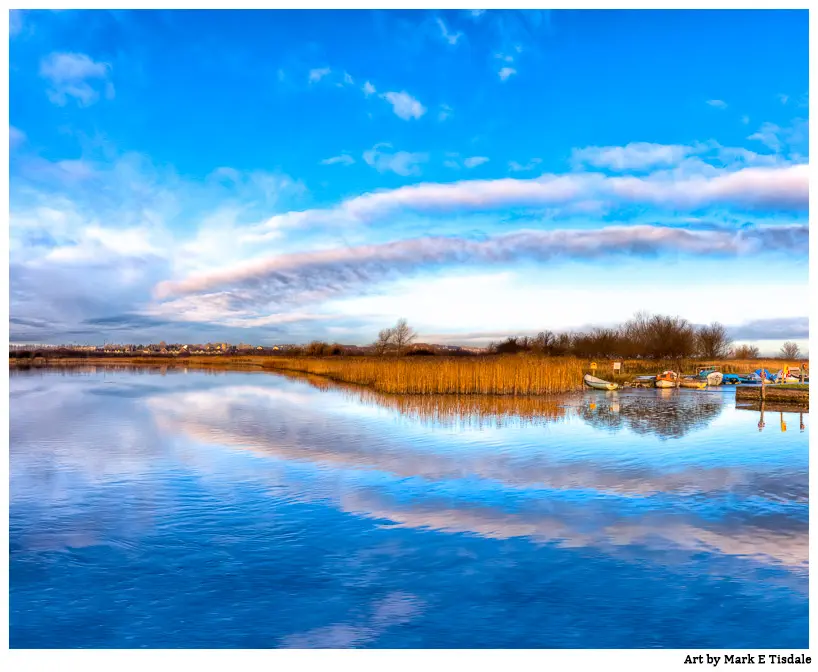 And this picture is more of the natural beauty around Galway – this is a bend in the River Corrib just above the Salmon Weir.  There's something about this that's strikingly simple. There are so few colors and lines in this photo, but the reflection of the clouds in the river is what truly makes this picture for me.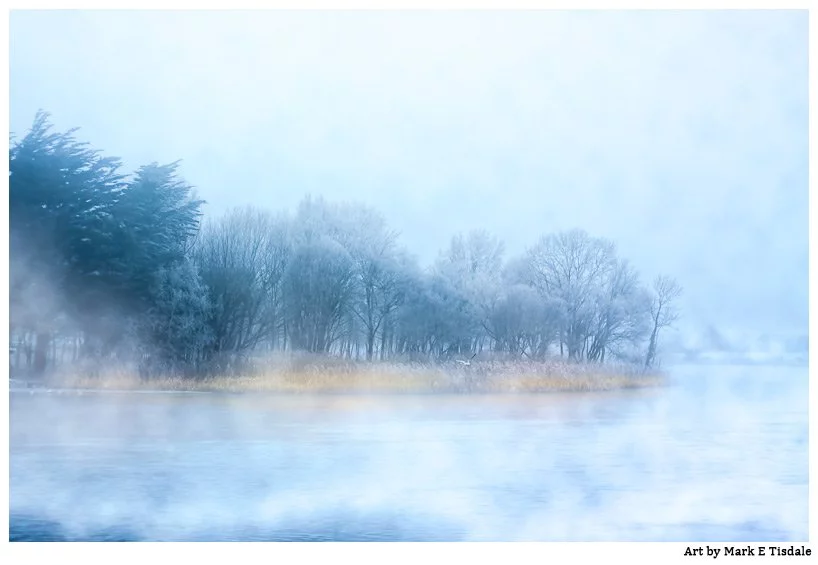 This photo is of same basic area on another day, a particular foggy day in fact!  It was really something to see, and I will always hang onto the memories of a morning departure from Galway after a night of icy fog had coated the city in white.  No photos of that sight, but the night before was pretty spectacular as well. The fog that covered the city was of that stereotypical pea soup variety that is discussed but so seldom seen.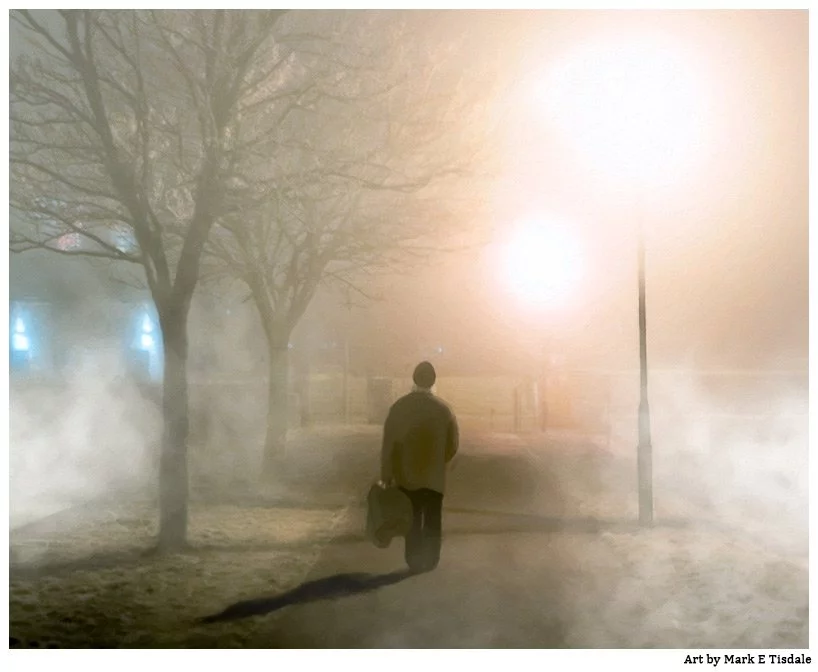 This photo is one last taste of the fog – there are many fog photos from that night, but this simple one of a man walking through the fog remains one of my favorites.  It feels like a frame from an old film or perhaps a mystery novel cover. That's the power of that thick fog to cast mystery on the simplest of images. In the end, I chose to take this picture in a photo-art direction with textures as I felt it deserved this treatment.
Due to some mystery of WordPress I can only guess at right now and don't want to spend a great deal of time investigating, if I publish this all as one large post of pictures, it publishes as a blank post.  So, I'm making this into a two part post.  Part Two shouldn't generate an email message to subscribers, so follow the link to part two below when you finish part one!
Or just jump straight to the Irish art gallery for more than just my choice of highlights.