Sales Stats For Fine Art America Artists
I've been an artist selling my work on Fine Art America for the past decade and one of the most common questions I hear is about sales stats for Fine Art America artists. Or more specifically artists want to know how their customers found them. And it's an incredibly valid question.
I frequently read comments from artist who are basically flying blind. Even if they have a good sales record, they often don't know what's behind it. Like the baseball player who wears his lucky socks to each game, they are repeating past strategies that they believe worked. But in truth they often don't know what the real secret behind their sales is. Is their hard work promoting their work paying off? Or, more worryingly, would they have made just as many sales sitting on a beach enjoying the sun?
This post is very specifically aimed at helping artists find their sales stats for Fine Art America.
What Sales Stats are available?
If you're an artist who has been selling on Fine Art America or their sister site Pixels.com for awhile, then you likely know on the main sites, there's precious little in the way of stats at all. Sales information is limited to the city where the buyer lived and what product they specifically bought. You can also look behind the scenes and see how many visitors you've had (across all the sites) which means very little. It's been suggested the owner of the site may be looking at expanded sales stats for sellers in the future but it's a rather small operation. There's no way of knowing where on the list this enhancement may be. It could happen next week or it may not happen for years (if ever).
But you've hopefully noticed that if you have a paid membership to the site (which you need to have more than 25 images) then you also have your own "fully-functional e-commerce website." You can see my artist site here if you haven't explored this feature yet. Basically this artist website is a paired down version of the main sites with similar product pages and a self-contained checkout. There's not a lot of customization you can do beyond the front page, but there are two reasons you should direct your potential customers there. First, no one else's artwork is there. There's less chance a potential art buyer get lost looking at competing sellers. And second, you can use Google Analytics to get sales stats about visitors and buyers to your individual artist website.
What About Sale stats for the main site, you may be asking yourself? Well, unfortunately, buyers who find your work there are an utter mystery. Unless Fine Art America/Pixels expands seller sales stats in the future, it will remain that way. But if you're efforts are promoting your individual site, then at least you can track the results of your work. Since I can't know any details about sales on the main sites, I consider those buyers to be people who would have bought my art without my efforts. This may not be completely true, of course. If you're putting your name out there, a customer might search for you and find your portfolio on Fine Art America. You may have done a great job promoting your brand but when the time came for them to purchase they couldn't remember how to find you. and found you on the mother site. I'm sure that happens but since those sales stats are information I can't know, I consider those sales happy accidents. What else can you do?
Setting Up Google Analytics
If you've been on Fine Art America/Pixels for awhile, you may have long since done this. If not, If you haven't set that up already, you'll want to register for a Google Analytics account at Google. In the process of opening your account, you'll be provided with a string of code to install on your site. You only need a tiny part of that code – your Google Analytics UA code which will be in the following format – UA-xxxxxxxx-x – where the x's are numbers.
After you've found that number, log into your artist website and add the UA Code. When you log in, the Behind the scenes page is the first page you'll see. Scroll to the bottom where you'll find an icon to click. See the image below for an example. On the next page is a box to enter just that code with no other script needed.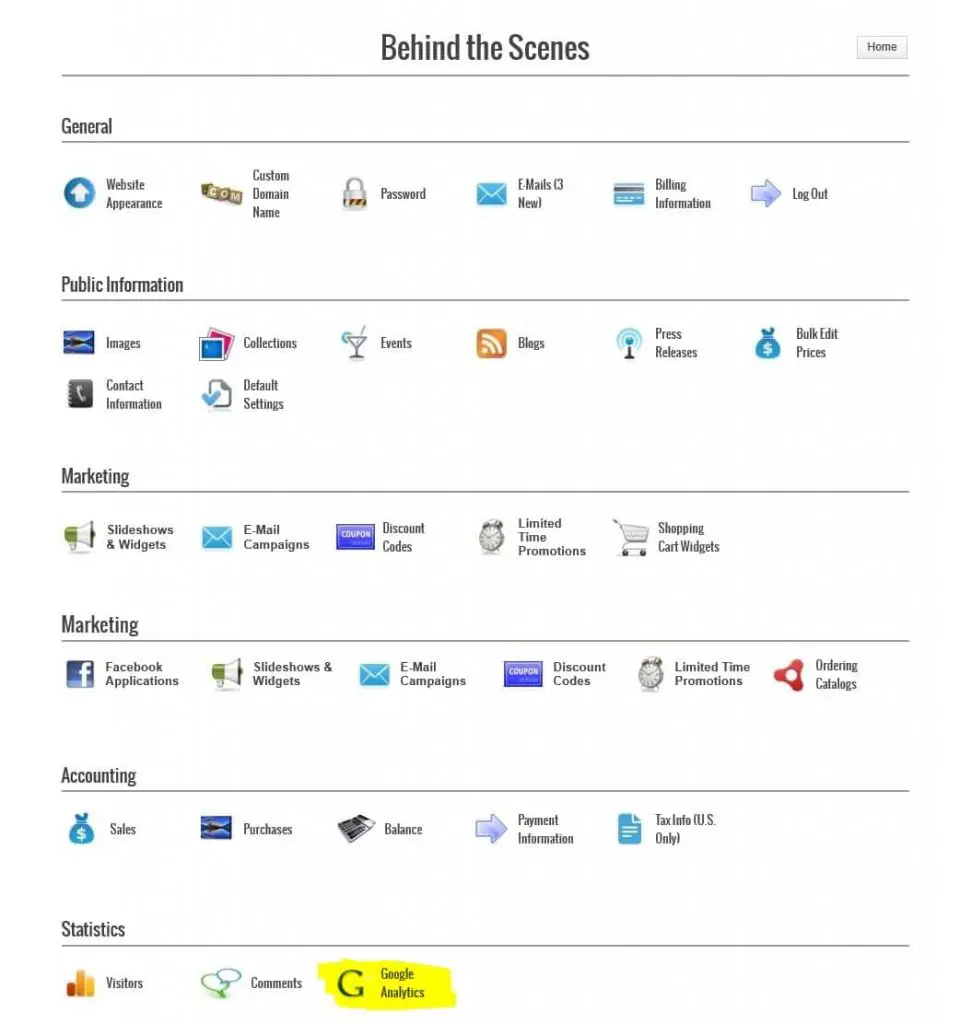 I've done this, but where do my sales come from?
If you're like many of the artists I've encountered, you've done that years ago but you find Google Analytics incomprehensible and don't know where to even start. And believe me, I understand! I've often said that Google Analytics needs an Easy button. It is complex, there's no question about that. There's a lot of data there about customer behavior from what type of device they used, the size of their screen, and much more.
I was on the site for years and like many became convinced there was nothing of value in the stats. I went to the main page on Google Analytics, I saw how many people visited. I saw how many were from thus and thus place. Or how many came to me from search or social media, but I couldn't tell who was buying, how they found me, or anything else that seemed to matter. Without that information you could even make false assumptions. Just because most of your visitors came from X source, that doesn't mean they are the people who bought your work. What if hundreds of visitors came from X source but none ever purchased. While only a handful of visitors came from Y source but they were highly likely to purchase. Clearly you'd want to work on increasing or duplicating your success there! But without sales stats, what do you do?
If you're like me, I simply didn't know where to look? What was the key to all these numbers? I can credit another seller on the site, Alexis Birkhill who posted in the forum at Fine Art America about Google Analytics in the past. I don't know much about his background beyond his art, but he mentioned the importance of creating goals in Google Analytics. You can read one of those helpful posts in the forum here. I'm not going to re-write his information so I really would recommend you go and read that post with special attention to any of his posts in the thread as that was the information that got the juices flowing for me.

Goals should ultimately be aimed at stats that are important to you. They can be simply looking for people who added to cart, people who purchased, or even people who sent you a message. In my case, I set up goals that followed the checkout path. This is of course subject to change and has changed in the recent past, but currently a customer who checkouts follows this path. First they land on shoppingcart.html > then new_checkoutstep1.html > new_checkoutstep2.html > then finally checkoutsuccessful.html
Even without setting up goals, once you know what pages a customer visits in the checkout process, you can get some information about buyers and how they came to your site.
Specifically, in Google Analytics go to Behavior > Site Content > All Pages
Once on that page, you'll see a list of all the pages on your site that visitors have visited. But you want to look at a smaller subset and there's a little search box on the right where you can enter in part of the URL and narrow down what pages are displayed in the data below.

I've blurred out the pertinent data for my site, but I've also highlighted a few things. First the search box I mentioned above. And also the "Secondary dimension" option. I'll cover that briefly in a second. But first I'll also mention depending on how many sales you have on your site, you may want to expand the date range ton the top right of the page to see a larger amount of data. I think the default is for only the past month. But you can extend this quite some ways. In my case, I'm current directing customers to a Shopify store I started using so I needed to move my dates back to a time when I was actively promoting my Fine Art America provided site. In the example If you expand it as far back as far as you would expect sales data and still don't see any results but you've had sales, that means they did not check out on your artist website.
You'll also see in my example, I fully typed out checkoutsuccessful to only see the people who ultimately purchased. You can also type just checkout, and you'll see the earlier steps in the checkout process as well. Or you could type shoppingcart to see people who reached the first step. It's worth mentioning that most likely everyone who started checking out will not finish. Maybe they got distracted, maybe they had second thoughts. Maybe they had sticker shock on shipping. It really could be anything, but the term for this in eCommerce marketing is abandoned checkouts. You can search that term in your favorite search engine for more information.
Okay, back to the secondary dimension. I'm not going to go in depth on this, but click it, simply explore the options. For instance, if you look you'll see the words "acquisition" – this is how people who visited a page found you. So, if you choose source under acquisition, and you are looking at checkoutsuccesful for instance, you'd see how many people purchased and what site they visited before coming to your site and buying. An important piece of data for your sales stats, eh? But there's a lot more than that under secondary dimension and if you're like me you will spend quite some time looking at the various stats you'll find here.
Sales Stats Wrap Up
Hopefully that was just enough to get you started. I'm going to suggest that if you want to examine your sales stats in more detail, you should really spend some time looking at tutorials for Google Analytics online. There's tons of free content about understanding your visitor and sales stats in various blogs, forums, etc. I'll also mention YouTube. It's my experience that a lot of us in the art world are visual learners. I find that I get more from watching a video of someone explaining and showing. Here's a YouTube search to get you started.
This really is just the beginning. I can tell you a few other subjects you should consider exploring in your journey to understand the sales stats available in Google Analytics. First is that you're likely to see that many of your sales won't seem to have a source. Rather than coming from XYZ site or social media, you'll see the word "Direct" as the source. A better word for that would be unknown. For a host of reasons, sometimes the source is simply not known. Google Analytics shows this as Direct as if the customer typed out your URL and came there on their own. And some might have. But many more probably clicked on a link in an email or followed some other path that doesn't provide referring data. For this reason, you might want to look at using special links when promoting your work. There are two ways to do this, one is using what is known as campaign tags. Google even has an easy little campaign tag generator. Others use shortened URLS to track their promotion efforts. Whichever way you use, you'd for example share a link with campaign tags on Facebook posts, another on your twitter posts, etc. This provides more certain tracking but may also mean you need to keep track of what links you shared where.
Hopefully that's enough to get you out there searching for more in depth tutorials but also provided you enough information to see what's working and what's not in your efforts promoting your work! Good luck and feel free to ask any questions in the comments!
NOTE: The core concepts here are unchanged. However, Google is in the midst of changing over to a new version of Analytics and Fine Art America/Pixels has not made the necessary changes to use the new version of the code. I suggest visiting their forum for any help in setting up that side of things. I will update my post somewhere down the road but I wanted to make it clear that part of my article is not entirely correct.