Shopify Experience As An Artist
Discussing my shopify experience as an artist is a topic that has whirled around in the back of my brain year after year. And it was always a complicated topic. Do I just give tips and tricks I've learned or a full review? I'm coming up on four years with Shopify now and I think I've finally settled on a discussion format explaining both why I moved there and, spoiler, why I'm probably about to exit stage left.
This April I will have been using Shopify for four years. But four years ago was actually my second attempt with Shopify. I had tried it once before but felt the format for art prints was a little clunky. Shopify has a limitation about how many variations a given product can have. So offering the same artwork on multiple items requires multiple products. And the more products you offer for a given image, you end up with a very large store with even a minor amount of images.
Motivating Factors for Shopify
Before Shopify I was using Fine Art America's personal website for premium members as my main shop for potential customers. I was linking to it from my WordPress website. And while I love their products, I was not thrilled with the presentation of my work. There's a long technical explanation about color spaces that is too far off topic but despite loving their prints, I had issues with dull previews and sometimes color shifting in the image previews.
I also wished that I could edit what shows on the site. I wouldn't mind offering some products on their main site but wish'd I could not offer them on my personal store. For instance there's no actual difference between their "art prints" and "posters." On the main site, this is two different things a customer might search for on the web. But it's also the source of frequent customer questions, as they try to figure out what the difference is since the papers and prices are the same.
I would also love separate descriptions to differentiate the shop from its counterpart on the main Fine Art America marketplace. This is why Shopify was a good fit. I was able to use their Shopify app and sell the same products but control how my shop actually looked. Those were the pros to using their platform that I was looking for from the outset.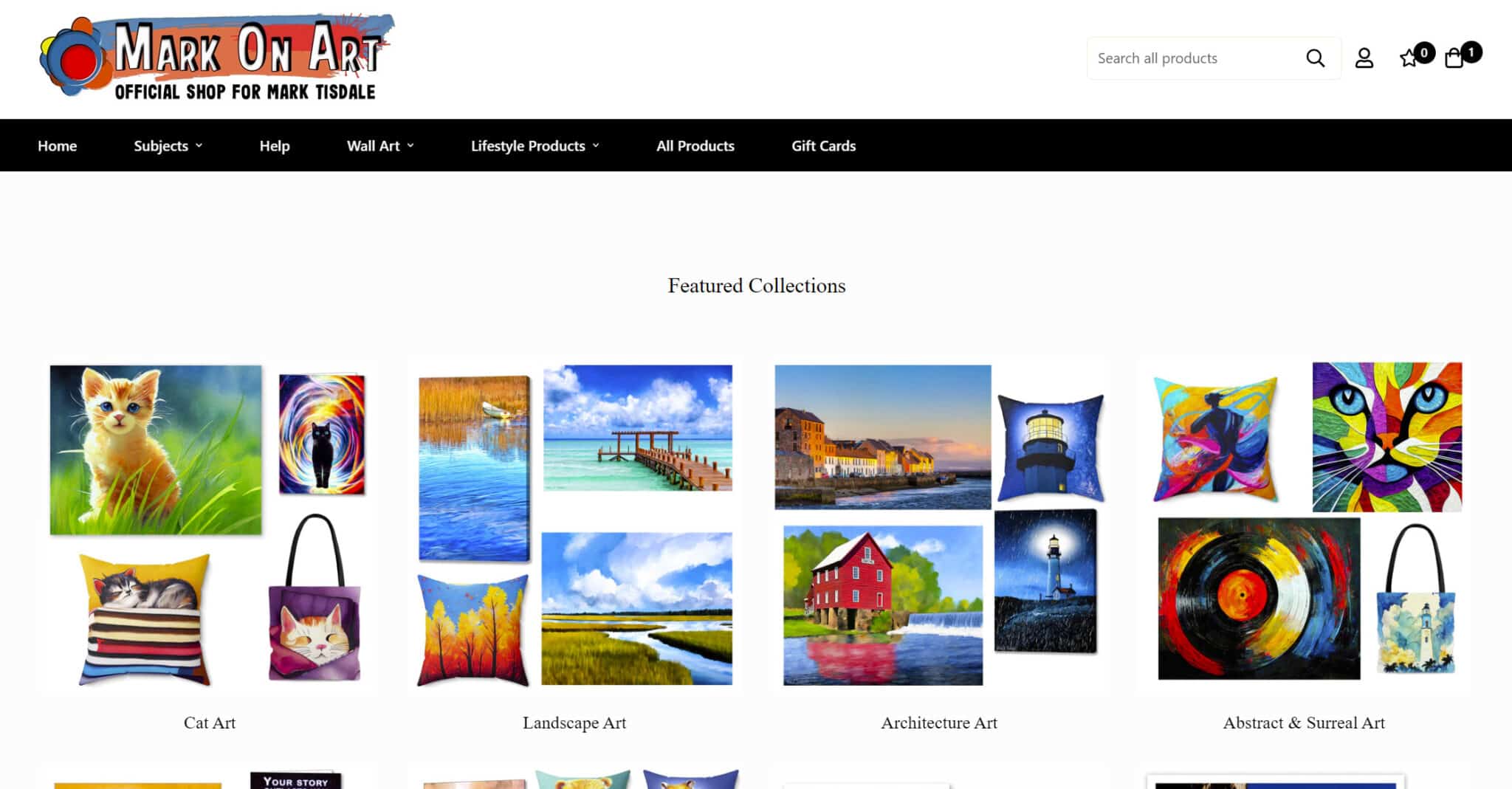 Reality is A Mixed Bag
What came with that though was a lot of additional headache. I could add a new product on Fine Art America, write one description, tweak how it looked on different products and boom, done. On my Shopify store that might mean needing to setup four or more individual products, link them to each other, etc.
And while dealing with general customer questions up front was a pleasure most of the time, handling shipping issues, orders that failed for one reason or another to go through, etc. was migraine-inducing. As the sole point of contact, it was all me if there were ever problems. And we won't even discuss the extra hassles of sales tax collection and other business matters that were expected but weren't part of my life beforehand.
Combine that with life that was going on in the background, trying to cope with Mom's dementia unfolding in front of me every day. I really am not sure why I didn't pack it in sooner. I guess at my core I'm a stubborn soul… It's not like I didn't know there were cons going in to the adventure but they began to accumulate.
Time For A Change
The last year coping with the roller coaster of my Mom's health, having to put her in a nursing home, my nerves are frazzled. And I've just finally hit the point that I think I'm done with Shopify. I already mentioned to a friend last year that I was contemplating shuttering my Shopify store. So this isn't entirely out of the blue. But as with most things, there were things were contributing factors. The last straws have come in the past months, Shopify's raising of transaction fees, raising of the monthly shop fee, and finally, as crazy as this may sound at first blush, the change they made to require backup shipping rates.
That last one was the nail in the coffin for me. And it requires explanation. One of the moving cogs to keep the hamster wheel working in my Shopify store was that Fine Art America/Pixels could calculate shipping and transmit that information back to Shopify on the fly. For full transparency, the shipping that a customer is charged is the same shipping price that I ultimately pay to Fine Art America to ship their item to them. It's not coming out of my proverbial basement. Fine Art America has a number of vendors around the world. In the US alone their are probably a half dozen locations that any given product could be shipped from. And depending on how large the item is and where's headed, the price could be highly variable. Because the wall art options are a variety of custom sizes, for better or worse there's just not a standard shipping rate. So if a person puts a 48×60 canvas print in their cart, Fine Art America receives the item information, and shipping destination and calculates the shipping price on the spot and sends it back to Shopify which then shows that amount to the customer in checkout.
Shopify in their infinite wisdom decided that in the event this system fails, they should calculate their own backup shipping rates. Despite the fact they don't know the exact size of the package, the location it's shiping from or what I will ultimately be charged. I was alarmed when I saw the email about this wonderful new feature because it said it was mandatory that they calculate backup shipping rates… uhm… it is hypothetically my business right? How can you dictate that to me? It should be my option to simply lose a sale rather than be left in a situation where I either have to eat the shipping cost if they miscalculate or cancel the customer's order. I raised that issue with them and after several messages was basically told that was it, no option.
By itself, I might have just shrugged and hoped it didn't happen often, but combined with already feeling like the whole system was a personal headache, I am pretty sure I'm going to pull the plug on this adventure before my next renewal in April.
So what are my feelings. Should you try Shopify? I don't have a decisive answer. My gut feeling is if you are a visual artist with a even modest sized collection of work, it may be more trouble that it's worth. The repetition alone of creating product after product becomes time consuming. Finish a new image, create a few products in your shop? Ten? Twelve? I mean, it depends on how many options you want to present a customer with. If you had a limited number of work you planned to offer, maybe. But I don't consider myself to be prolific and yet after four years I still have not completely migrated everything to Shopify. And for that I'm kind of glad.
Wrapping Up My Shopify Journey
I will regret not knowing who my customers are anymore most of all. That has been the one shining point that has held me hostage. When a customer buys from me on Fine Art America, or Society6, or Redbubble, etc., there's very limited information about that sale. I know what was sold and possibly what city, but that's it. I don't know that it was Sue in Cincinnati. I don't have her email address to contact her and make sure all is good with her order. I'll miss that aspect of things most of all but I think for my sanity it's time to change gears.
If you have questions you'd like to ask about my experience, you can leave a comment below or send a message. If there's enough demand I'd still be willing to write some tips down that might help others. That was a topic I'd long intended to write but never got to it.