Williamsburg, Virginia – Art Prints
I traveled to Williamsburg, Virginia, in 2006, the year before the 400th anniversary of Jamestown.  I definitely do want to go back at some point. They were building a huge new museum at Jamestown that was to be opened in time for the anniversary.  A lot of people forget that in our American history, the pilgrims weren't first.  The first permanent English Settlement was at Jamestown, and a lot of colonial and revolutionary history is to be found in that little stretch of land from Jamestown to Williamsburg and Yorktown.
Founded in 1607, by the early 1700's the emphasis had shifted to Williamsburg, which had become the new colonial capital of Virginia.  And Jamestown slowly vanished from the map, its exact location actually being lost for many years.  Williamsburg eventually became something of a backwater too, but the small town including some colonial buildings survived into the 20th century.   In the early 1900's, a reverend, Dr. W.A.R. Goodwin became became Rector of the local Parish church, parts of which dated into the 18th century.  He led a successful effort to restore and preserve the church.  He was transferred to upper New York state where he lived for a number of years before returning to Williamsburg in the 1920's.  Seeing the number of deteriorating colonial buildings and fearing that there would soon be nothing left of them, he began a movement to save the historic core of Williamsburg. He managed to get the interest and financial support of John D Rockefeller, JR.  Much of the town was purchased and everything was restored to its colonial appearance.  Buildings that were original were restored and other buildings that had been lost were rebuilt in what was believed to be their colonial appearance.  Colonial Williamsburg became both a story of preservation and a large living history museum that attracts visitors by the droves each year. To my (untrained) eye, Colonial Williamsburg is a real slice of Colonial Americana. Without guides, it's hard to determine just what is and isn't original there.
During that brief visit in 2006, I came away with several pictures that are, to me, reflective of the timelessness Americana of the town.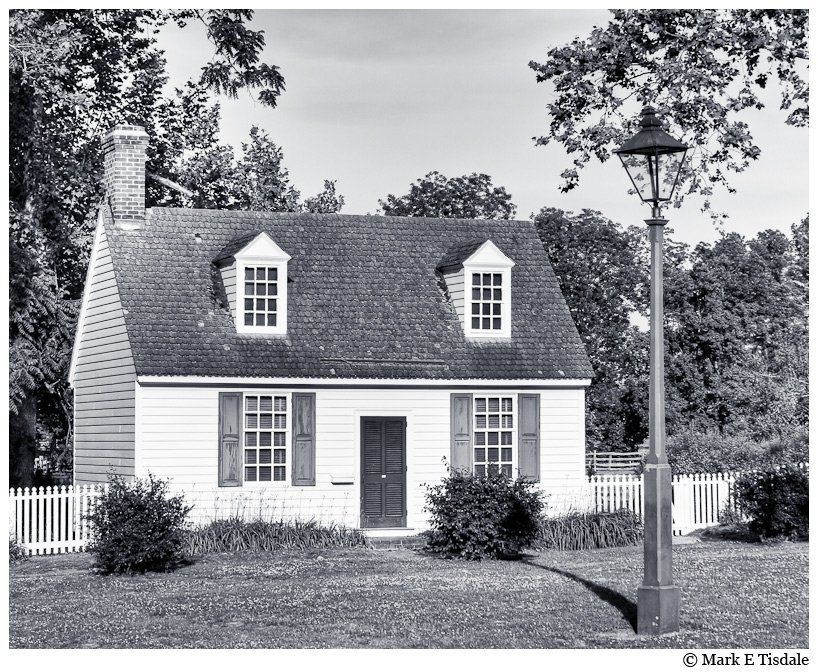 As many may know, I have a real yen for small houses, and this one really attracted my attention on the first day I walked around Williamsburg. I could not find anything specific about this little home other than it's part of the property of Benjamin Waller, onetime notable of Williamsburg.  The actual home is adjacent to this small cottage.  I'm not sure what it was used for historically.  Still, this picture is the epitome of Americana to me.  This little house with it's picket fence and little dormers would once have been the American dream, before people decided they wanted to live in McMansions that filled their tiny lots.  I hope we may boomerang back to this dream.  I've been looking at lot at small homes.  If I ever buy somewhere permanent again, I'd love a little house like the one pictured here, the once upon a time American dream.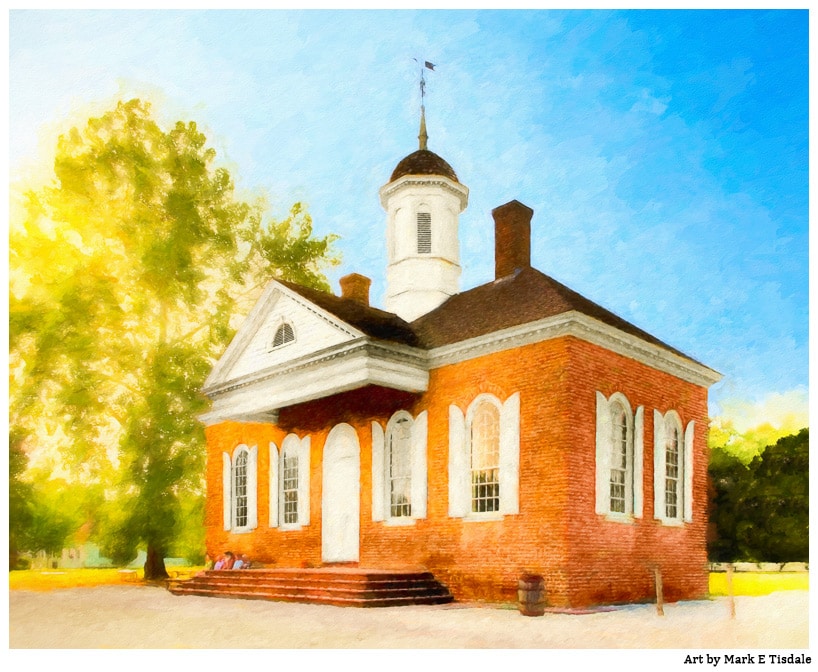 Happily, the building pictured here, the courthouse at Williamsburg is actually one of the surviving structures from the Colonial era.  Completed in 1771, it was the courthouse for the community for over a century and a half before being restored and becoming part of the living history exhibit at Colonial Williamsburg.  Amongst the long history that took place here, the Treaty of Paris ending the Revolutionary War was announced here. This little building is quite a treasure!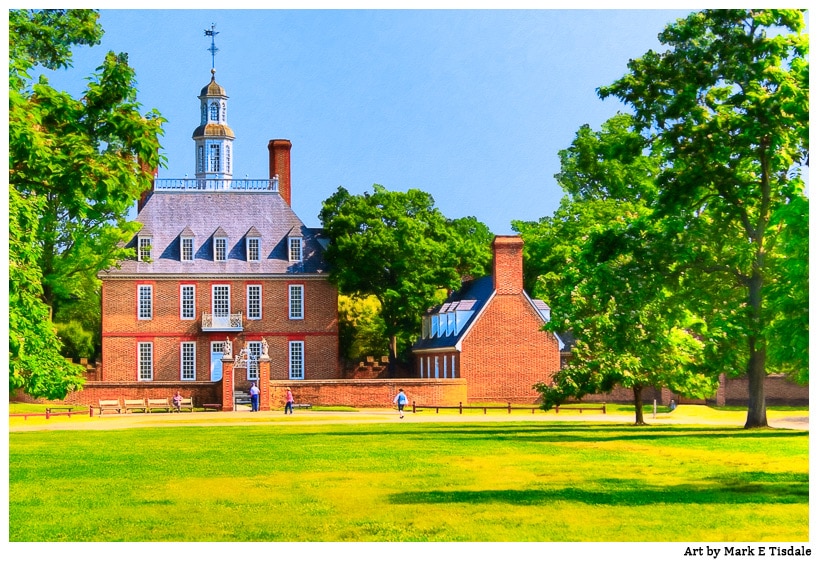 Pictured in this color photo is the Governor's Palace for the Governor of Virginia during Colonial days. Unfortunately by the time  the current living history museum was established, this building was long gone. This building was built on the original site and used the original plans, methods and traditional fired bricks to recreate what to most of us would appear to be a spot on re-creation of the original. Despite the original being gone, I can attest that the inside gives you an amazing peak into the world of a colonial governor in pre-revolutionary America.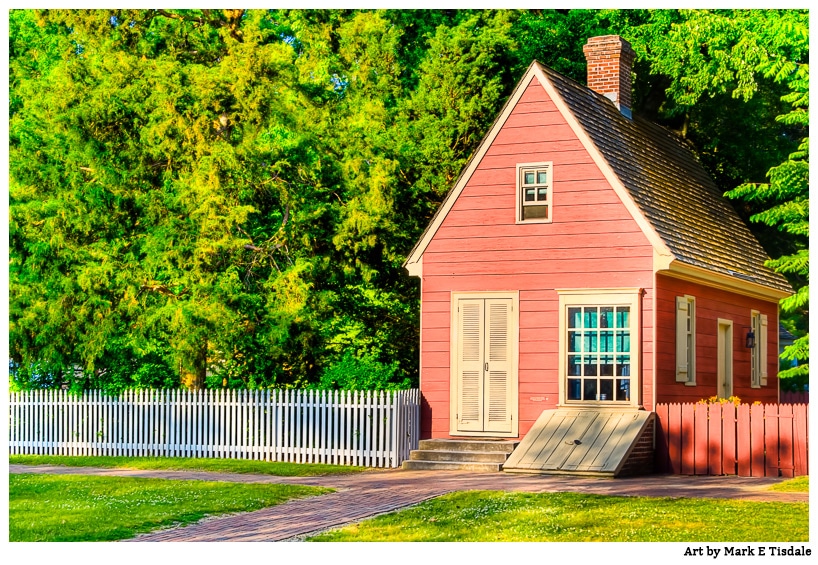 When I first saw this little pink house on Waller Street in Williamsburg, I loved how tiny it was and the color of it!  So charming!  We did establish that I have a thing for small houses, right? The neat thing is that the pink house int this photo is actually one of the original colonial houses in Williamsburg, rather than a reproduction.  Apparently the first records of it are when it was purchased in 1778 by Isham Goddin, so it's now known as the Isham Goddin Shop, even though he only owned it a few years before leaving Williamsburg. When I saw this place, I didn't think it was original, to be honest. I thought the bright pink might be a statement of someone's individuality in this little town that's a mixture of privately owned homes and property owned by Colonial Williamsburg. Finding out my photo was of an actual colonial structure and this lovely pink was authentic was just icing on the cake.
Hope you enjoyed these, please let me know in the comments! And if you'd like to see more photos from Williamsburg, please check out this gallery: