Unless stated otherwise, all art prints offered through my website are fulfilled by Fine Art America/Pixels LLC, one of the leading print on demand companies in the business. They are well known for their attention to detail, museum quality prints, and their generous 30 day money back guarantee.

In my years of offering prints through Fine Art America, print returns have been very rare.
At the same time, I rest easier at night knowing that their no-questions-asked policy is in place. If there's an issue with the quality of what you receive, they'll resolve it. If you simply change your mind, you can still return your print. I love knowing that those of you who purchase my prints are happy with your artwork!. Allowing Fine Art America to handle the task of delivering brilliant prints allows me to concentrate on creating my art.
In fact, when I need my own work printed, I also order them through Fine Art America! I am always thrilled when I open their sturdy packages and see their fabulous work, and that's why I am confident that you will love yours prints as well
It's one of the highest compliments when people bring a piece of my art into their lives and I want to hear that you are as happy with your choice!
I just dropped it off at the framing shop on Friday and had a look at it…. it's absolutely beautiful. I purchased it to replace a painting of Paris and to be honest the way that you have captured Dublin on the river at night makes it look more beautiful than Paris. Beautiful photo, you are very talented.
Received my red phone box cards today. Thank you – they are lovely. Look forward to purchasing from you in the future.
Originally I purchased these cards to give for Easter, but they are so beautiful I decided to frame and keep them for myself.
Mark Tisdale's work is excellent.
The cards are very high quality. Images are sharp and colors are vibrant!
I took the photograph of the house to be framed and the young lady who helped me choose the mats and frame was so taken with the photography that she asked for your name so she could see more on the web.
If you hear from an Erica I want a commission!
I just concluded my ordering of 11 metal prints of your Atlanta images.
Thanks for your help and artistic talents!
Got my print today – Beautiful! Thanks! : )
Can't wait to get it framed and on the wall.
…it is a surprise for my daughter when she comes home from college.. …and I can't wait for her to see it!!
Nice surprise for her finishing her first year and doing amazing!
Best part of my day = getting my prints in the mail!!!!!!!!! Yahoo!!!!!
Absolutely delighted! They are perfect!
I framed the picture of our house and put it under the tree for Sid.
He loved it!
It was my father's birthday present. Thank you Mark. It brought back wonderful memories for him.
The print is absolutely breathtaking! I immediately went and had it framed, I just couldn't wait to display it.
I'm excited to show off your work to my friends and family. You are one of the most talented photographers I've seen and it's a pleasure to own your work.
…thanks to Facebook and finding Mark E Tisdale, a special print will become a memory in my parents' home this Christmas…
Your purchase through this site is for an art print that I expect you will display and enjoy in the setting of your choosing, be it home, office, or other.
I believe the following is directed at a very small minority of people, but purchase of a print does not entitle the recipient of the print the right to publish, copy, license, or otherwise make derivative versions of the artwork. If you are interested in using my work for other purposes, please send me a message and we can work out the details of your project.
A Brief Note on Monitor Calibration:
Many of us don't realize that just as we may not like the color on one TV versus another when shopping for a new set, screens for our PCs, laptops and other devices also vary widely. And they also change over time, such that the color, contrast, and brightness a year from now will not be the same for any display no matter how good.
There's a ton of information online about monitor calibration that you can read at your leisure. But quite honestly the average person is unlikely to purchase a monitor calibration tool like the x-rite i1Display Pro which I personally use to make sure my art prints match what I see on my screen. You can, however, get some idea if your monitor display is fairly accurate using sites like this one.
I believe that for 99% of the people reading this if you like the image you see on your screen, you'll love the print you receive. In fact, many of my past customers have told me they liked what they received better than what they saw on their monitor.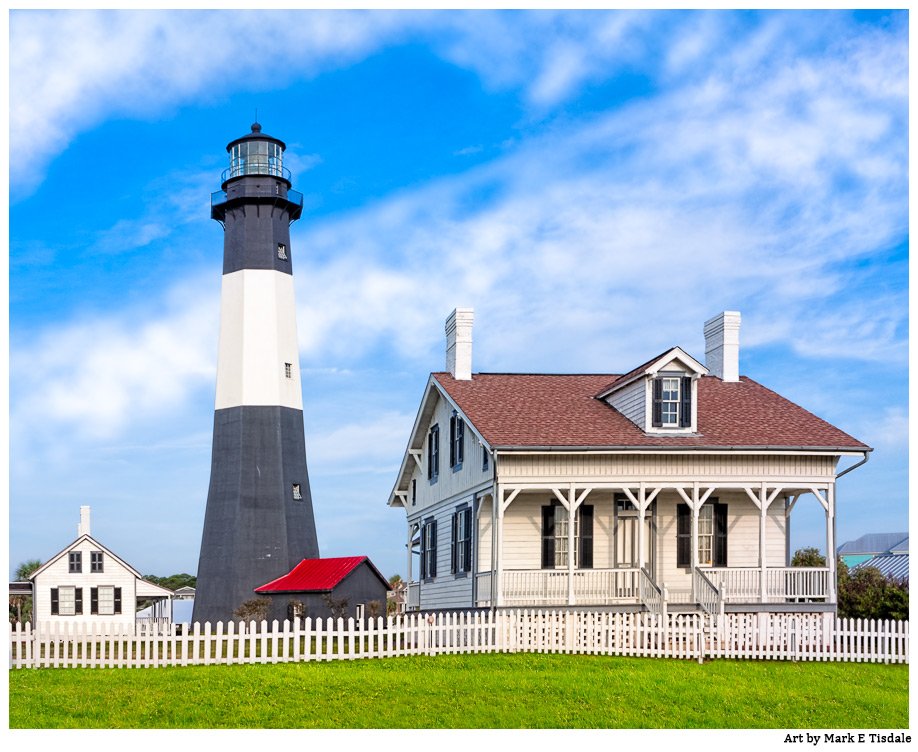 Tybee Lighthouse at Dawn – Georgia Art Print
On my first morning on the Georgia Coast, I made a beeline for Tybee Lighthouse. I had seen the historic light the night before, so this was my first daylight view of the towering and historic light station. The soft …
Read More
$

24.00