Affordable Art "Secrets" – Greeting Cards As Small Art Prints
As an artist, one of the things I hear quite often is "I wish I could afford one of your prints." If I had a penny for every time… And believe me, as much as I wish I was independently wealthy, it's a lament I understand. That's why I decided to post a fairly well known "secret" to finding affordable art. In a nutshell, use greeting cards as small art prints! While it might seem obvious to many, I have had more than one shopper along the way who didn't think of it, so I think it warrants a quick article.
I do try to keep my small prints as affordable as possible. While I depend on my art sales for income, I've gone years now without raising the prices on the smallest prints by more than the rise in the cost of materials. I honestly want my art to be as accessible as possible to those who love it. But sometimes $25 for a print plus shipping might as well be $100 – another of life's truths that I understand too well!

Using 5×7 Greeting cards as a source for affordable art is a trick I figured out years back on a trip somewhere. I was hunting for a couple of little mementos and found myself in a small gallery. The local art was beautiful but even the prints were more than I felt comfortable spending. When I spotted the greeting cards, it clicked. And I have no doubt the owners of that gallery knew that most of the greeting cards they had on offer were never going to be mailed.
The neat thing about 5×7 greeting cards, of course, is that it is a size you can find many ready-made frames for already. In fact, it's a beautiful size for a small vignette on a table or for grouping with other wall art and photos in your home. Here's a quick example of the popular greeting cards shown above in a small grouping as framed 5×7 artwork.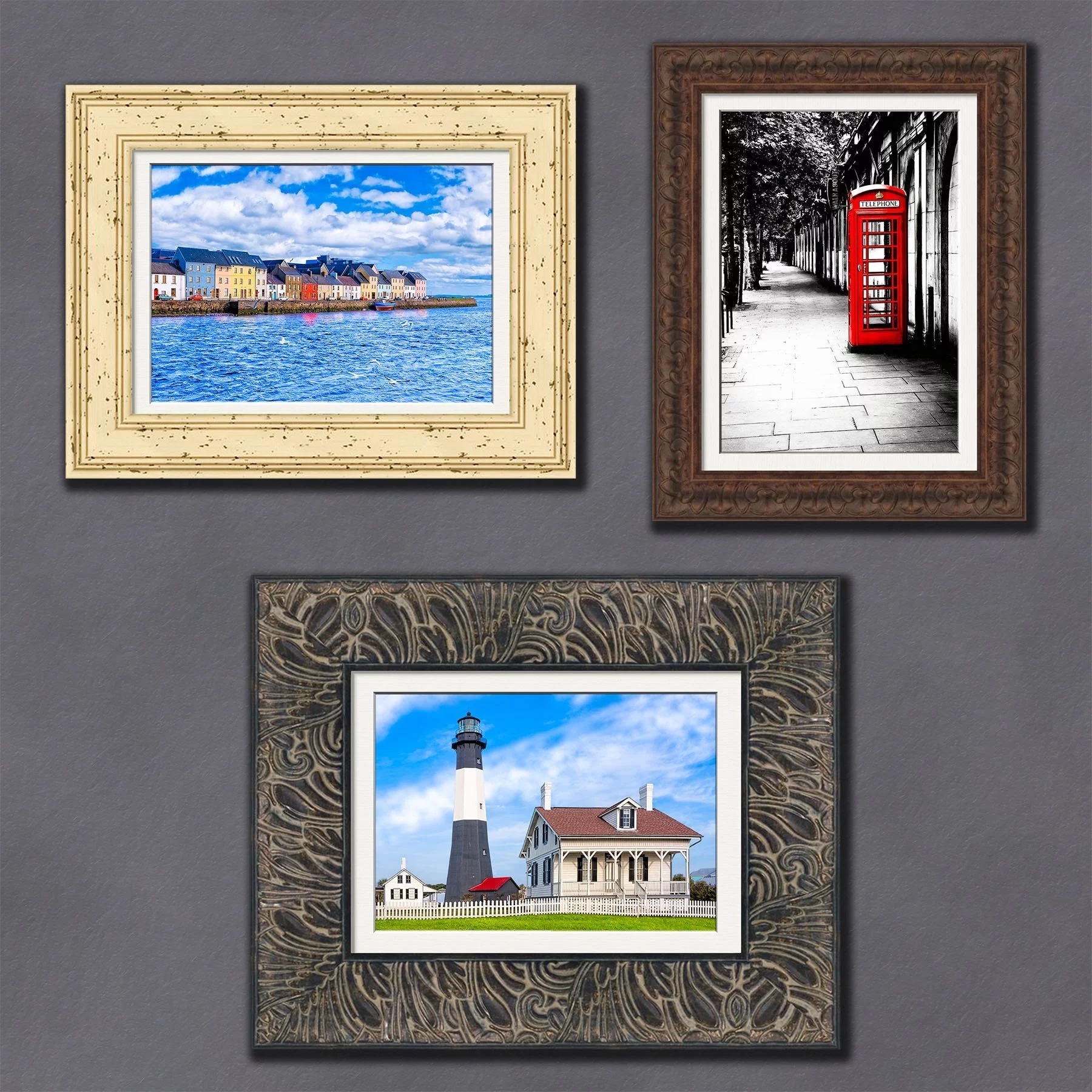 Save
I love real vintage frames or frames with a vintage style and chose a slightly eclectic collection for my example, but you could just as well have used a grouping of sleek matching frames. But that eclectic mix of choices also shows you how much difference a small frame can make! Each one of these choices lent a different look to the selected 5×7 greeting card.
The choice of cards is yours. My example was using a selection of popular cards over the years, but thematically there's no connection between the subjects. In your home, it could be one or two cards to go with reminders of a beautiful family vacation or a place where your family has roots. Or maybe the theme is simply places and things you love in which case, it does all go together!
Now, as with any great secret, using greeting cards as affordable art has a caveat. This one isn't quite as dire as the warnings that came with the monkey's paw, though. Quite simply, a greeting card is not a print. They are not produced on the same printers nor with the same materials. The cards offered on my site are well-printed and have a protective coating. If kept out of direct sunlight, there's no reason they shouldn't be enjoyed for years but they are unlikely to last as long as a print. Good art prints cost more because of the archival inks and papers used as well as the fact they are printed one-by-one as a customer orders rather than by the thousands in a warehouse somewhere. When you buy a nice print, you're getting something that should last and is comparatively uncommon to art found on the shelves at the local big box store. Of course, my cards are also made to order.
But this article is about affordable art. Sometimes, we have to make-do. Or perhaps you are simply looking for something cheap and cheerful as you don't intend to hang something on your walls for that long. Lots of us like to change things up every few years, after all. So in the end, it's a question of motivation. If you're looking for something small and affordable rather than a statement piece to last the years, then consider framing a selection of 5×7 greeting cards! And if you happen to be interested in my art, you can start your search for the perfect little memento or pop of color in my shop.
Popular 5×7 Greeting Cards On Offer – Mail Them or Hoard Them!
Save
Save
Save