Alabama Lighthouse Art – Mobile Bay Scenes
Working on these Alabama Lighthouse art prints was a work of love. If you check out my shop, you'll see that I simply love lighthouses. There's something sort of magical about them for me. And I don't think I'm alone on that point. For some it's the religious symbolism of the lighthouse. For others it's a sense or romance and times gone by. And for some it's inexplicable. They are simply attracted to lighthouses and the sea. The second reason I enjoyed working on these Mobile Bay scenes is because of my family connection to Alabama. Despite growing up in Georgia, we visited Alabama frequently when I was growing up. Both of my parents are from Covington County in South Alabama. I even spent a couple of years in Alabama myself in grad school. With family history there and loved ones, it's always felt like a second home.
For a relatively short piece of coastline, historically there seem to have been quite a few lighthouses along the Alabama coast. If you're curious about it, I'd recommend reading about the history of the lighthouses in Alabama. I know I found that article quite interesting and reading about them was partly responsible for my doing these Alabama lighthouse art prints. I mean, I'm always on the lookout for inspiration when it comes to lighthouse art. It seems now there are only two lighthouses left standing in Mobile Bay.

The first one I tackled was the Middle Bay Light. This light is apparently one of the last "screwpile" style lighthouses still at sea. Sadly it's no longer a complete light – the lantern tower was removed in 1967 when the light was deactivated. I decided I wanted this Alabama lighthouse art to depict it as it looked historically.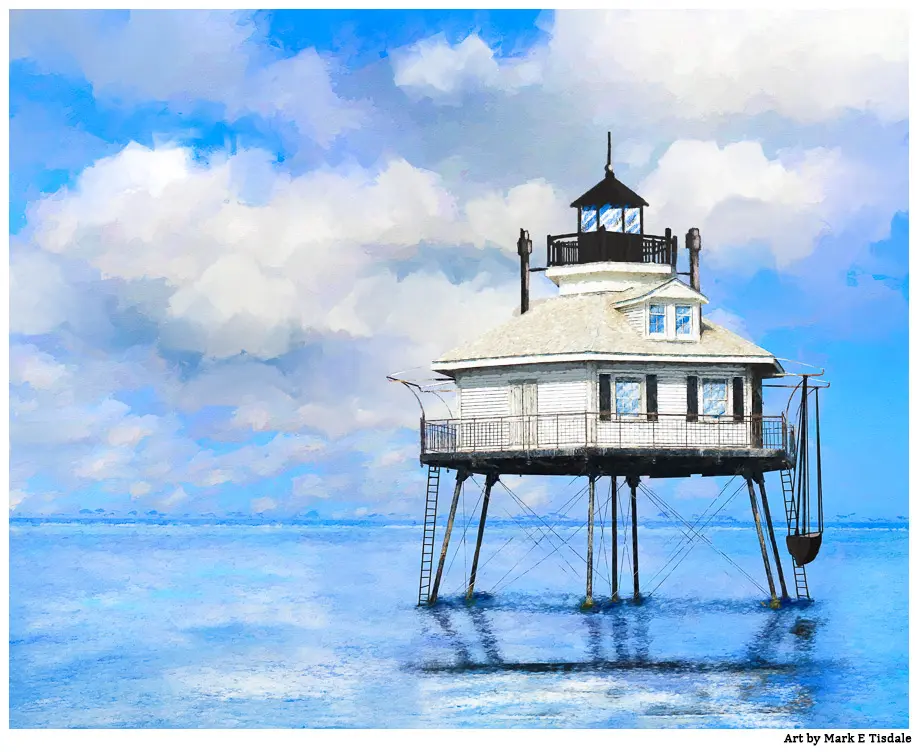 So, this print of the Middle Bay Light is based both on my observations of the existing light as well as historical photos of the light which showed it with the lantern intact. I find this scene particularly calming with it's soft palette of shades of blue and white. How about you? Do you feel a sense of calmness while looking at this landscape scene of calm waters on Mobile Bay?
This second Alabama lighthouse art print depicts what seems to be known as either Sand Island Light or Dauphin Island Lighthouse. I believe the former is the official name but its proximity to Dauphin Island is responsible for the dueling designations. Sand island like its lighthouse is a shadow of the past. The existing light was built in 1859. At that time there was enough of an island for a keeper's cottage and apparently the keeper even had room to graze cows. Today the state has tried to stabilize the light for future generations to enjoy but it's hard to fight the ocean!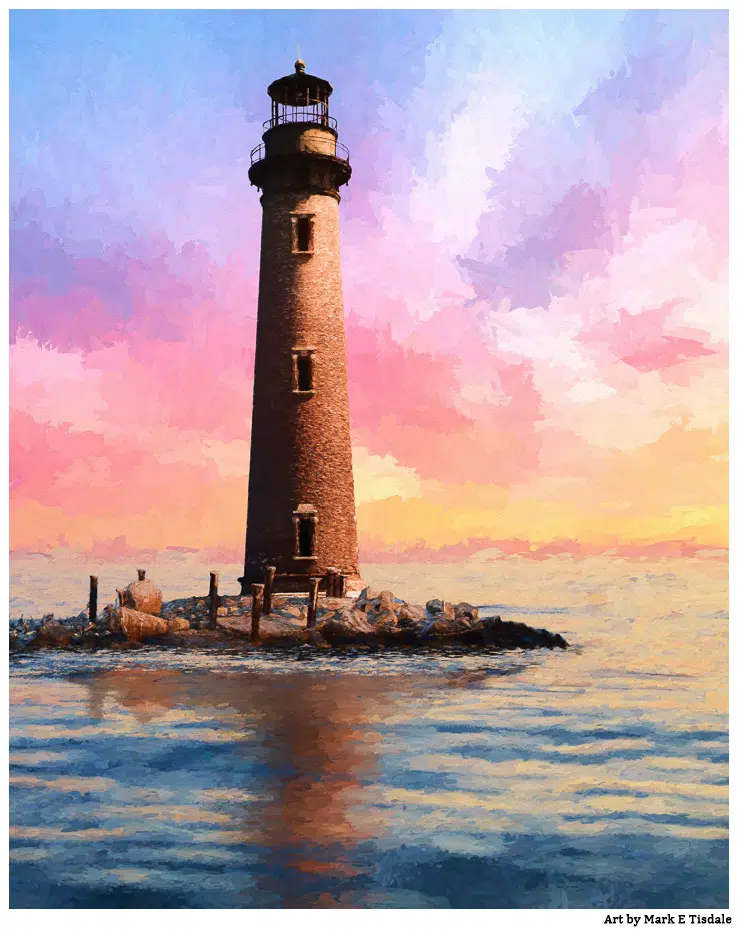 In contrast to the other Alabama lighthouse art print, I chose to depict Sand Island Light as it looks today. There's just a majesty of some sort to the weathered brick ruins that spoke to me. It's shown here against sunset skies. The sky is predominantly pink with splashes of blue and gold. The still water is acting as a dark mirror. This scene gives me a warm energetic feeling. How does it make you feel?

I hope you enjoyed my Alabama lighthouse art. If you'd like to see more of my lighthouse prints, be sure to check out my shop to see what is currently available.
And if you ever have any suggestions for a particular subject you'd like to have as a print, please send a message.