Album Cover Wall Art Display Ideas
I've been meaning to share this album cover wall art display idea for awhile, but life had other ideas in mind. Those who follow me on social media may recall that last year I did a series of art prints featuring the legendary Sun Studio in Memphis, Tennessee. If you didn't see them or would like a refresher, be sure to check them out. I haven't featured them on my art blog before.
The first in that series was a square print called Legendary Home of Rock N Roll. I immediately thought would be a really cool addition for collectors to use in their album cover wall art display. While that wasn't the reason I chose the square format, it occurred to me that an album cover is approximately 12″ x 12″ and 12″ prints are available, so it would be easy to include as the centerpiece in a grouping of classic rock n roll records. This is what I had originally envisioned as an ideal album cover wall art display using my artwork as part of the grouping.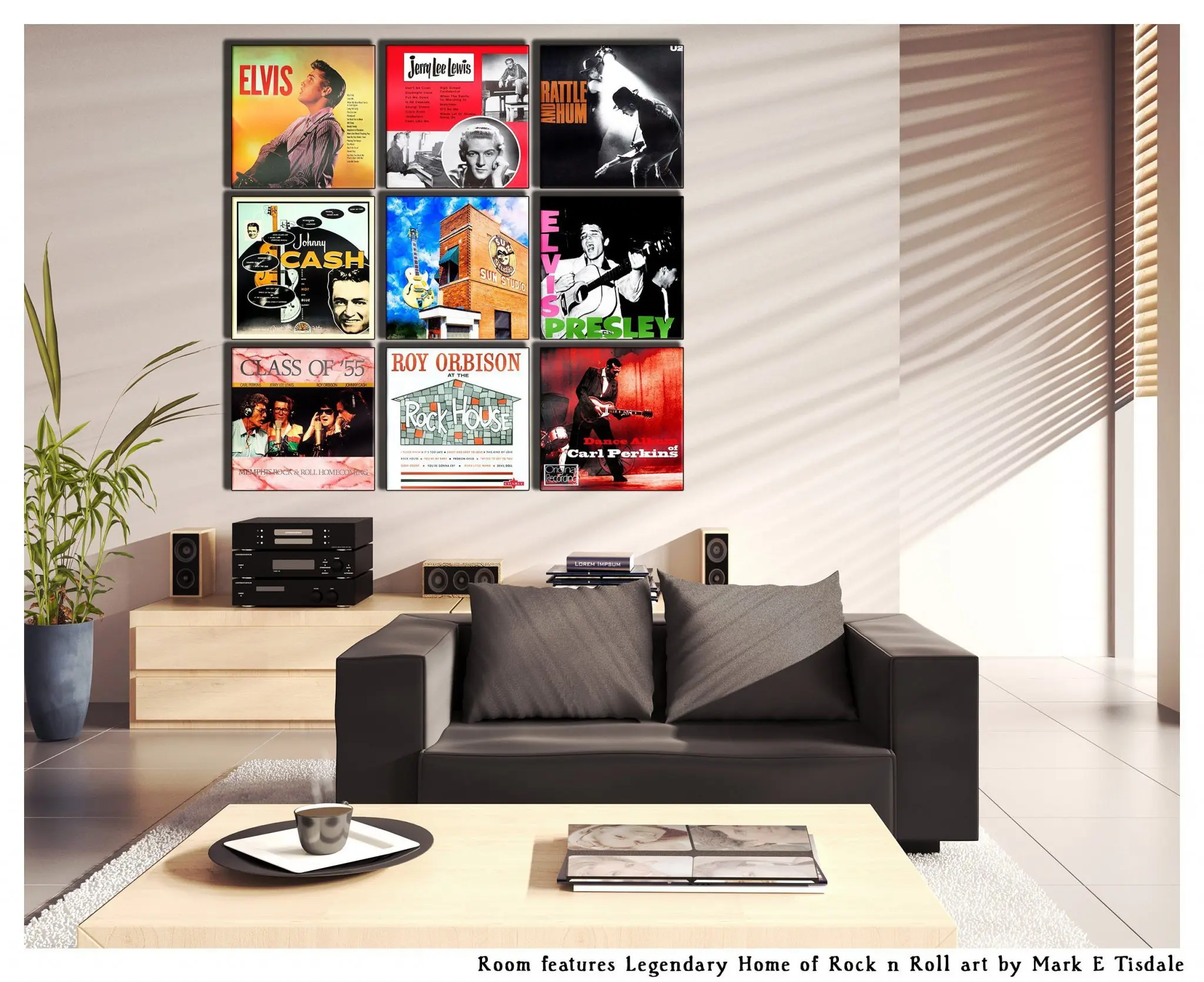 My example mainly includes album covers from the heyday of Sun Records, but honestly as the birthplace of Rock n Roll, it's a piece that would be at home with albums from throughout the history of Rock music. Modern acts have recorded there but most importantly have been inspired by the music that started in that humble corner of Memphis.
So that was how I thought people would likely display my print. After all they could even use the same style display that they use for the rest of the records in their album cover wall art display. Picture putting a 12″ square print in this album frame sold on Amazon as an example. It still seems a novel way to display your visual art with your musical art!
The funny thing is although that was what I had envisioned, I guess no one told the people buying prints of this particular piece. It's typically sold on the large side all the way up to 48″ square! Imagine that! That was when I started trying to imagine how people are using this in their homes? Solo or in conjunction with an album cover wall art display? Maybe like this?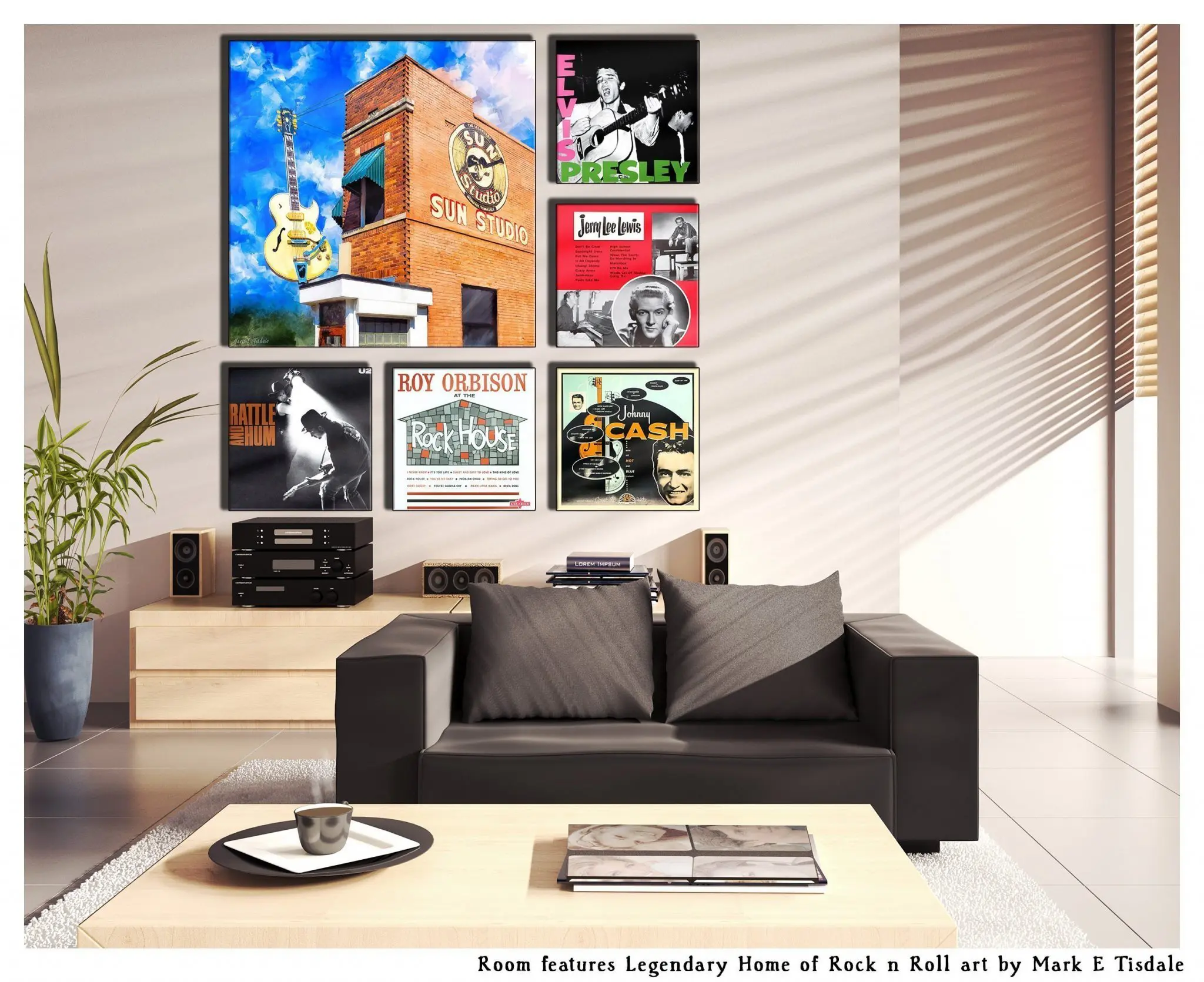 I'm not normally accused of thinking small but it was only after seeing those large prints sell that I imagined this larger grouping! This is definitely one way of displaying your album covers that would get a lot of notice, don't you think? The people who have gotten large prints have so far either gone for stretched canvas prints or acrylic, but I think metal would be another slick way of displaying it with a selection of classic album covers orbiting it. This is assuming you've chosen minimal styled frames for your album covers. But after looking through what Amazon has to offer in album cover frames, I see they're not always quite so minimal. Many include cool frames. Heck, some aren't square as I had expected and include a way to show the actual album as well as the cover.
If you're one of the people who have purchased my Legendary Home of Rock n Roll print, I'd love if you'd share how you are displaying it? Is it a solo piece in your music or media room? Or maybe you're including it in a album cover wall art display? Inquiring minds want to know! Ha! Seriously, thank you for those who have gotten it as well as other pieces in my Sun Studio series. I'd love to hear from each of you! And for those of you who haven't gotten one but are interested, are the above scenes something like you had in mind or do you have a totally different idea? Share!
Places To Go After Reading This:
Note: Amazon links in this post are affiliate links. I get a small commission for any purchases you might make after following them but it does not impact the price you pay.