Art Inspiration – Atlanta Before And After
Some of you may have recently noticed that I've found inspiration in restoring vintage imagery. If you haven't seen them, you can see check out some of my restored vintage artwork here. But this post is less about restoring vintage artwork and more about finding inspiration in unexpected places.
While I was thumbing through old photos of Atlanta on the Library of Congress Archives online, I stumbled over a series of 1970s photos of the Sweet Auburn neighborhood in Atlanta. These pictures were part of a government survey of the historic buildings of the area. I suppose if you're young enough, 1970s may fit the bill for vintage, but in this case, it was really the architecture of the Big Bethel AME Church that caught my eye.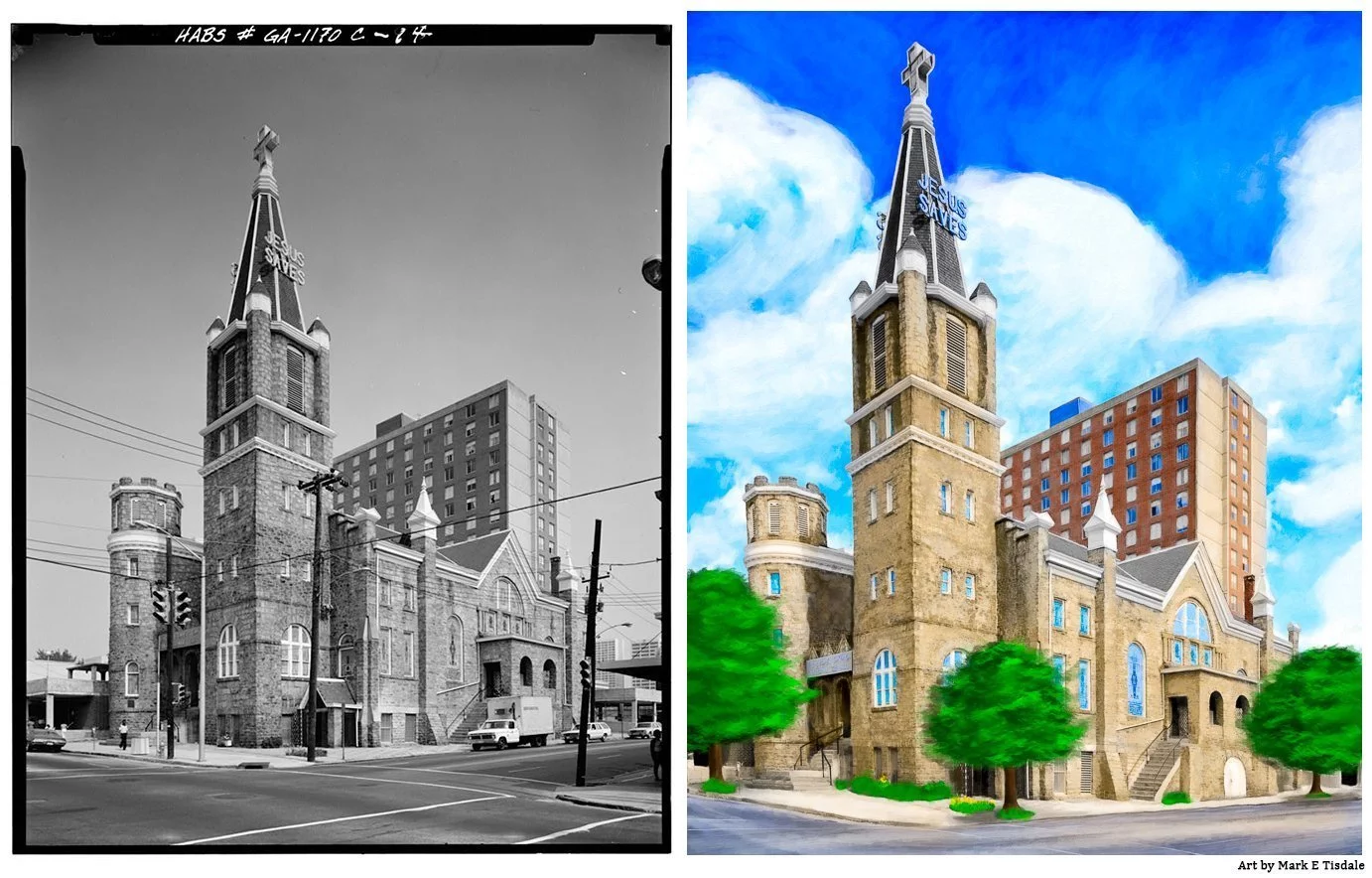 As you can see, the final artwork deviates a good deal from the gritty streets of 1970s's Atlanta. I didn't want to divorce the historic church from its environment, hence the Bethel Towers apartments that still stand tall next to the church. The inspiration came from that image, but as you can see it didn't mean I felt obliged to include every element.
I wanted to include some trees in the streetscape before I even looked at Google's street view of Sweet Auburn today. It hasn't been so long since I lived in Atlanta, so I was not surprised to see trees on Auburn Avenue softening some of the hard edges of the city. Not that reality would have constrained my choice but it was a pleasant coincidence that my imaginings were so similar.
I'm far more familiar with finding inspiration in my own photos, but my work restoring vintage imagery as well as some images like this has been a fun change of pace. In fact, as a result, I've been contemplating doing this sort of work on commission at some point. It hasn't gone past the contemplation phase yet, but if you have a commission in mind, we can definitely discuss it.