Atlanta Icons – Let's Eat
Once upon a time, I started a series of photographs of what I thought were Atlanta's iconic places. I was inspired because I had been traveling and kept coming back with what I though (hoped) were pictures of icons of the cities I visited. And until the recent idea of staycations, it wasn't so common that people took the time to visit the things in their own backyards. My energy for the series eventually waned and unless I move back to Atlanta one day, it may be done, but I'm still proud of the photos I did for this Atlanta Icons series! There's no doubt that there are iconic places absent, but I think I hit the highlights (some more than once).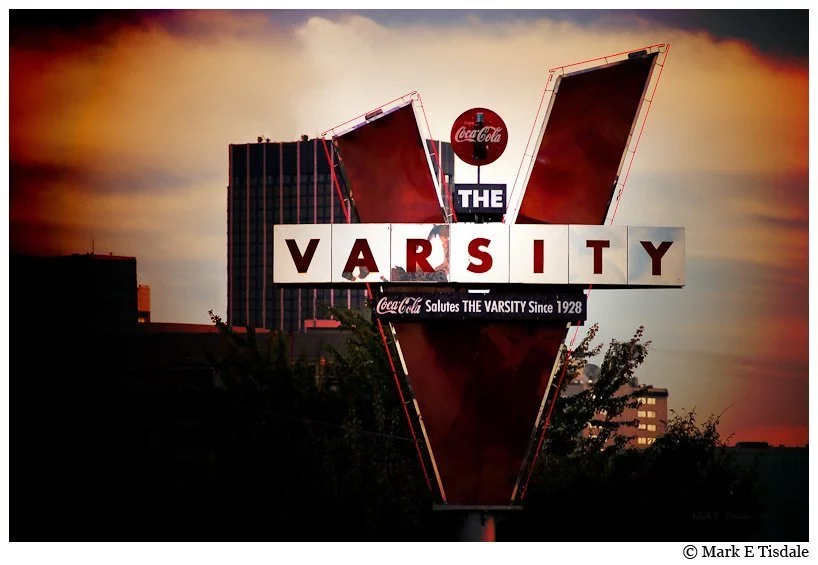 Without a doubt, my most popular picture from the series is this photo of the sign for Atlanta's Varsity Restaurant. This striking sign is visible from the I-75/85 Connector that bisects Atlanta's downtown. The original Varsity (it's now a chain) was opened by Frank Gordy in 1928 to serve students at nearby Georgia Tech. It eventually became the world's largest drive in restaurant at more than two acres in size! If you go inside to order, the inside is a bit of a madhouse as the cashiers are all yelling "what'll ya have, what'll ya have?"
This photo won an award for Best Use Of Color in the 2006 Atlanta Celebrates Photography's annual competition – the theme for that year was "My Atlanta." It was a perfect marriage of their theme and this series of photos I had literally just started.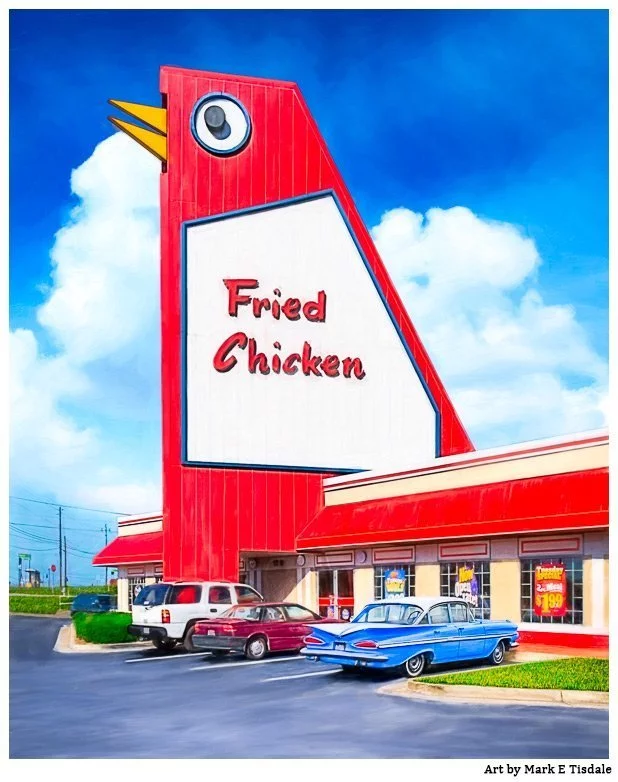 Next on the menu, this picture is of one of the best known landmarks in Atlanta's suburb of Marietta, The Big Chicken. Directions around Marietta tend to include the relative location of your destination as compared to the Big Chicken. For instance, turn right at the Big Chicken, or 1 mile north of the Big Chicken, etc. The Big Chicken came into being as the signage above Johnny Reb's Chick, Chuck and Shake restaurant in 1963. It features a moving beak and rolling eyes. In 1974, it was bought out by KFC and despite one time thoughts of moving it, the public uproar quelled that idea and the Big Chicken seems to be there to stay. This photo was processed to appear like a vintage illustrated image or old postcard. I felt the vivid colors from the afternoon sun fit this photo art representation of Marietta's Big Chicken.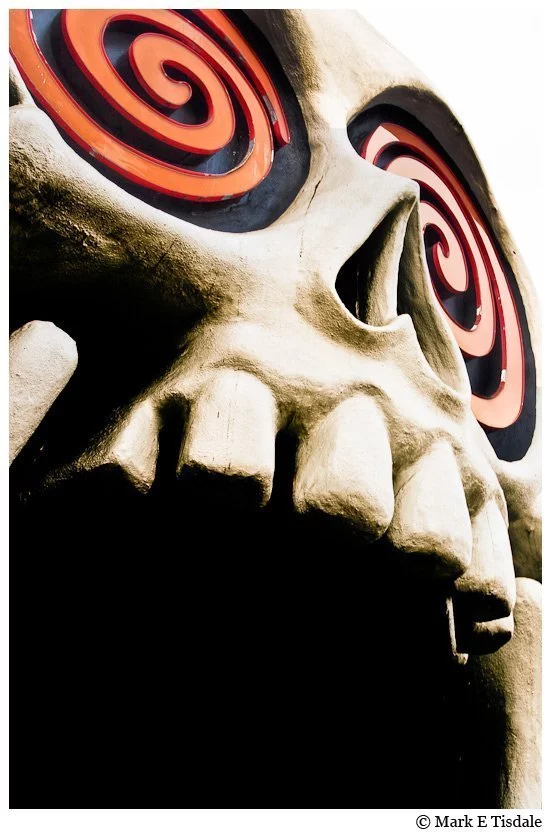 Atlanta's oldest bohemian neighborhood is Little Five Points where Moreland Avenue meets Euclid. It was inevitable that I have at least one picture from Little Five. When I moved to Atlanta, it was a place I had to see, and it's a wonderful place for people watching. One of many colorful restaurants is the Vortex, which makes a mean hamburger and one of the few places I would rarely think of getting a plain jane burger. The main entrance to the Vortex in L5P is the mouth of a giant Skull, as pictured here. It's truly one of the most unforgettable sights on Moreland. This photo really captures the feeling of entering the skull when going inside the Vortex.
If you enjoyed these pictures from my Atlanta Icons series, please be sure to check out my full gallery: