Auburn Art – College Memories And A Heartfelt Thanks
I recently completed a piece of Auburn art that has gotten way more attention than I honestly expected. I mean, every artist hopes a piece or two of their art gets a lot of notice but it doesn't happen as often as many of us would hope. I can't tell you how many artists I hear the same story from. You complete a new piece, you're over the moon with how much you love it, and you share it expecting everyone to have the same reaction to it. Instead, you hear the hum of crickets chirping.
Okay, I exaggerate just a little. Usually I finish something I really love and there are a handful of people who love it. I've been at this as a full time profession long enough to know that there's often a limited audience for any given artwork. There will be a handful who like it. And yet a few less who love it so much they have to have a print. Maybe I simply don't know how to beat the drum loud enough and long enough to generate the enthusiasm I always expect with each new piece, but every so often there's the feeling a gold miner must have felt when he finally found that precious metal. And that was how I felt this past June when I shared my latest piece of Auburn art.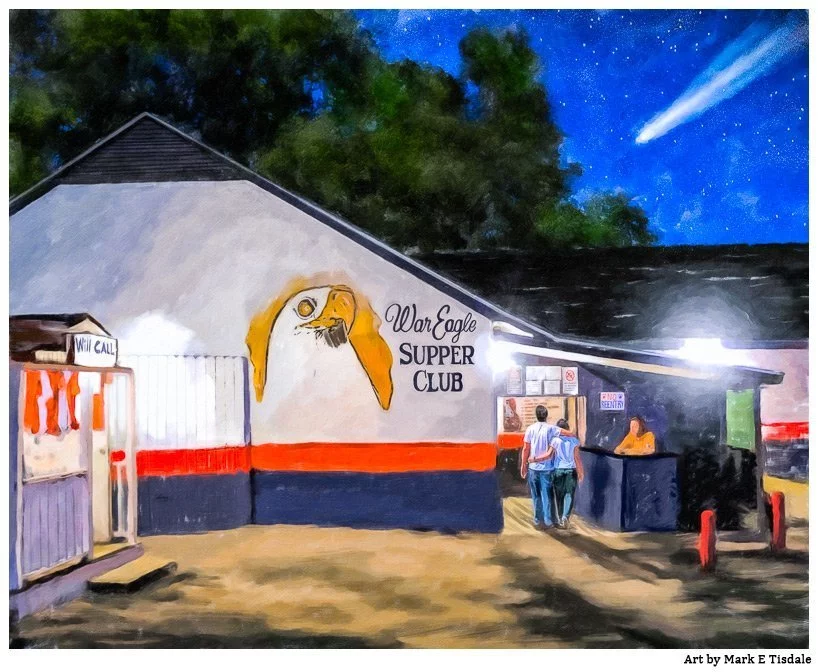 There were no crickets. In fact, there were so many positive comments from Auburn alumni who saw my tribute to the War Eagle Supper Club and loved it that there were moments I wasn't sure I could respond to them all. I know there are people – internet celebrities of various persuasions – who have so many fans they couldn't possibly respond to them all, but that has never been the situation for me. And I like to respond to each comment because I appreciate anyone who takes the time to appreciate my work. Even if it's what I do for a living, it something I love! And I'm enthusiastic about anyone who has an emotional connection to something I created with my own two hands.
And what was even more exciting, if I'm honest, is that this artwork had legs! This is not the first piece of Auburn art inspired by my years in grad school there, and it probably won't be my last, but it was the single piece of art that sold prints the fastest. The time between sharing it on Facebook and the time the first print sold was measured in hours not days or weeks. That's definitely unusual! I think often people have to look at a print a few times before making up their mind but that wasn't the case with my print of the War Eagle Supper club, a once-upon-a-time landmark that is no longer standing. And although the number of print sales wouldn't even begin to surpass a poster of the boy-band du-jour, sales of my Auburn print have been brisk every since that first day back in June.  If it doesn't lose steam, it may even pass my all-time most popular print London Calling in the next year. I'll report back if that happens. The London print has had a decade head start as one of my earliest pieces of art, so that would be really something.
Fact is, part of the reason I'm writing this post is sort of a collective thank you for all the folks who have connected with my Supper Club print as well as my other Auburn art. I often share recent sales on my Facebook page and sometimes on other social networks as well. But I haven't been sharing these, not because I'm not enormously thankful, but because it would begin to feel like a stuck record! Any of my art that sells with some regularity, I tend to not share every single sale because I don't want people who follow me to get bored. By that same token, though, I don't want the people who are getting my work and who follow me to feel over-looked or unappreciated. Believe me, you have my heartfelt thanks whether you've purchased a piece of Auburn art or any of my other work that really connected with you on an emotional level. It's the ultimate compliment to any artist when you spend your hard-earned money on something beautiful which otherwise has very little utilitarian value. Or at least that's how this artist looks at it. I appreciate every thumbs up, comment, and share. So many of you have helped get the word out about my work and by extension get more eyes on it. And it's all appreciated, I assure you.
My Auburn art began with a piece over a year ago now that shows Samford Hall reaching through the trees. One of my earliest memories of those halcyon years at Auburn was seeing beautiful Samford Hall looming much larger than life. The year that's followed has seen me touch on several Auburn landmarks. The nostalgia train started before my Dad's stroke, but I think a yen for happier days has very much fueled my interest in looking back since his illness and death.  Pretty much every time I share a piece of Auburn art, I have Auburn Alumni comment with when they attended/graduated from Auburn University. And I never quite know how to respond. I look back on my two years in grad school in Auburn with much fondness but I never actually finished. When I arrived in Auburn, I was working on a graduate degree in Sociology. And I loved my two years there, the first time out of the nest, new life-long friends, etc. It was a great time in my early adult life. But my priorities changed as I realized I was working on a graduate degree basically because I liked school more for the sake of learning than doing anything with the degree. So, I moved on to Atlanta with the idea I'd finish that degree later. Well, suffice to say enough time has passed now that I'm pretty sure that won't happen, especially since my entire life took a big U-turn as I moved from a decade long career as a project manager to a new life as an itinerant artist. Well, lately more of a stay-in-one-place artist, but I haven't abandoned those dreams of floating from place to place. That may be Mark 3.0. Stay tuned!
Maybe I'm not the only one with great memories of the Auburn experience who never actually got a degree? Ha! I suspect not as I think about it.
If you want to see more of my Auburn Art from the past year or so, here's a taste.
If you're interested in Auburn wall art, you can find more information about prints of the Auburn art mentioned here on my print site.
Save
Save
PS If you're one of the people who have gotten prints of my Auburn art or any of my work, I'd love to hear how much you liked it? Either right here or use my feedback form.
Save
Save
Save
Save
Save