I often think back to my experience of flying in a hot air balloon over Egypt's famous Valley of the Kings. Even though there have been balloon crashes since my trip, I don't regret taking my flight at all. It was, in fact, my favorite part of my trip to Egypt. There were so many incredible moments, but discovering hot air ballooning was the top of the list.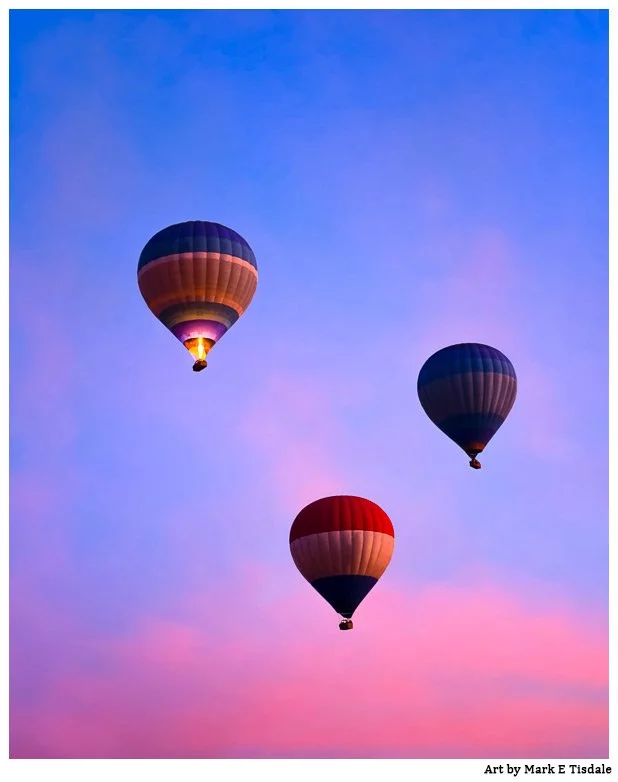 These pictures, I hope, illustrate what an incredible experience it was. Several in the group I traveled with had been in hot air balloons before and loved it and part of any trip for me is doing something that I would probably never do at home.  Stepping out of my comfort zone as it were.  And safety records aside, it was fabulous.   The balloon lifted into the dark morning sky before the sun had risen, one balloon after another, burners lighting up the bulbous balloons in the sky in short bursts.  This photo captures a trio of balloons against a dusk sky with subtle hues of pink and blue fading into near darkness.  I've managed to catch one balloon with it's burner going in this picture.
Another picture that shows those subtle pinks and blues of the pre-dawn sky over Luxor.  This time with four balloons against the sky.  They fade into near silhouettes and one is glowing a bit as the flame burns to heat the air.  There's something truly magical about gliding on the breezes like a child's helium balloon.  It's one of those experiences I would not trade for anything. The serenity this photo may exude for you is the same as I felt hovering in the sky to take this picture!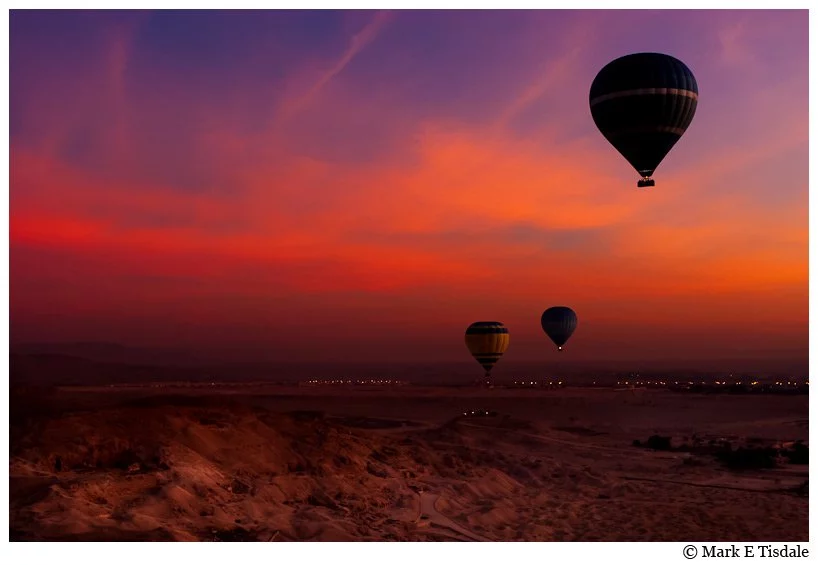 Yet another photo shot against the dawn sky (more of those great pinks and a bit of blue).  The sun will be out shortly.  In the near darkness at the bottom of this picture you can just make out the Valley of the Kings where ancient Pharaohs of the New Kingdom were laid to rest.  To really see this, you'll need to see it larger (follow the purchase link and click on the image for a larger view).  This is definitely a print that would be best enjoyed on the larger side!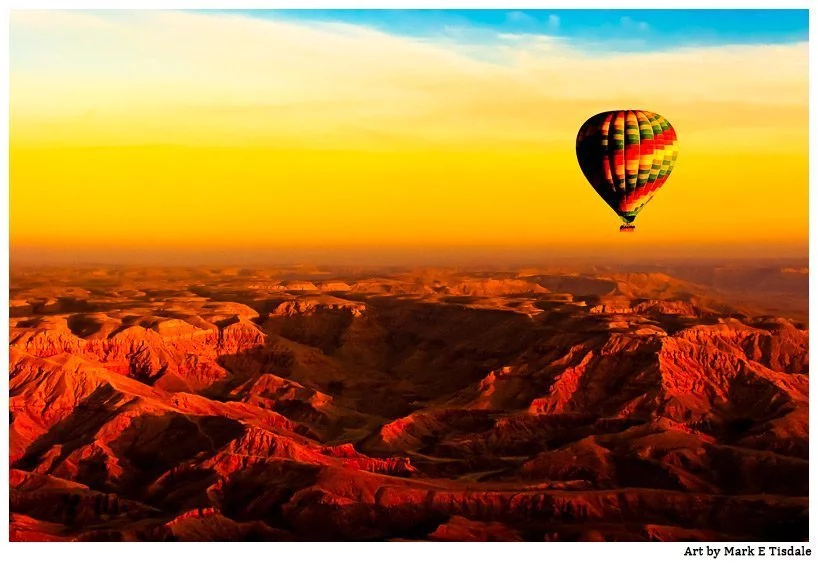 This is one last photo of morning over the Valley of The kings.  One lone but colorful balloon against the warm sky and dry mountains where Pharaohs lie.  This is quite literally one of my last photos of the morning.  I took a couple hundred photos, and then I did something I can scarcely believe, I turned off my camera, and put it in my bag.  And I enjoyed that warm sun hitting me and the gorgeous scene, but I didn't record it.  I didn't record it as we glided over villages full of kids pointing to the sky.  I just took it all in and internalized the moment.
There are more balloon photos, aerial shots, and of course more Egypt photos prints for you to check out in my Egypt Gallery.