Brooklyn Bridge For Sale – Art Prints
Certainly one of New York City's most famous bridges is the Brooklyn Bridge which connects the boroughs of Manhattan and Brooklyn. It's the oldest suspension bridge in the US and met with some misfortune for the builders in the 13 years it took to complete. The bridge was massively over-built which is why it has survived so long compared to bridges of the same vintage (1880's) have long since vanished.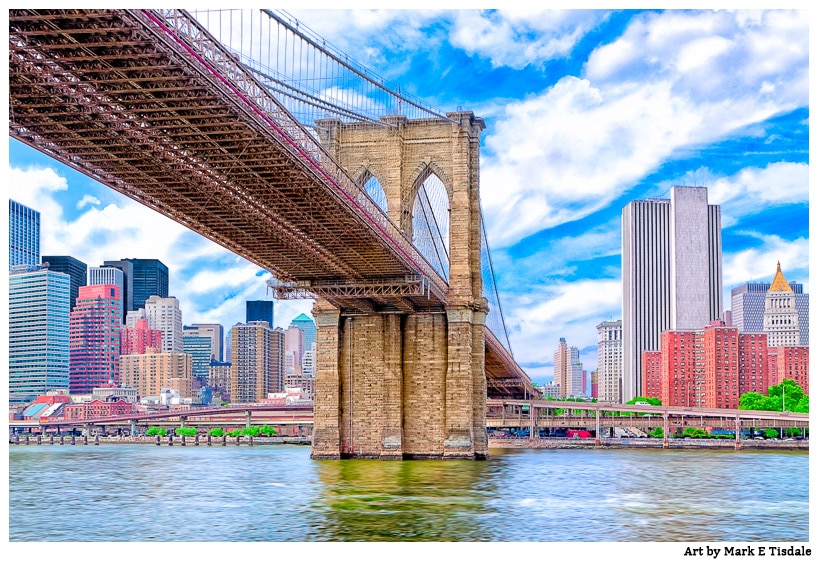 This is a picture of that iconic bridge from the water. Where ferries once crossed the East River to Brooklyn, this mammoth suspension bridge now spans the gap for both cars and people. Now bridges of this span are less impressive, but in its day this was a huge accomplishment. Pictured here, this print has a wonderful cloud streaked sky to complement the bridge and Manhattan skyline.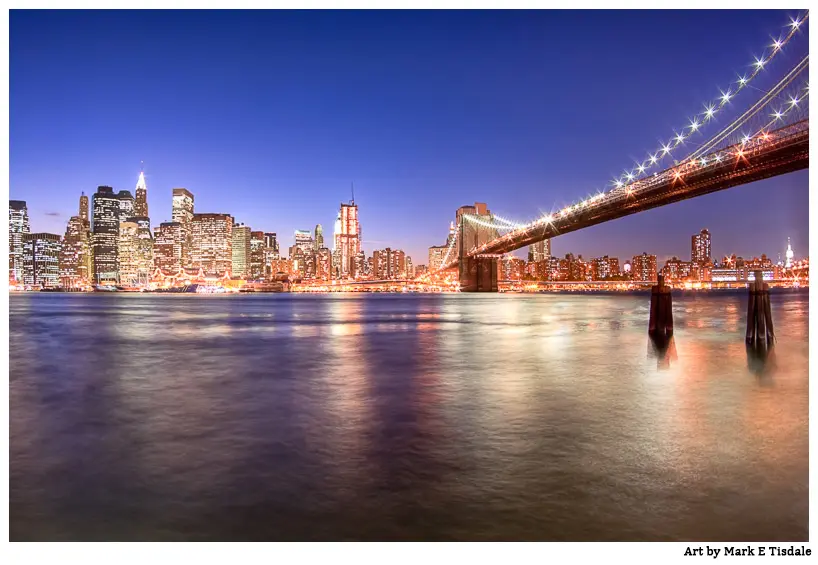 Another photo of the Brooklyn Bridge and that magnificent New York City skyline. This is an ultra wide angle picture taking in much of the bridge and the city lights as I could compose in one shot! As you can see, night is descending and even the faint blue of dusk is staring to vanish. This is viewed from the Brooklyn side of the East River.  Having viewed the bridge from both sides, I have to say that the Brooklyn view of Manhattan was my personal favorite! The Manhattan skyline is just the definition of iconic.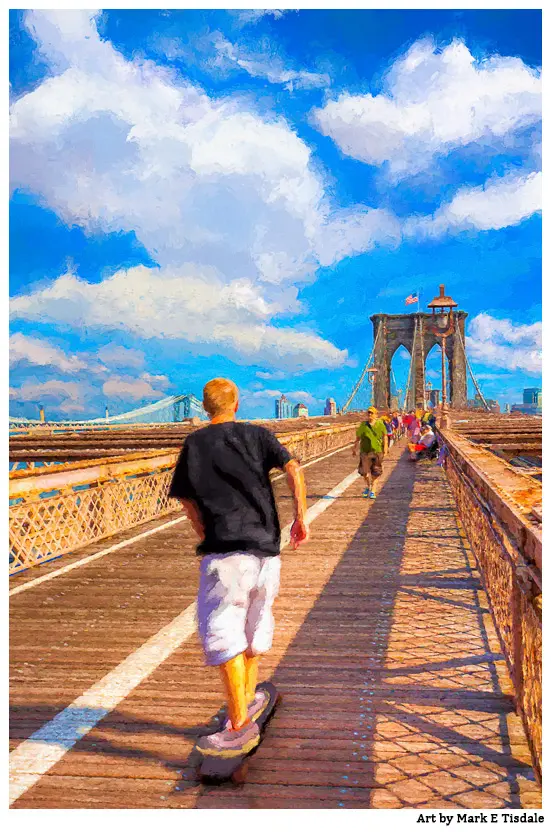 The walk over the Brooklyn Bridge is also well worth one's time at least once. Here in this picture you see the view coming from Manhattan across to Brooklyn. I made this walk in one direction or the other three times while I was  in NYC, and this shot of a skateboarder crossing on my first journey on the bridge remains a personal favorite. This photo has some textured layers to age it and create some depth in the image, but this was an otherwise wonderful, in my opinion, capture. I could not have choreographed the guy on the skateboard better. In fact, I saw him coming and was standing there waiting for this moment!
If you enjoyed these photos, please be sure to check my gallery for more of the New York Skyline: