By Request – New Deal Era Post Office
This Christmas season seems to be of the "request" category and it's been fun! The latest request was for a local scene! And landmarks of my small town are a favorite subject so I hardly needed the encouragement. In fact, our local New Deal era Post Office had been on my list for quite awhile.
For one thing, I had found it challenging to get a photo of it I really liked. Montezuma's Post Office is not flush against the street but set back on a deep corner lot with large trees, shrubs and a flag pole in between. Once up close, well, you're so close that a full view is problematic. Perhaps it could be confronted in some way, but that was the reason I chose to sit down with my Wacom Tablet and pound out my own version of this classic New Deal era post office.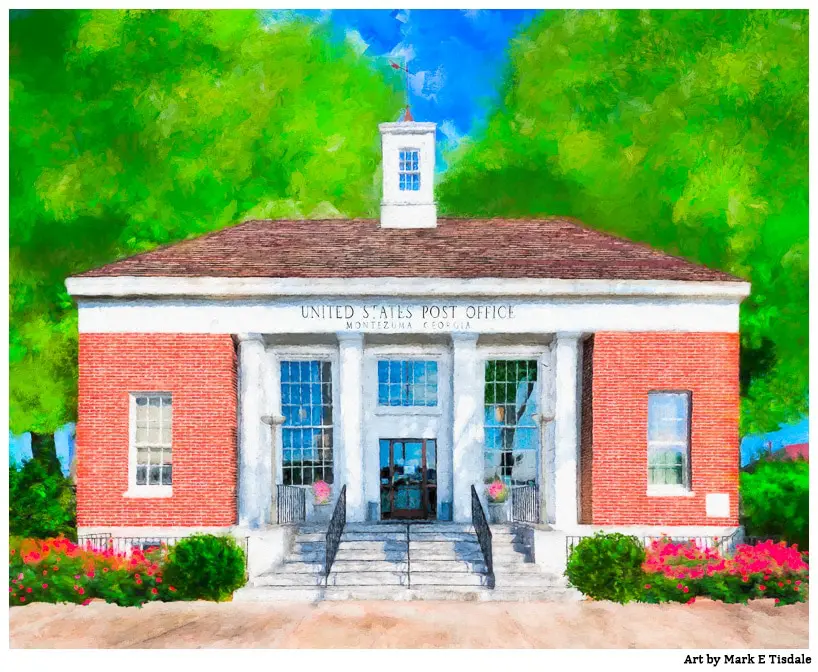 My local artwork is also somewhat idealized, a combination of the present, childhood memories, and pouring over photos of similar New Deal Era Post Offices, and I was amazed at just how many of them there are! And although there's clearly the same hand in designing many of them, they were remarkably distinct creations. I only came across a handful that were just like our decades old Post Office. One of the things I was specifically hunting for while looking at all those historic New Deal Era Post Offices was, oddly enough, lamp posts. It seems like such a mundane thing to fixate on but my childhood memories of climbing those steps was the lamp posts. They were clearly influenced by the Art Deco era and unlike any of the others in town.
But our historic post office was damaged in the flood that hit middle and south Georgia in 1994. And those old lamp posts were among the casualties. Every time I see the generic ones there today, I miss the originals. While I was searching for references or any details about them, I found numerous small black and white photos and postcards of post offices around the country. And although the details were small, I saw lamp posts that looked similar on many of the New Deal era post offices. And ironically every time I did, when I looked for more contemporary photos of those old post offices, their original lamp posts were also gone. Clearly 70+ years on, this was one of those small details that had faded away. After all, most of these classic buildings are still working buildings. No doubt when their lamp posts were likewise damaged, costly historic reproductions were not in the cards.
There were details I left contemporary as you can see, like the front door which I know is not original but has always been, in my memory, a modern commercial style. I wasn't going for a 100% authentic vintage image of a New Deal Era post office. I'm sure there are countless antique postcards that serve that purpose. This is very much my nod to a building that still has a community purpose in our small town.
And I'm so glad for the request to get this one done now. It was a pleasure to capture another piece of local architecture and history of home.