There are two beach destinations near Mérida, Mexico. The closest is Progreso, a typical destination for the locals and from everything I had heard before visiting a bit crowded and just not quite as pretty as the further destination, the fishing village of Celestún.  Celestún is in the midst of a large bird sanctuary (Parque Natural del Flamenco Mexicano – also known as the "Celestun Biosphere Reserve").  As you can tell from the Spanish name, it's a large roost for Flamingos, their winter home (although I saw plenty in summer, maybe winter for southern hemisphere?).  At any rate, as you can tell, I chose the further beach.  It was sort of a two fold thing, I had a yen to rent a car and wander a bit and I didn't really want to spend another day on the local buses trying to make connections on my limited time frame.  I had planned to also see some of the ruined Haciendas, but as it turned out, it took me longer than I expected to get out there and I had no desire to be even close to dark on those country roads, so I spent my full day in Celestún trying out the easy going beach life.
When I say Celestún, Mexico, is pretty much in the midst of nowhere, I mean it.  I drove for awhile and the only English speaking radio station in Mérida died out. I switched over to a nearer Spanish speaking station… it too died out… and then there was nothing but me singing loudly (and badly) as the road passed beneath me. I somehow made it with my sanity intact and as I pulled into this sleepy little town and parked on the square, I wondered if aside from the adventure getting there, had it been worth it? And then… well as they say pictures speak volumes….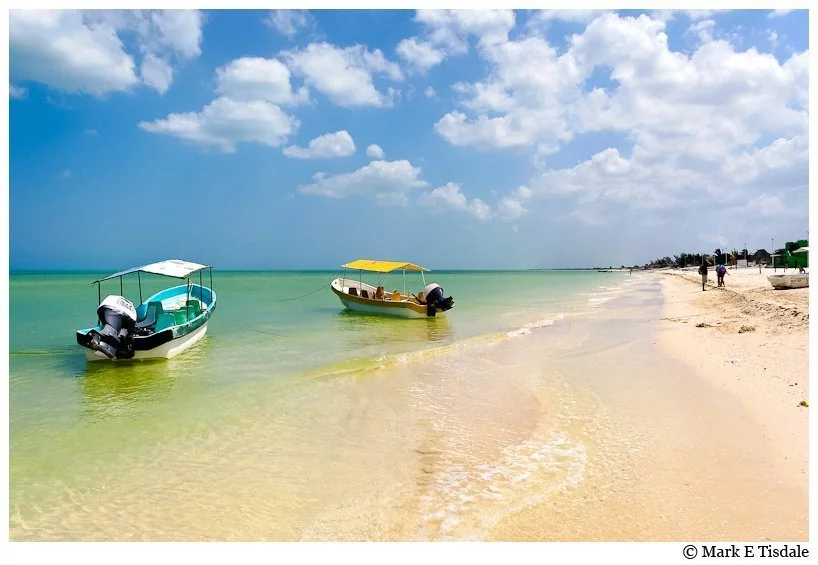 Pictured here is the gorgeous beach at Celestún and the starting point for all the boat trips tourists here take. From what I'm told, pretty much all Celestún boat trips follow a predictable path.  In some order, you'll see the Flamingos (and other birds on hand), a "petrified forest," mangroves and a beautiful blue swimming hole in the midst of the mangroves. And then back to the beach you left after a couple of hours or more, but if you enjoy yourself as I did, iit will feel like no time at all has passed.  While I wandered the beach for a bit taking photos, I knew all along I was going to find my way onto a boat if I could help round out someone's group.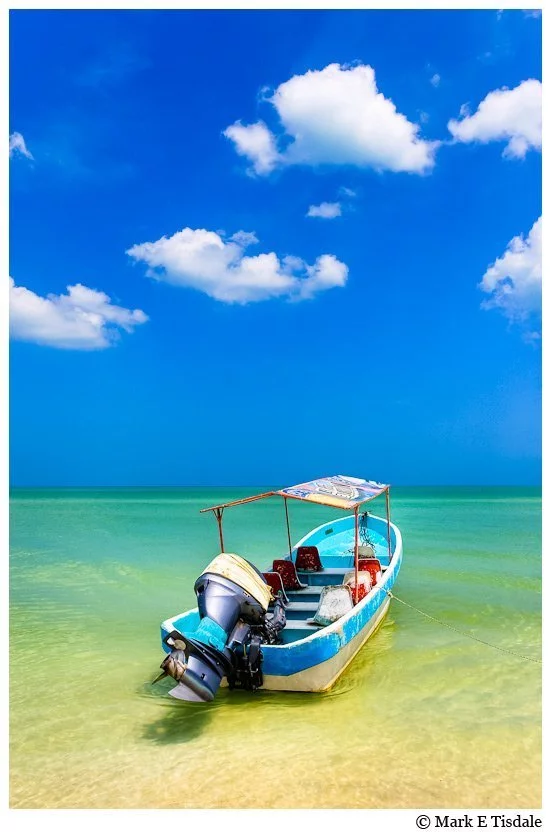 It may not be surprising that most of my photos are of that beautiful ocean.  The colors of the gulf waters on this side of the Yucatan were just fantastic and the water was so, so calm that day. This photo for me, is really the soul of freedom, a wide and wonderful beautiful world before you and nothing holding you back but the one thin rope to the shore…  Did I use enough adjectives to describe this picture? How about I add that gorgeous blue sky filled with clouds and the cute blue boat? Or how about I just shut up and show you another beautiful boat picture?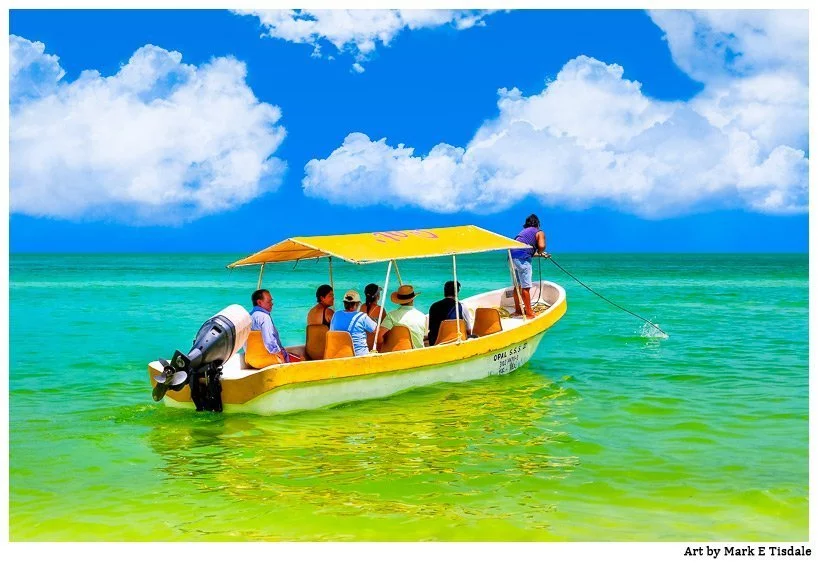 Can you believe it this beautiful photo?  More of those impossibly blue blues and green greens and then the bright yellow of that little boat completes this picture.  Really in person it was just too gorgeous to believe, and I sincerely hope that translates to these photos. I have to admit that at first these little boats didn't seem to sea worthy, and no mistake you're definitely not going out on the QE2, but it was a lovely experience. In my case, speaking no Spanish, I first had to deal with the language barrier trying to get onto a boat.  Finally someone who spoke a little English came and helped the boat captains figure out who needed another party (which helps the price of the trip for everyone in the boat).  I don't remember what it cost but it was really reasonable.  I was the only native English speaker on my boat.  There was a trio from Europe, one of whom spoke some Spanish and another of whom spoke some English, so everything I heard about the things we saw was translated twice.  And it didn't matter a bit if it had been translated at all. I had a great time when my chance to board one of these boats came…
I figured I should balance this spotlight just a little and show a photo of something other than picturesque boats. This picture is of the "Petrified forest" – I read later that it's not truly a petrified forest. I still don't entirely understand the details, but apparently this was once a forest but "saltwater infiltration" occurred and the roots were suddenly in deadly salt water instead of fresh water and the forest died off.  I would never have expected such stark beauty from a dead forest, but there was something brooding and majestic about this place.
If you enjoyed these photos, you might enjoy seeing more of my art prints from my time in the Yucatan: