Churchill & New York City – Art Prints
What a truly random combination of work, but it's what I have to discuss right now!
As I prepare to prepare (yes, I'm that far behind) for my trip to Ireland, I'm doing my best to finish editing my NYC photos.  It's a fair bet, however, that while I may post them in my gallery on my website, nothing new is going to make its way to my prints until I'm back.
There's already some photos in there of which I'm very proud. And as is often the fact, I look at them and ponder when I might make it back to explore more of what I saw. Not tomorrow by any stretch, but someday I expect.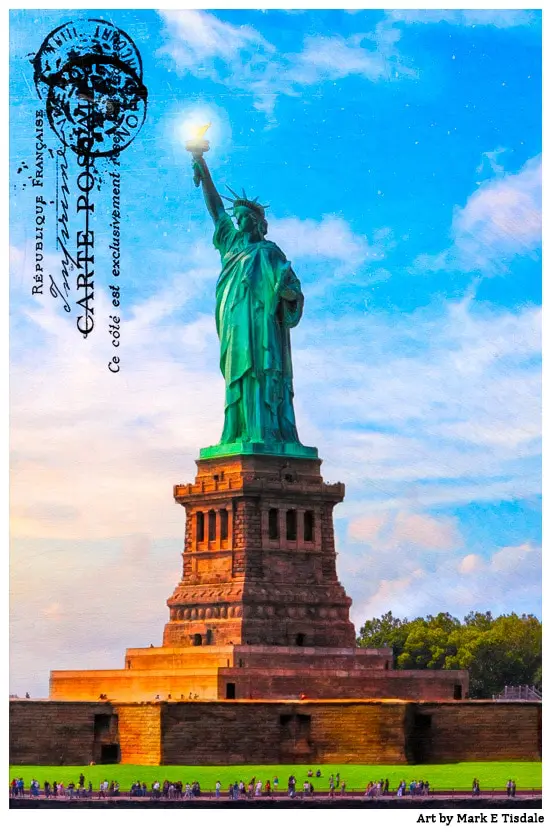 Knowing my sometime predictable luck, it should be no surprise that the boat ride on my first day in New York was as close as I ever got to the famous Statue of Liberty. Bad weather the morning I intended on visiting left this my best view, but it was not bad at all. The statue is a true treasure, and my photos that day gave me an excuse to do something a little more artistic, creating this many layered image to resemble an old color postcard.
This is one image I was quite taken with. It does require a small amount of explanation, though. I am quite near sighted and have an astigmatism.  I would not get far in the world without my glasses. I was on a night tour of the city and took my glasses off for a second and glanced down a side street. This is more or less what I saw. And I loved the view, the city boiled down to its chaotic best. Lights without form! It suddenly occurred to me that I could reproduce this for my camera by putting it out of focus. So, you can see the world as I saw it. I played with this off and on the rest of the evening, and may post more but this first try was my favorite.
And now that you've seen some New York City, I can jump to Winston Churchill, because the connection is obvious isn't it? Maybe you don't know that the iconic prime minister of the United Kingdom, in fact, had American ties? His mother was born in Rochester, New York, and was raised in Brooklyn and New York City. So yes, there is a connection between New York and the famous British Bulldog. However, truth be told, there's a different reason I'm posting this one. A couple of days ago, I was contacted by a would be buyer who really liked my photo of the statue of Winston Churchill silhouetted in front of London's Big Ben. However, she had a special request that I fulfilled.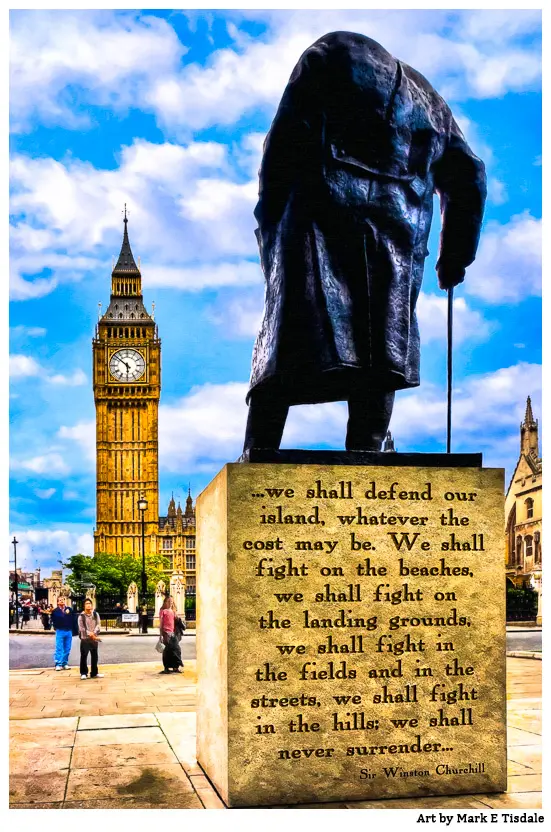 She wanted me to include the Churchill quotation that I have always included with the description of this piece on the print itself. And I think it was an excellent request!  I'm really happy with the result and wanted to share it. I think it definitely helps anchor and explain the image and it was almost as if I left that massive base just for this purpose. I wish I could have been that forward thinking! Anyway, here's hoping she enjoys it when she receives it!