Discontinuing Photo-books For Now
I'm sad to say that I've decided for now at least to discontinue the sale of my photo books. If you didn't know I offered them, shame on me for not doing a better job pushing that information out there!
Background
I pushed my first photo book, Egyptian Dreams, into the world in September of 2009. Of my travels, there's no doubt that my trip to Egypt is still a highlight. And I'm still quite proud of that first foray into books. The folks who purchased it were a mixture of people who dreamed of going to Egypt and those who had been there as I had. From both groups, I got plenty of positive feedback.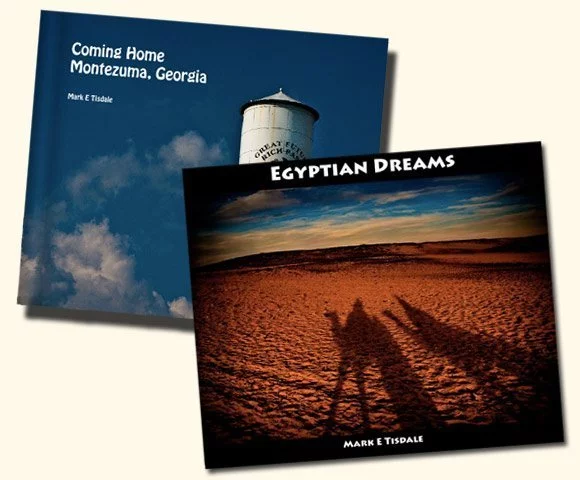 By June of the following year, I had put together my second photo book, Coming Home. The second photo book was based on images I'd taken around my small hometown of Montezuma, Georgia. Despite the exotic nature of the first book, Coming Home was probably the one of which I am most proud. There are and will be many photo books of Egypt, and I do hope my images have their own unique style. Still, I doubt there will be many photo books documenting my small town. Of the handful of copies that sold, I do hope a few survive to show how Montezuma looked at the dawn of the 21st century.
Why?
Moving on to the burning question of why I'm discontinuing these two photo books. Inevitably, it boils down to cost. Blurb, who is responsible for printing these books, has raised prices several times over since I initially offered them. In case anyone has looked at the prices in the past, I hate to say you'd laugh if you knew how little my part in that price is. The mass market books we buy in stores are profitable because of the high volume that are printed. Blurb doesn't print in that kind of volume. In fact each book is printed only when a copy is ordered! The Blurb photo books I've purchased have been beautiful without fail, but the prices are now just too high for me to continue to promote them, never mind create any additional books.
The Future
Over the past several months I've looked into offering eBooks, but I wouldn't hold my breath on that front. I could basically write an entire article about my concerns with photo eBooks, and I may write it if there's enough interest. The short version revolves around the resolution I'd need to supply and the lack of any sort of protection for those files. I have a better understanding for music DRM these days. There should be some way to protect content creators and not make life difficult for consumers, but I don't see it and I'm not ready to go there at this time.
I'm sending this message rather than just taking the books down straight-away. This  gives any of you who may have thought about buying one of these books a little warning. If you thought you might buy one later, then later needs to happen by the end of September!
And to those who have purchased one of my books in the past, I do want you to know your patronage is much appreciated, and you'll own something fairly unique! Even if I were to create another book down the road using the same images, the format will be completely different next time since I used Blurb's proprietary software to create those books.
If you're sitting out there with an affordable but high quality alternative to Blurb for print books., by all means, speak up! I have enough irons in the fire right now that I'm not ready to explore it myself, but I always appreciate the odd bump in the right direction.
Preview and Order Photo Books Here
Note: after multiple requests, I did leave my Montezuma book on offer at Blurb. It's on the expensive side at Blurb but it's a subject you won't find anywhere else and for that very reason I agreed to leave that one book available.