Dream Tree and Sunset on Nicaragua
Still going full-steam ahead on my print collection revamp, but happy to say that I can very nearly see the end in sight! It's been a long time coming, but it's been very worthwhile. What originally started as just re-writing the descriptions of each image eventually became revisiting a host of photos from the past, which lead naturally to some new work being added.
I'm not sure if I'm alone in this regard, but typically when I take photos locally I tend to edit the bulk of them shortly afterwards. When I travel for weeks or more and build a large catalog of images, when I return, some of those images don't get touched for quite some time.
This is how it came to be that as I worked my way back through my images from my 2009 trip to Nicaragua, I came up with some new works to share. Both of these new pictures are from my brief stay on the archipelago of Solentiname in the midst of Lake Nicaragua.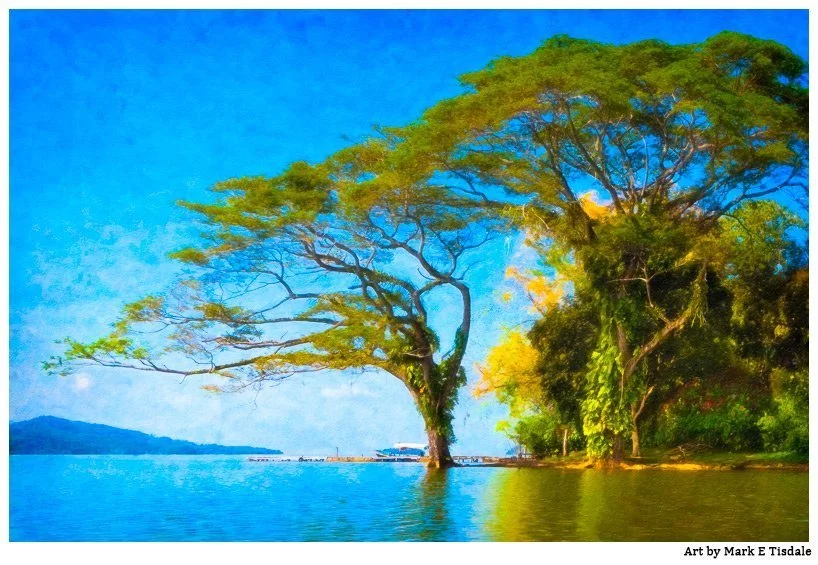 The first of these new prints is the above image of some truly wild and graceful trees reaching out over the lake. This amazing first view of the island where we stayed remains burned in my memory. When we arrived by boat I was immediately captivated. The trees were so graceful that they reminded me of towering ballerinas pirouetting over the glassy surface of the water. There was just something surreal about them that I felt deserved a dreamy image. The original photo at the heart of this textured piece was, in fact, taken from a boat the second day of my stay. I had made numerous attempts from the pier you can see beyond the trees but no view I found there equaled the one from the boat. So I jumped at my next chance to go on a boat and capture them as I had first seen them.  And I'm very glad I did as the lighting was just right. Soft blue skies, the rich green of the trees and a little spot of golden leaves for spot color in the midst of it all.
It was a conversation with a friend that led to the title of this print. I often struggle for titles so I had to jump on Dream Tree because even though I was there, when I look at this image, it feels like it was ripped straight from the sleeping mind.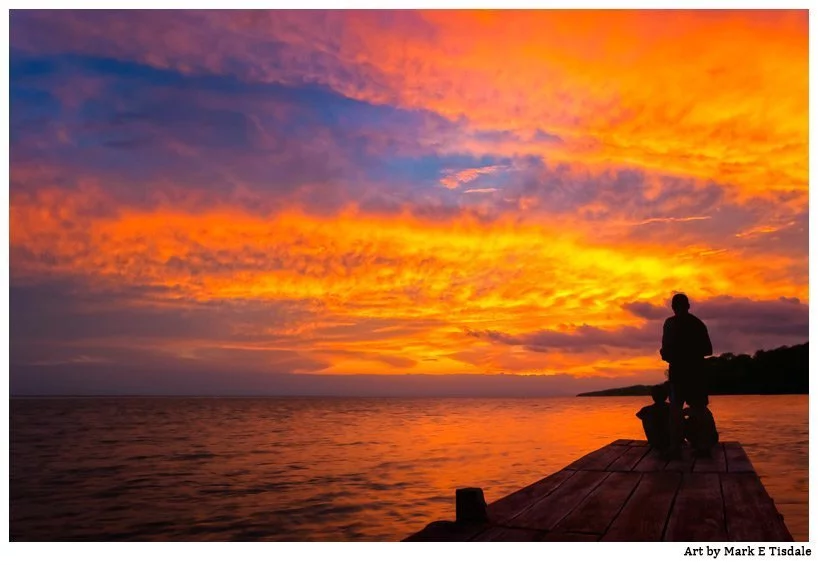 The last night for my little cohort of travelers on Solentiname was also our last night in Nicaragua, so the blazing sunset in the picture above felt like a fond farewell to a warm country, both in weather and spirit. When one takes enough photos, you start noticing the ingredients of good lighting a little bit before they arrive. As the day passed on our little island on Lake Nicaragua, I had a feeling we were in for a great sunset, but I had no idea just how dazzling it would be. The weather system that gave us the deep oranges and reds that night was probably the same one that gave us a rainy boat ride to Costa Rica the next morning, but considering this brilliant sunset, I think I can forgive a damp departure, don't you?
Part of our group gathered on the pier for an unobstructed view of the ever-changing skies as the sun went down, and I couldn't resist the chance to capture their silhouettes against the sky. I feel like the human figure gives the viewer a way to participate in the moment, to imagine that they are sharing the experience depicted. It's probably far better to imagine yourself where my friends are standing than lying on the pier where I photographed this scene.
If you enjoyed these new additions, I hope you'll take a look through my recently updated Central American Print Collection! I'd love to hear what your favorites are from this gallery!
Special Offer
Additionally, as a thank you to those of you following and collecting my work, I want to offer these two new prints as well as my Rustic Alabama Print featured last month at special introductory prices. It always feels a little odd to me to offer any kind of significant sale on existing prints because that means someone out there paid more for it in the past. Sure, we've become programmed to expect that from the big box stores, but it still makes me personally uncomfortable. The light bulb went off the other day and I realized that wasn't an issue with new works! So, here you go! Thank you all so much for your past and future support and if these images speak to you, I hope you'll take advantage of the special rates!
The secret sale gallery is here: Introductory Special Gallery and the sale ends Sunday, March 11th. No special codes required – prices on the three prints on offer already reflect the reduced prices.
Thank you so much for your support and as always please feel free to share!