Dublin Nights – Temple Bar Stroll
I know you are all thinking, well, hello stranger! I kept thinking I would get to post an update that I was done with the never-ending transition to my new print gallery site, but that is a story for another day. I realized the other day that it has been entirely too long since I shared new artwork. And yet I have more than a few new works like this Dublin Nights print of which I'm quite proud.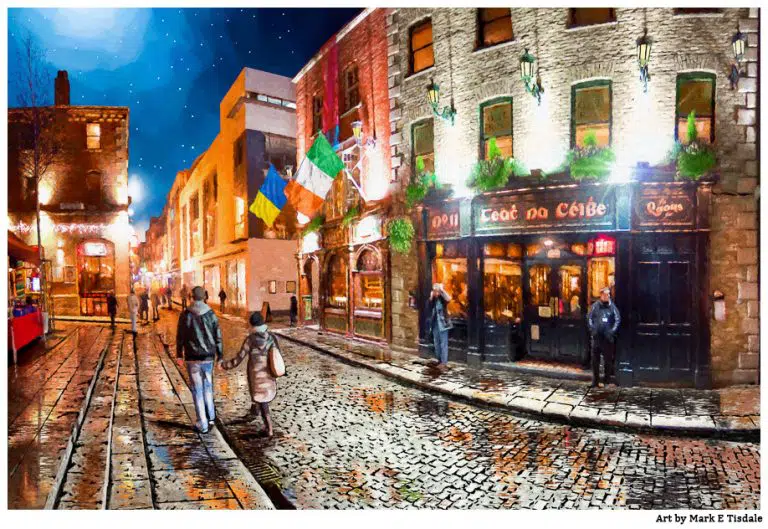 It's been several years now since my month in Ireland, but most days it still feels as clear as yesterday. Each moment in my Irish travels feels as vivid as this Dublin Nights scene from my last night walking through Temple Bar. I feel like I brought back a creative energy from my time there that still manifests itself periodically in my art.
This Dublin nights print is also a great example of how my artwork has over time evolved from being purely photographic. When I shared this amongst a small group of friends online, one person commented that they were unsure whether it was a photo or a painting. And quite simply that's because it lives somewhere in between. It started life in a camera, not surprisingly, but it was a chain of photos from outside the Quays Bar taken with my fisheye lens. Assembled as one would a panorama, the result is a three dimensional sense of this Temple Bar street unfolding before the viewer. But even beyond that, I spent many hours at my desk with my Wacom tablet and pen brushing over the original image to create this final artwork. In the end, it is every bit as much artistic brushwork as it is a panorama photo illustrating the last of my Dublin Nights.
I am sometimes hesitant to go into detail about my work process. On one hand, I'm afraid it will bore people to tears when I would rather they simply look at and appreciate the results. On the other, I wonder if it kills the magic to draw back the curtains and reveal the wizard? Or perhaps this Dublin nights print is that much more significant to the viewer knowing that I spent so much time working on it?
Whatever the case, I have as should be evident long since passed the need to be faithful to reality. I think that's part of the journey of many artists whatever tool they use. I took in a Canaletto exhibit several years ago in Scotland. And I still remember being impressed by part of the exhibit where they showed that the incredible attention to details in Canaletto's paintings were at the same time just a bit deceptive. If it improved the image in his eyes to nudge a building or a bell tower over one way or the other, he did it.
Ultimately, I too have come to the conclusion that the final image matters more than a slavish adherence to reality.