A trip to Paris just wouldn't be complete without seeing its most famous landmark, the Eiffel Tower.  Built in 1889 as the entrance to the World's Fair, it was never intended to be there a hundred years later.  In fact, the permit was only for 20 years.  However, by the time those 20 years expired, the tower had become valuable to the city as a communications tower and its landmark status had grown.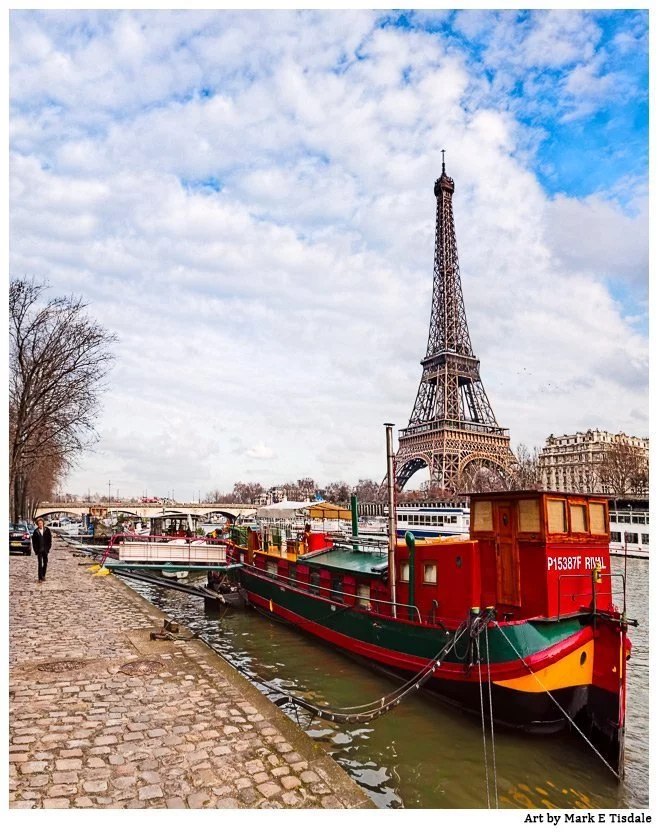 Until 1930 when the Chrysler Building was completed, the tower was the tallest manmade structure in the world (having surpassed the great pyramids at Giza after millennia).  As a major icon, it's hard to find a unique take on the Eiffel Tower, but I sure enjoyed my attempts at making my own mark.  This is one of my personal favorites, this color print shows a view from a bit down river, just past where the tourist boats tend to turn around. The guy you see walking along the path on the left was actually returning to the bright red boat in this picture. It appeared to be his home, imagine living like that on the river Seine with the Eiffel Tower dominating your view.  Insanely awesome!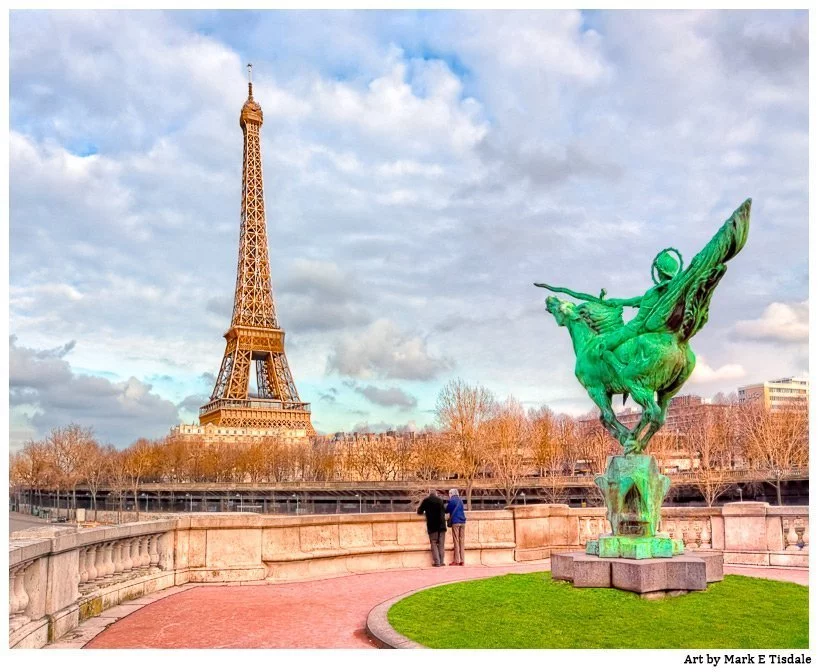 If the top print is my favorite, this picture is a close second.  This view is also a bit down river but from an observation point that I arrived at just as a great golden light was hitting the tower.  This was actually some of the last light of a winter day.  In the foreground of this photo there's this great horse statue.  I have not been able to find any details on the statue but would love to hear from anyone who can flesh out this part of the picture.  Also in the foreground was this older couple huddled together looking at the same golden tower.  The title probably seems a bit strange, but I was reminded of Cervantes' Don Quixote.
These are a sample of my Eiffel Tower pictures, I hope you'll check out my Paris Prints Gallery to see more of Paris and its famous tower.  I'd also love to hear your thoughts on these prints and the incredible Parisian landmark, Tour Eiffel!