Eiffel Tower Romance Painting
This idea for this Eiffel Tower romance painting came to me because of the film title "Last Tango In Paris." Now I have to admit, the title was the full extent of what I knew about the movie. It was a film that was already ancient history by the time I was even old enough to see it. I guess in essence I created my own romantic story to go along with that title. The image it brought to mind for me was a couple on their last romantic evening in Paris.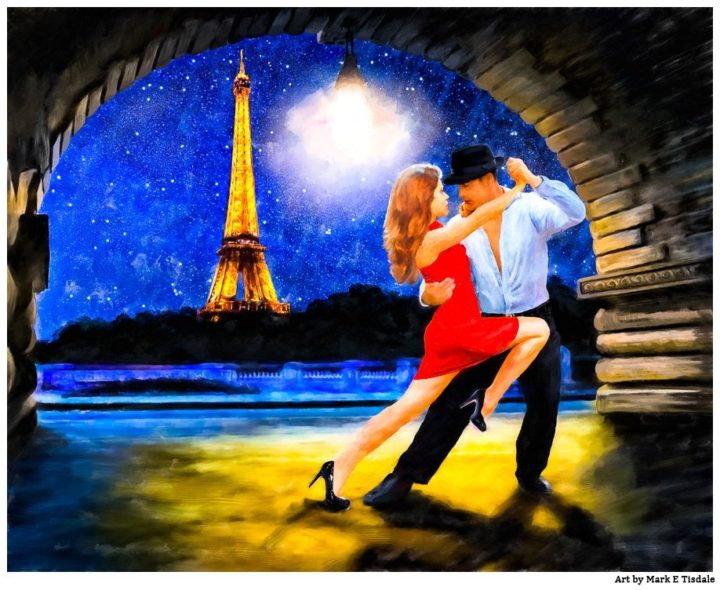 My knowledge of the film may have been zero but I like to think the image created by my ignorance transcends it. This Eiffel Tower romance painting is one I'm quite proud of! It's based on an actual arch near the Eiffel Tower. I stumbled over this view of Paris while roaming the surrounding streets near the Eiffel Tower. I loved how the arch framed the landmark tower but it was simply a beautiful setting. It needed more.
Enter our beautiful couple on a starry night in Paris! What's their story? Did they meet in Paris? Is it their honeymoon? Maybe a young couple on vacation? It's absolutely up to your imagination! I spent a lot of time watching videos of Latin Dance and in particular the Tango looking for just the right dance move. I have a feeling eventually more paintings will come of that. The human body in motion can be amazing! This particular movement is a a leg wrap or enganche. And in my eyes, it was perfect to put them in contrast to the graceful lines of the Eiffel Tower beyond.
So that's my version of the Last Tango In Paris – and the result is a Latin Dance art print I'm thrilled with. The light, the color, the movement and, yes, the romance of Paris makes this a bright spot in my portfolio.
Save
Save
Save
Save