Featuring – British Christmas Cards
A couple of weeks ago, I had an email from a past customer in England as she was looking for Christmas cards that featured her favorite subject, those beautiful red Phone Boxes.  And if you've ever thumbed through my British themed art before, you know it's a fondness I share with her!
As it happened, I'd had an idea for a British Phone Box on a snowy street in the back of my mind for awhile. It was something I wanted to do but the whole vision wasn't there yet, but when I got her message, I suddenly realized it would make a very cool British Christmas card!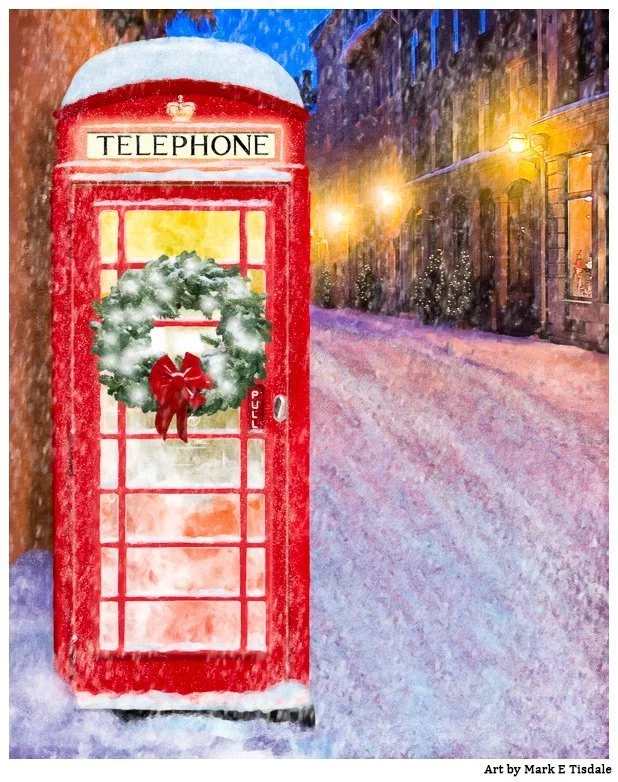 The funny thing was when I finished the first of my British Christmas Cards, it was a bug I couldn't entirely shake-out. The reaction to that first card was just so positive. Not only did she immediately purchase a box of cards, I sold a few more boxes as soon as I shared it on my Facebook page. Of the ones who dropped me a message, most of them were British Expats living in the US. There was a strong feeling of home for them in my Very British Christmas card from what I was told. And doesn't Christmas embody feelings of warmth and being home with kith and kin?
The second card in my British Christmas card series was requested by several people and features the ever popular but even more rare Blue Police Box. These were once essentially sub stations for Police in British cities. In an era before mobile phones and portable radios, an officer on the street could communicate with the main station from the telephones housed in these little Blue Police Boxes.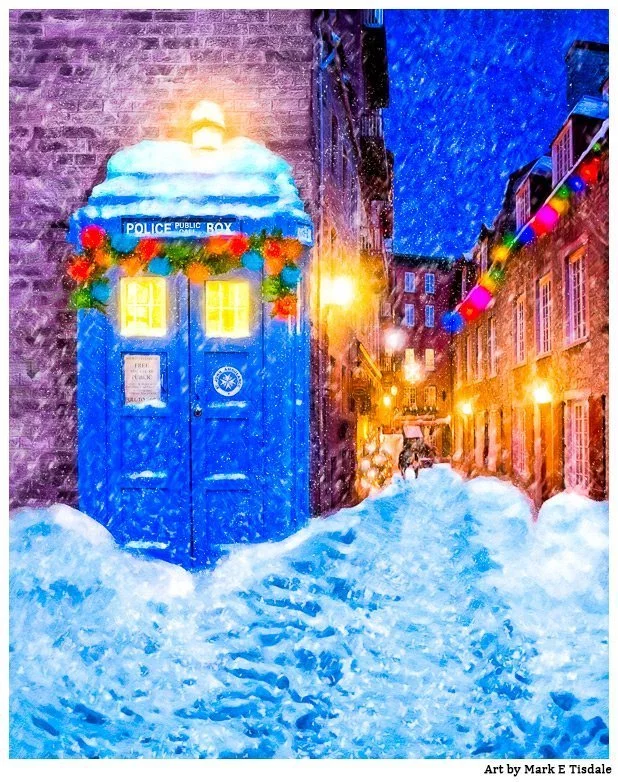 Again, this one was a big hit! The first one remains the most popular but there's a fun and cheerful feel to this British Christmas card.
That led me to the (for now) last in the series. This one is unquestionably the simplest of my British Christmas card designs, but in some ways it's my peronal favorite because of that simplicity. And after all, I've seen several beautiful prints of old red telephone boxes in a rural landscape. This one just happens to be filled with falling snow.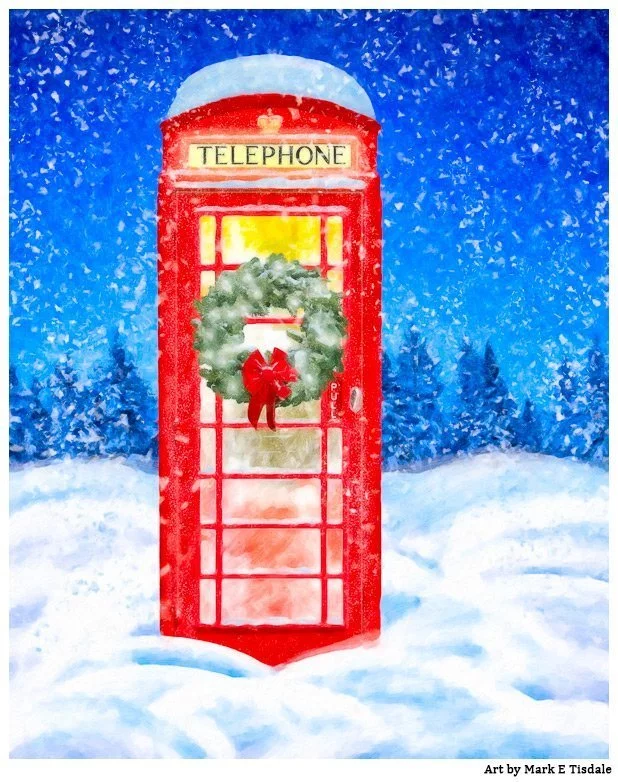 This piece I designed to also work for throw pillow for those that would like a little bit of seasonal decor for their home at Christmas. And in fact, if you click through you'll see some other decor items as well as t-shirts. Despite being the simplest, this one actually took the most work because of the fact I wanted it to work for more than cards and prints.
Of course, all three of my British Christmas Card designs are available as prints as well as cards, but I suspect the main appeal will be to people looking for unique Christmas cards whether they are from the UK or just love all things British. Unless Hallmark calls up tomorrow, you can bet these will be Christmas cards the neighbors won't have.
You can see and purchase all three of my British themed Christmas pieces from my online shop. As of this posting, I've only designed these three pieces specifically with Christmas in mind but you can find some other work with a Christmas flavor as well.