Five nights in Paris – Part One
It's precious little surprise to anyone who reads my blog that Paris was not the highlight of my month across the pond last winter.  However, I have to give Paris its due, it was an incredibly photogenic city.  I don't think it's any secret that when taking photos, every picture is not a keeper. In Paris, however, I was amazed at the ratio of keeps to drops when I was making the first round of edits.  To be honest, even some of the drops are perfectly respectable photos, they were just made redundant by others I had selected in the first round edit.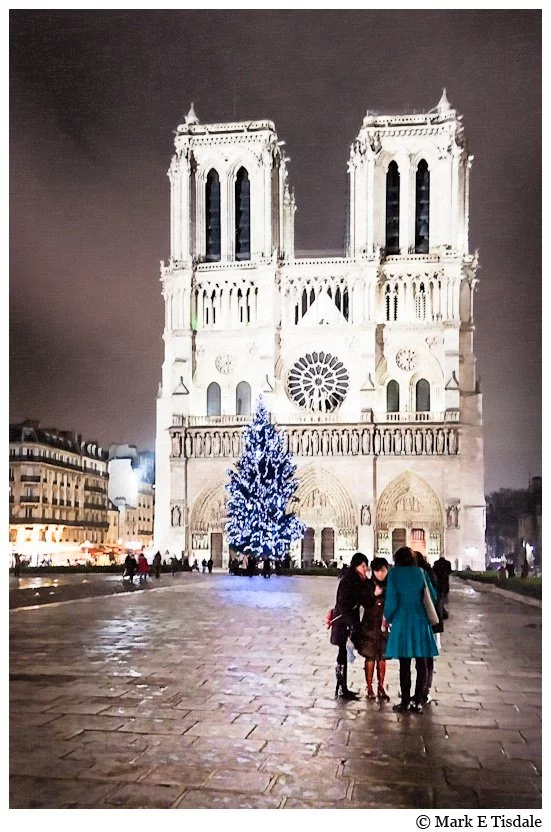 I arrived in Paris later than expected due to fog in Dublin.  Combine that with hunting for the right train to take me into central Paris, transferring to the Metro and then wandering in Montmartre trying to find the hostel… well, in winter, this all adds up to it being dark by the time I had shoveled down some food and found my way to Notre Dame de Paris.  No surprise that the cathedral was beautiful.  It's regarded as the best example of French gothic architecture for good reason.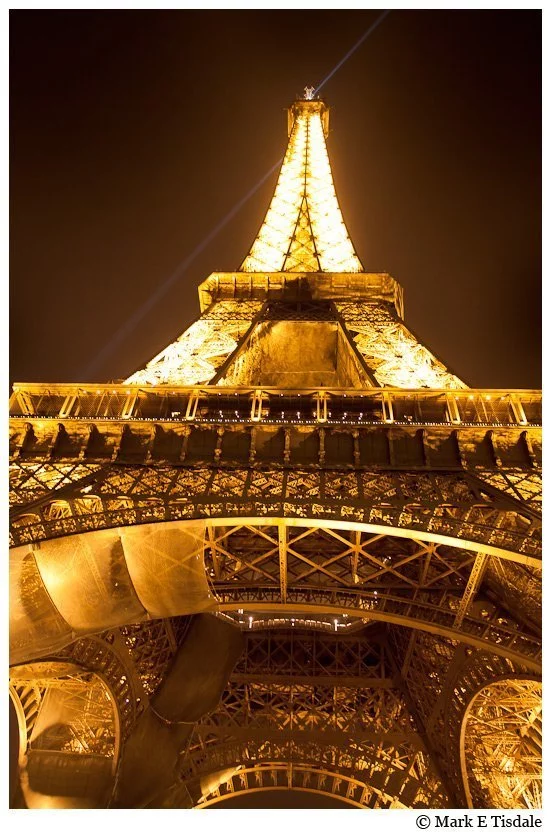 I wandered along a route from Notre Dame along the seine soaking in the architecture and getting a feeling for the lights of Paris.  It was a bit of a walk but worth it.  What a pity that the lights of the Eiffel Tower are under copyright because I was quite happy with how this one turned out!  At least I have it for my own memories!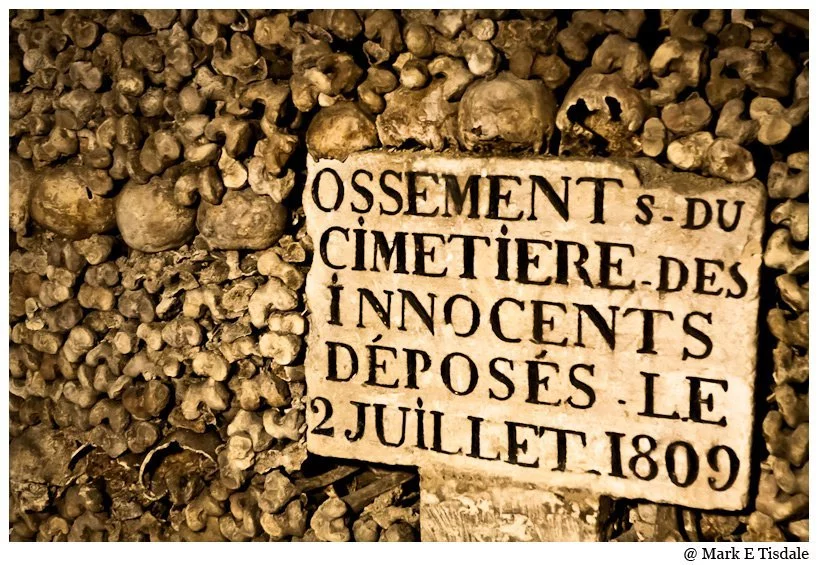 The next day in Paris was rather dreary, but that made it the perfect day to be far beneath the streets in the catacombs!  Yes, those are all human bones and you haven't seen nothing – that's just a minute example of the stacks and stacks of bones that were deposited there in the 1800's when they emptied the city cemeteries into these old subterranean quarries.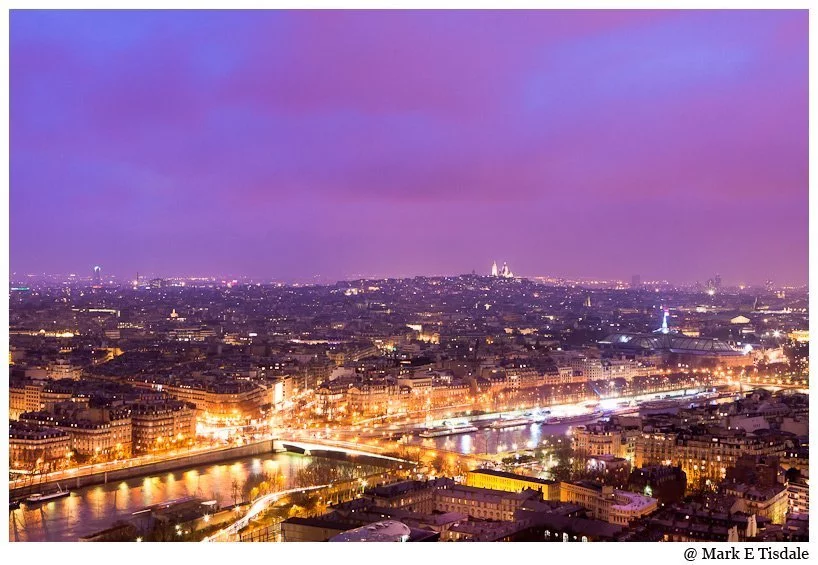 By the time I came out, it was still overcast but clearer and in the winter, you can't count on better weather, so off to the Eiffel Tower I went.  I made it there in time for dusk. When cloudy, the skies at dusk tend to also reflect the city lights.  It made for a very atmospheric view.  This view is overlooking the river Seine.  The bridge closest is Pont de l'Alma.  To me, the most interesting point is that tiny spec on the high point about a 1/3 from the right of the photo.  That's the tall hill in Montmartre where basilica Sacre Coeur sits.  So, in a way, yes, I could see my hostel from there.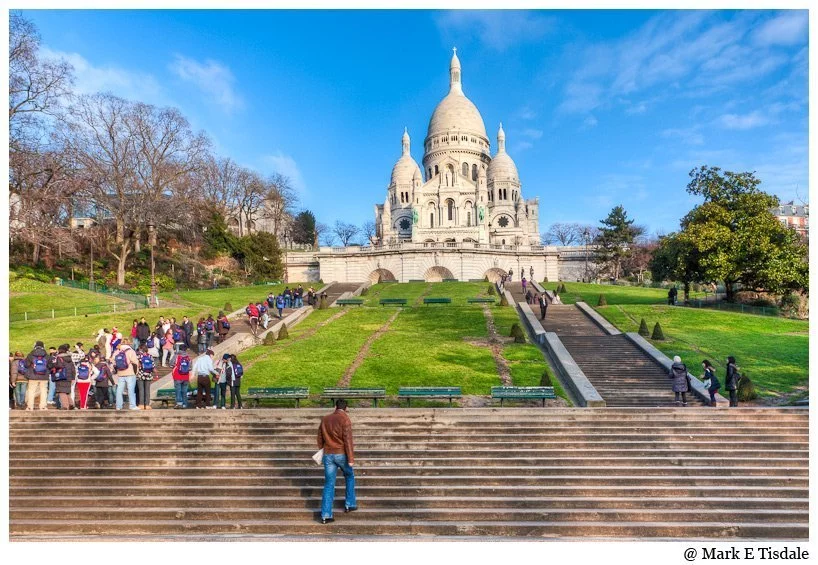 And the next morning, Sacre Coeur, just a short walk (but a long climb) from my hostel was where I was bound.  It sits on the highest ground in Paris.  The architecture is truly beautiful, and to give you an idea how tall that hill is, there's a funicular that goes up the hill to take those who aren't up for the climb.  But the good pictures aren't from the train, so here I am near the start of the uphill hike.  The view from the basilica steps were incredible.  I can only imagine what they are if you go to the top as they only took exact change (automated entry, no human beings) and I never made it back.
I'm going to have to break this into multiple posts to feature the number of images I want to.  As I said, Paris was incredibly photogenic!  Maybe the most of any city I've visited.
I've  actually begun posting prints to my online gallery, so if you're interested at seeing what I've selected as print-worthy so far, check out my Paris Prints.  I'm still working on them, but if you think I've skipped your favorite, please let me know what it is, it's always helpful to have feedback on print selections!