Gone – Historic Hunter England Cabin – North Georgia Art Print
Another recent print posted from the archives.  This is one of my favorites from North Georgia.  I wish I even knew exactly where it was.  I had spent a day wandering North Georgia.  I know for sure I had had visited Brasstown Bald and had snaked across some of North Georgia and driven through Blairsville.  Somewhere as the last bit of light peaked over the hills, I saw this on the side of some winding road and had to pull over.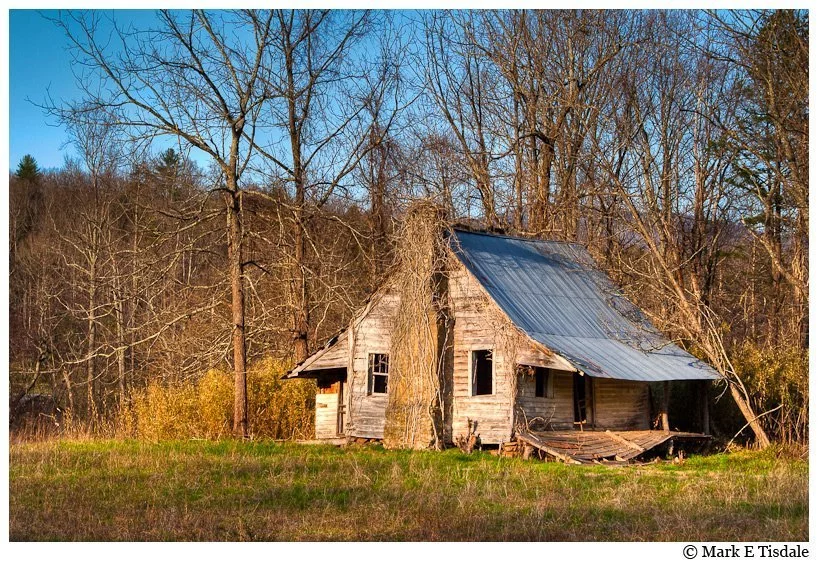 Whatever lonesome highway it was, I loved this little relic.  I would love a little house like this someday – well, in better repair perhaps, but the size fits with my new outlook on life.  At any rate, I like to look at this little cottage/cabin in the North Georgia landscape and imagine a family that once lived there.  Maybe someone's little old grandmother lived her last days there preparing wonderful meals when her family visited.
Update: You'll see if you read the comments that this little cabin has been identified as the oldest house in Union County, Georgia! That background information for this photo is much appreciated! And hopefully a help to others looking for this scenic piece of North Georgia heritage architecture, the Hunter-England Cabin.