Photos from Galway and around – Part 2
Continued from Photos from Galway – Part One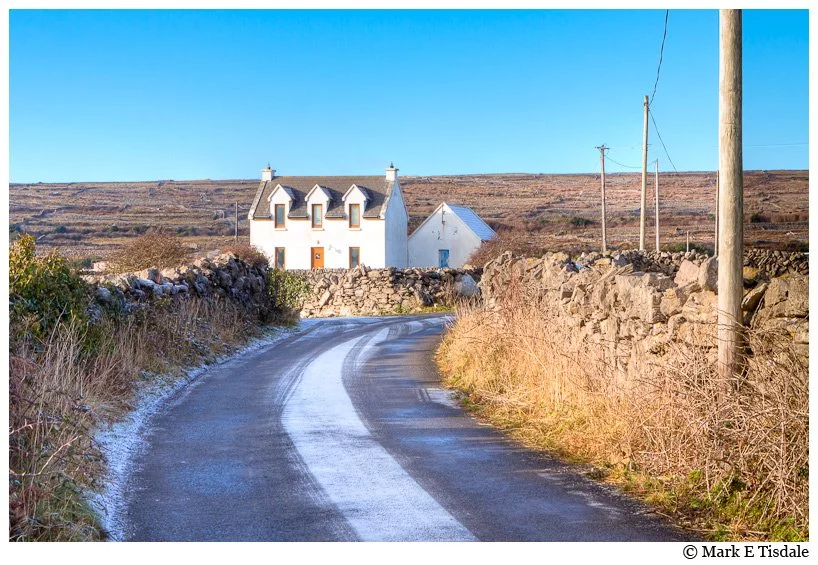 My next stop was the isle of Inis Mór – check out the cute cottage pictured!  It's a sparsely populated island with few visitors in the winter.  When the weather was clear, it was incredible to roam.  When the rain came, the wind blew through you, and it was a great place to stay indoors!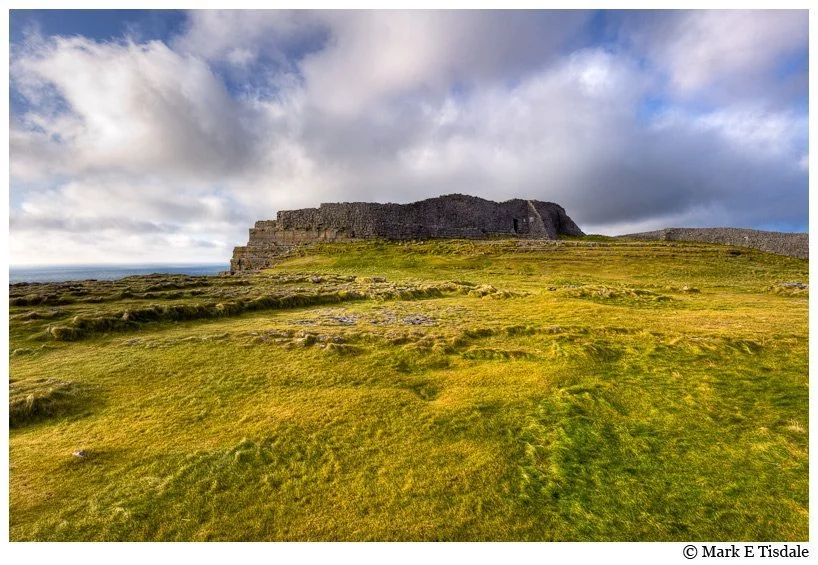 Aside from an island populated with native Irish speakers, one of the big draws to Inis Mór is three mysterious Iron Age forts. The two I visited are situated right on the cliffs, hence they are incomplete rings, but there is a complete ring as well.  The one pictured is Dún Aengus, the most visited ring fort on the island. There are lots of theories about how it came to be here but no firm answers.  Some thought they were the last outposts of a people pushed to the edge of their small world – off the coast of Ireland.  Others believe there is a spiritual reason they these "forts" were built where they were.  It may well be some far more complex than we imagine. Whatever the reason, it was truly magical standing there in the shadow of such old structures and trying to understand the people who built them, so alike and so different than us.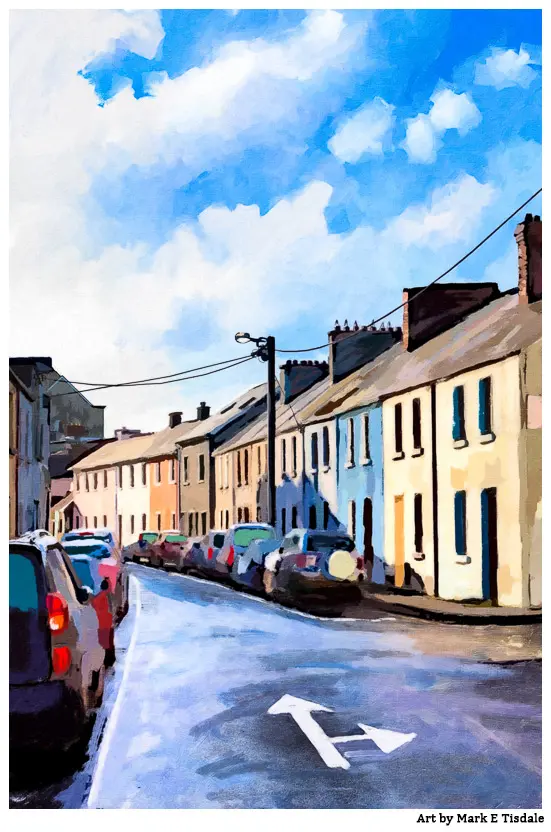 This street scene was painted in Corel Painter using one of my photos as a reference. It offers a little taste of my return to Galway from the Aran Islands.  You can get a good feel for the residential streets of the old city.  If anyone is giving away a house in Galway, you know where to find me!  This is older, of course, there's  a much newer side to the city with more American style shopping malls, etc.  I'd like my free house, here, though, but beggars can't be choosers I suppose – I found it all walkable anyway.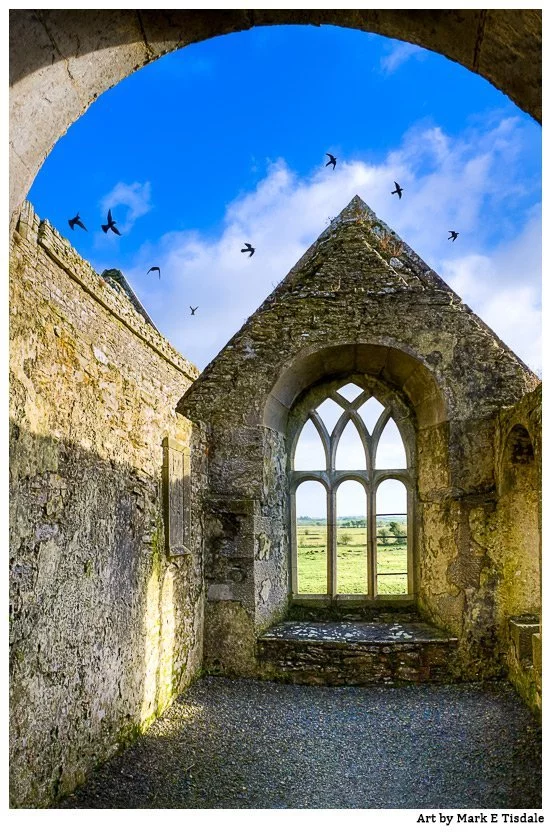 Inevitably, I left Galway again, this time on a bus trip to Cong and Connemara.  I only returned to Galway a couple of days later long enough to catch a bus back to Dublin.  I was sad leaving Galway behind, but the sights on the bus and the two nights in Connemara were my best look into rural Ireland.  The above photo is from an isolated medieval monastery, Ross Errily Friary, which was abandoned by the early 19th century. The bus stop here was terribly short but I scored one of my favorite photos from the trip standing inside those monastic ruins. I heard birds rustling in a nearby room and framed this picture and waited hoping that the others in my group would accidentally flush them out. Sure enough, not only did they scare them into flight, they went the right way. It was as if it were meant to happen.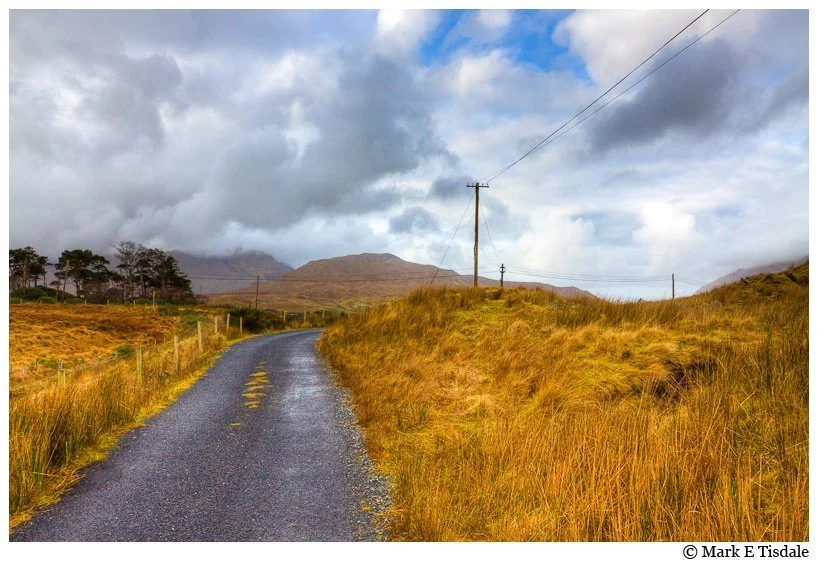 After a bus trip through the wilds of Connemara, I settled into two nights at a hostel near Leenane. Even in winter, the landscape here was just incredible – off the chart wild and beautiful and reminded me much of the Scottish Highlands. The picture above is what it looked like in Connemara the next day.  In betwixt light showers, there was just enough light to really appreciate this place.  I bet as pretty as it was when I was there, it's drop dead gorgeous in summer.  Still, zero regrets about visiting when I did!  It was such an isolated but pretty place to explore.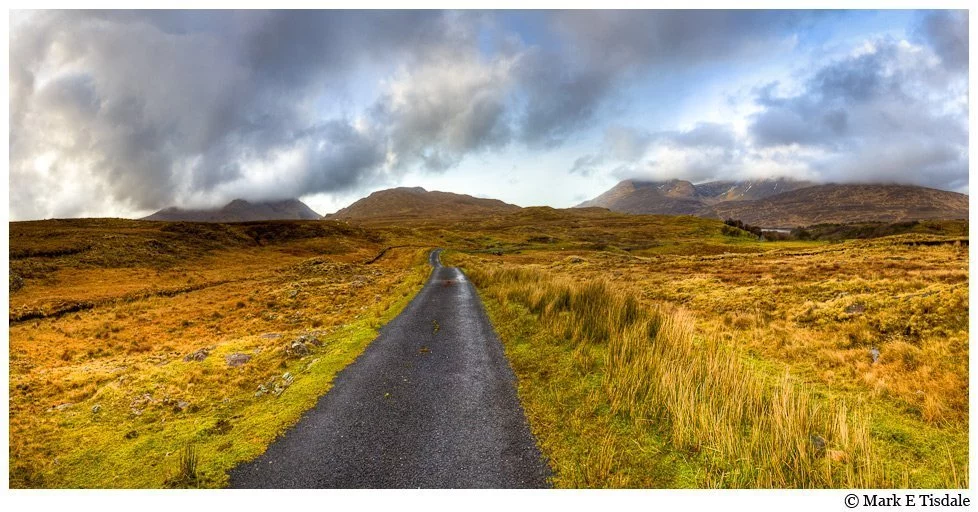 A final landscape with which to bid farewell to both Connemara and Galway. The following day brought wind and rain and having seen as much as I reasonably could before the bus came, I stayed in the hostel and relaxed while listening to the wind howl across these same plains pictured above. Connemara revealed some of the same rugged beauty I remember from the Scottish Highlands.
As many photos as I shared, this is really only a taste of what's in my album.  I hope you'll check them out and let me know which ones you enjoy the most.  They may well not even be the ones I selected to shared above!