Red Phone Booth Art With Brilliant Fireworks
Anyone who has followed my work for awhile probably has noticed I have a thing for red phone booth art. The subject comes up often both in my work and in general conversation. And I don't have a solid reason why they attracted my attention in the first place. I think I may have first seen them when I was little while watching a slideshow of my uncle's trip. But I'm not certain. What I do know is that a bright red phone booth immediately draws my eye whether it's on a street in London or somewhere here in America. Of course, here they are patently a novelty. Phone booths have completely faded from our streetscapes and they were never so grand.
This particular red phone booth art was inspired by a couple of things. First of course is simply my love of the subject. But the second is from my travels in the UK. No, this isn't something I saw, but rather something I wish I had seen. After one of my New Year's trips to Edinburgh, I spent a few nights in London before flying home. Having a conversation with a roommate in the hostel, he told me about New Years in London and described the Fireworks over the city. He showed a couple of phone videos. Nothing with a classic red phone box but somehow that was the mental image I was left with. And I was also left with a desire to see London at New Year's some day. Zero regrets on my two Hogmanay celebrations in Edinburgh, which I would repeat in a hot minute as well. When the chance comes to travel again, I'm not sure which I'd do first! What do you suggest?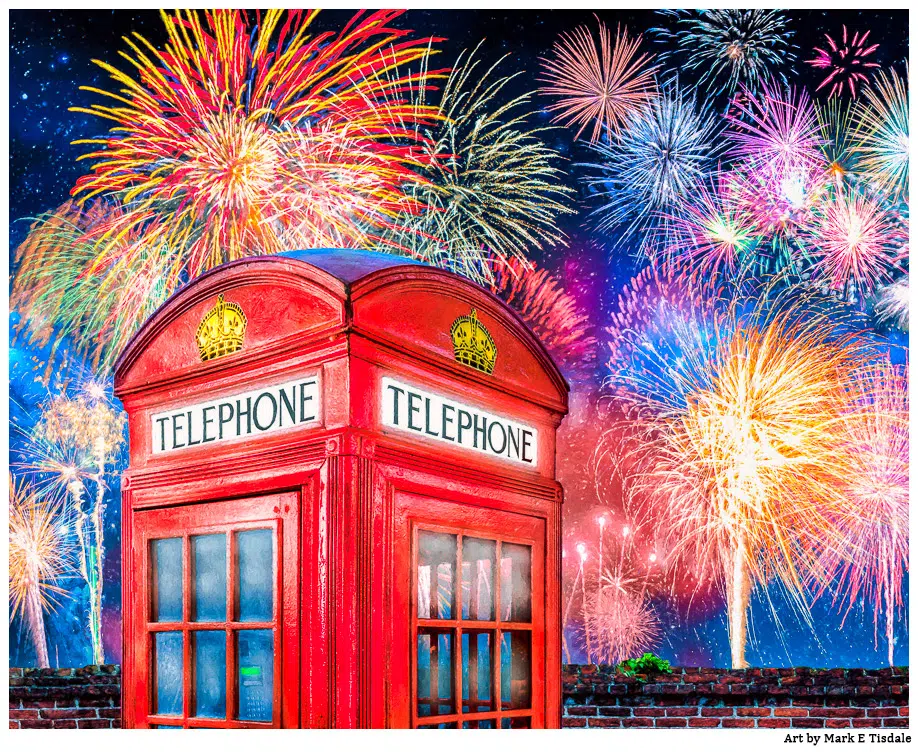 Although London was on my mind when I was working on this red phone booth art, there's nothing in the background that suggests a particular city. This was a purposeful decision. First of all that classic phone booth was the subject after all, but secondly this lets you, the viewer, imagine this in your favorite location. Or you can simply enjoy the colorful fireworks display and a classic British subject.
Where do you imagine this being when you see it? And what caught your attention first about this artwork?