Romantic London Art – Kiss In The Rain
Some art subjects spring fully to life with a eureka moment but this romantic London art was one that has been forming in the back of my head for awhile. If you have followed my work for awhile, then you know I love to do rainy night scenes. And I mean, London is notorious for rain. It's such a regular feature that I called rainy days during my travels there "museum days" because I loved visiting museums and galleries and I knew a rainy day was sure to pop up and that would be my excuse to be inside. But eventually I also came to just love wandering London in the rain. It was just part of the experience.
Among my favorite places to ramble was the embankment paths along the Thames. They are a great place to take in the sights which include highlights like "Big Ben" and Tower Bridge among many others. Perhaps I'll do more in this series and feature some of the other spots along the Thames but I knew from the beginning this romantic London art would feature that iconic clock tower. And allow me a moment of pedantry, but yes, Big Ben is really the great bell inside the tower. The Tower is officially named for Queen Elizabeth II, but the world over, many people see the clock tower and say, "Look Kids, Big Ben… Parliament." I Know it's the first thing I said when I saw it in the distance years ago. I can't be alone right?
Anyway, without further ado, here is the subject of this post, my latest piece of London art which features a very romantic kiss on the south bank of the Thames on a rainy night.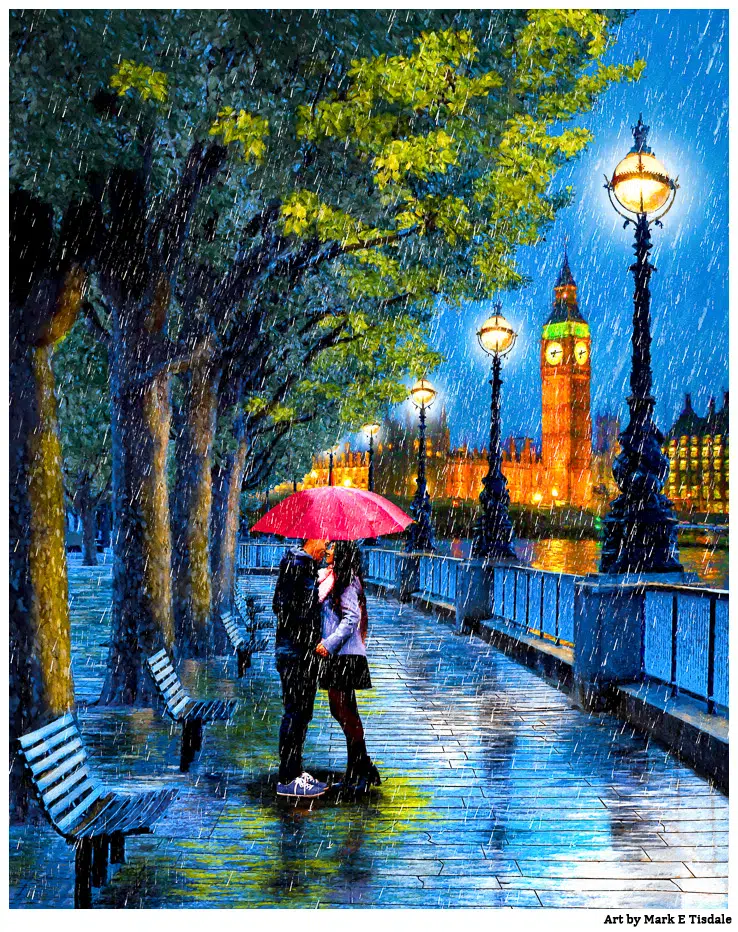 I would love to hear what you think of this Romantic London art. Does it remind you of someone special, a night in London? Or are you just someone who loves romantic scenes? For me personally even though this artwork is not remotely autobiographical, it's the location that speaks to me and yes, I think it's a bit heartwarming but I might be biased in that regard.
Beyond the focal point of this piece, what I really enjoyed working on was creating the details that put this in its location. Look at the lamp posts – you've seen these unique lamp posts yourself if you've stood there. And it's the glow of the palace of Westminster in the water, the golden clock tower reaching into the storm blue skies. But one of the liberties I took as an artist is the embankment path being so empty. If you've been there, even in the rain, there would be other people. That was a nod to the couple being lost in each other. And I think it makes the scene more powerful. How about you?
Thanks for your time checking out my art. I hope you'll consider sharing your thoughts either in the comments below or send a message. I would enjoy hearing what attracted you to this particular romantic London art.