Rustic Alabama – Asa Johnston Home
I've been back from my winter adventure for several weeks now, but rather than working on the many photos I took in Quebec and New York, I've been trying to wrap up last year's project to update my galleries along with a few unplanned side projects.
Rather than reporting on the progress on my gallery update, though, what I wanted to share today was a nice break from trying to pick and choose what to include in my print collections. One of my cousins recently suggested she'd like to see my take on one of the photos from our visit to the Asa Johnston home in Conecuh County, Alabama. I was hesitant at first. That trip was almost a decade ago and while I've long enjoyed taking photos, the ones from that trip were from a time before I really had the fever. Then my photos were carefully taken but ultimately for my own memories. I've rarely dipped into that well. Still, I don't know when or if I'll get to revisit that old home, and I do love a challenge, so I hunted for a suitable picture to apply some of my textured photo-art magic to. And I have to say I am personally quite pleased with the result.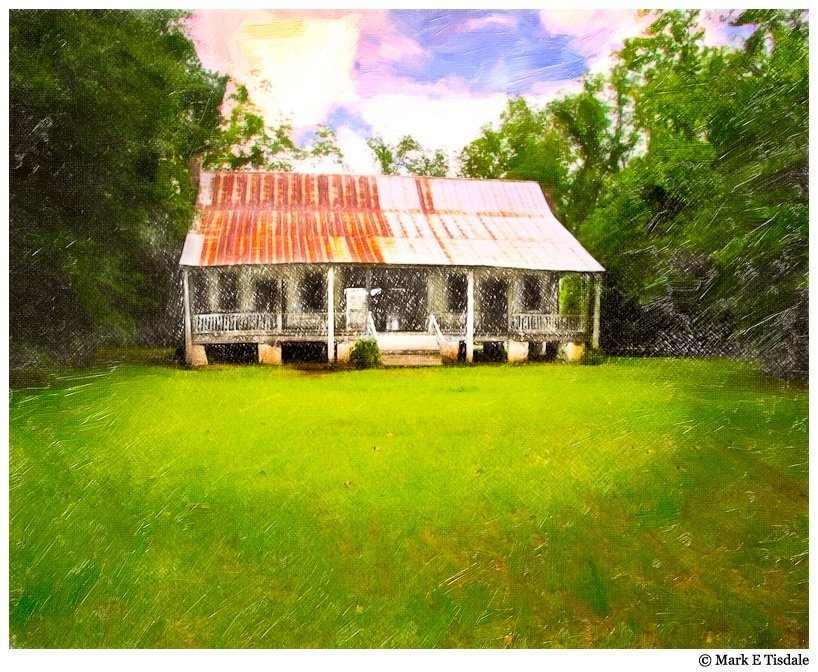 You may be wondering why we had visited this particular home in rural Alabama? This great old home belongs to a distant cousin who was kind enough to take us out to see it. It was built in 1842 for Asa Johnston, who was an older brother to my great, great grandfather, Morgan.  Even without that family connection, though, for anyone who loves history, it was a treat to see and walk through a beautiful old home that's much as it would have been all those years ago. This house is in fact on the National Historic Register
The Asa Johnston Farmhouse is significant at the statewide level, under National Register Criterion C. Constructed in 1842, the house is architecturally significant as an excellent example of a mid-nineteenth century spraddle roof dogtrot form dwelling. It is the most intact example of its form documented in Conecuh County and it retains distinctive decorative details, including the only example of a vaulted dogtrot ceiling documented in Alabama. The house is one of a small number of surviving works by Ezra Plumb, a local carpenter, designer, and builder who rose to prominence in the decades before the Civil War. The house is also historically significant for its relationship with Asa Johnston. Johnston was among the early settlers of Conecuh County, arriving in 1818, the year the county was created, and becoming one of the area's wealthiest antebellum planters. The period of significance for the Asa Johnston Farmhouse corresponds to its date of construction in 1842.
History aside,and you know that's hard for me to do, I look at this picture and it feels truly timeless. There's no sign of the modern world. You almost feel as if someone in vintage clothes will step into the scene at any moment. And I love the verdant landscape in which the house is nestled. The trees almost seem to be cradling the old homestead.  And I can tell you from standing there, it did feel as removed from the world outside as it appears here.
Hope you all enjoy this picture and it speaks to you on some level as well! If it did, please let me know in the comments! Hopefully it's not too long before I can report on wrapping up my project and begin to share some images from my trip. For those interested, I posted details from the trip on my personal blog – hope you'll give those tales a read!