Sapelo Lighthouse Art – Coastal Georgia Scene
This Sapelo Lighthouse art represents two of my favorite subjects, lighthouses and artwork that features my home state of Georgia. So, it should go without saying that I enjoyed working on this view of the historic lighthouse.
If you've visited Sapelo Island in recent years then there's a pretty good chance you recognize Sapelo Lighthouse. However, if it's been awhile since you were last there, you might have seen the 1820 lighthouse in ruins. That was its fate for most of the 20th century. It was damaged in a hurricane in 1898. For some decades a metal lighthouse tower stood adjacent to the old brick lighthouse but eventually that was relocated and all that was left was decaying ruins. In the 1990's the State of Georgia renovated the historic structure. Restoration of the light was completed in 1998 while it was added to the National Register of Historic Places in 1997.
During the restoration, the 1890 daymark of alternating bands of red and white as seen here was restored so Sapelo Lighthouse looks much as it did when it was an official navigational aid for ships going to the port at Darien, Georgia.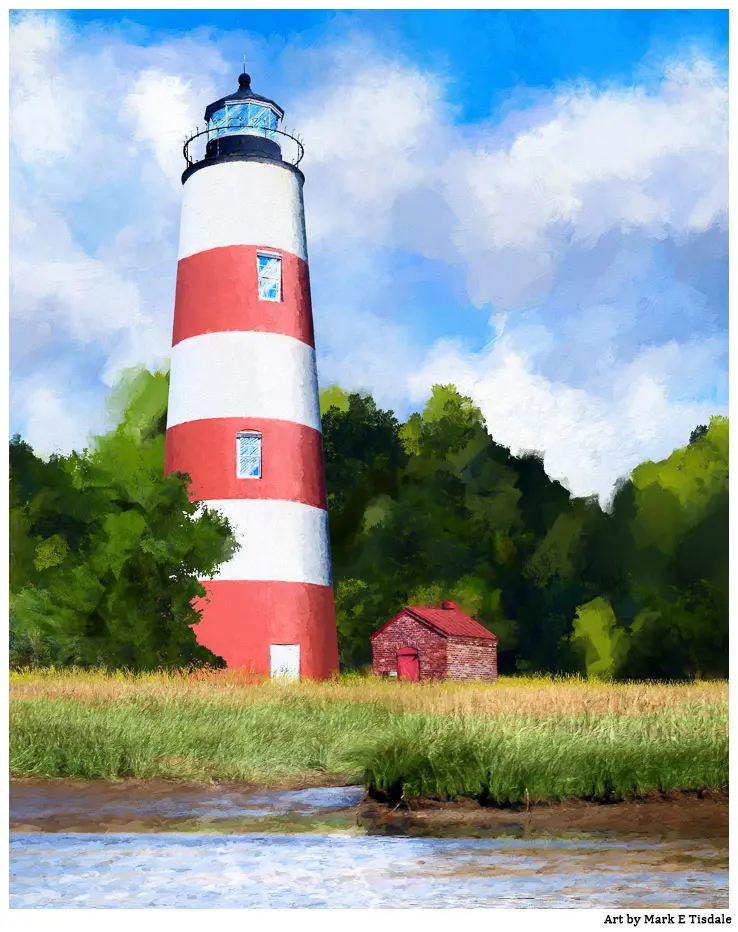 Aside from simply being a beautiful lighthouse in an idyllic setting, Sapelo Lighthouse is the second oldest surviving brick lighthouse in the United States. And it's the oldest survivor of lighthouses designed by Winslow Lewis. He apparently also built the original keeper's cottage that was on Sapelo Island. That building no longer exists. For a time there was a legend that the cottage was inhabited by Georgia founder, James Edward Oglethorpe, but it was built after his time. The little building you may have noticed to the right of the lighthouse in this artwork was the oil house that once stored the flammable power source for the light.
I would love to hear your thoughts about this artwork or the Sapelo Lighthouse in general. Feel free to respond in the comments below or send a message. What attracts you to this particular lighthouse art? Personal memories of visiting Sapelo Island or simply a love of lighthouses in general which I can certainly understand!