Starr's Mill – Historic Georgia Grist Mill
I always enjoy featuring local Georgia scenes in my work and Starr's Mill was no exception. That beautiful red Grist Mill would have attracted my attention wherever it stood but the fact that it's located in my home state was icing on the cake.
This is actually a subject that was suggested to me by a follower on Facebook. I'm sure there are plenty of cool places in Georgia of which I have no knowledge. And the old grist mill near Senoia in Fayette County fell into that category. When I saw Starr's Mill, I understood why it had been suggested as a subject. Between the history and setting, it ticks all the boxes for me, how about you?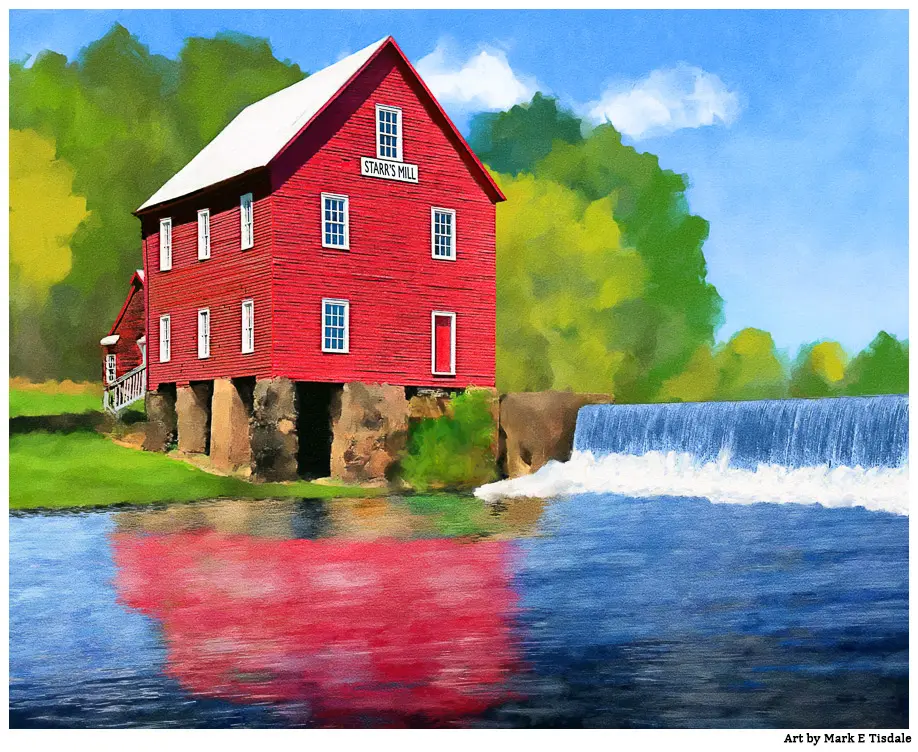 If you don't know the history of Starr's Mill, it actually dates back nearly two centuries. There was a mill on this location along Whitewater Creek in Fayette County as far back as 1825. But it wasn't known by that name then. During the period of 1866 to 1879, Hilliard Starr owned the mill. His name became not only the name of the grist mill but for the community of Starrs Mill that grew up around it. The current building was built in 1907 following a fire that destroyed the older buildings. The mill operated until 1959.
I only learned this recently but Starr's Mill was apparently used as a filming location for Sweet Home Alabama. In the 2002 Reese Witherspoon film, the old grist mill stood in for Deep South Glass the business run by Jake (Josh Lucas). It was fun finding that out but I have to say it makes sense. I can totally understand this being a choice spot for a filming location. Can't you?
Do you know any other trivia related to Starr's Mill in Fayette County, Georgia? Or maybe you have suggestions for future subjects you'd like to suggest for local Georgia artwork? Please feel free to send a message or reply in the comments!