Starry Night Skies Over The Beach At Tybee Island
It's not often that I can say one of my pieces was the stuff of dreams, but it seems my most recent artwork falls into that ethereal camp.
I woke up in the middle of the night with the clearest image in my mind of the night sky over the pier at the beach on Tybee Island. Considering how fully asleep I had been it was amazingly clear in my mind when I sat up in bed, right down to what photo would work best as the starting point.
You see, the only day I spent on the beach at Tybee during my so far only visit there, the sunset was stunning, but of course the sun sets behind the beach in the west, not the east over the ocean. And dusk over the water was rather bleak with cloud filled skies. So when the last of the sunlight left the scene, all the contrast was gone. There was no opportunity for dusk blue skies never mind stars over the Atlantic. But one of those last photos of the gentle waves washing across the beach is still where I began as I headed to the computer in the dark of night.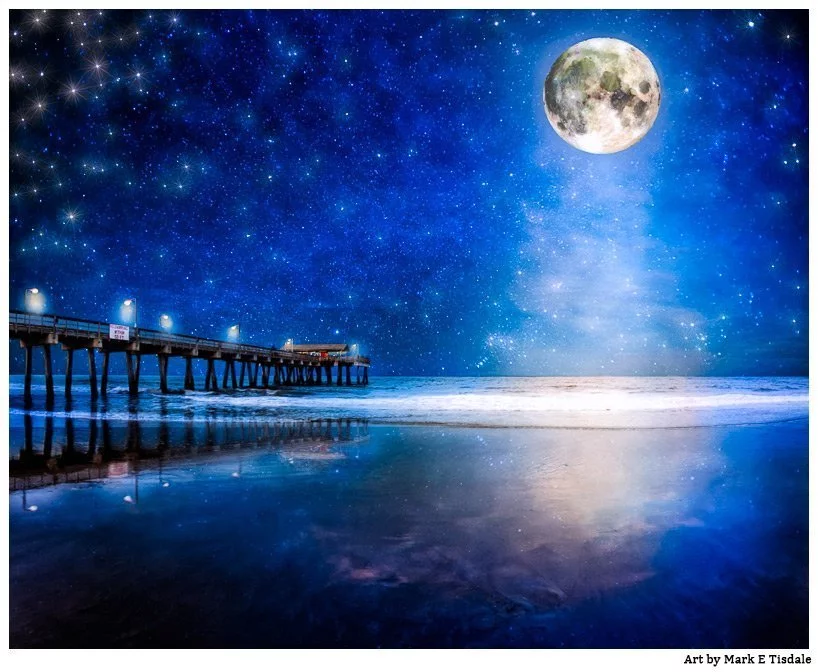 I can't tell you how often I re-work images. I'm afraid it might border on the pathological, but it's part of a perfectionist nature that's always been there, and inevitably hours or days later, I find something about an image that bugs me. It might be something so small that no one else would even notice or it might be a completely new direction, but it happens with some frequency. Often as soon as I upload a new artwork, I'll see something that bugs me and immediately change and replace it. It really is that fast and common that I become hyper-critical of my own work. I've no big need for critics, I'm my own worst enemy in that regard.
So, I have to say that this starry night over Tybee Island artwork is one of the rare instances where I haven't found myself tinkering with it at all, even a couple of days later. In fact, every time I look at it, I'm just totally happy with it. I've even found myself lost in though staring at it. If you've never had the experience of nit-picking your own work to death, this may not be as shocking to you. But I have always been more critical of my artwork than I am of others.
And I think I'm shocked how closely it matches that mental image of Tybee beach that I had as I rubbed the sleep from my eyes. I'd say it's far more common for me to have a general idea about an image than something this specific, so that makes this starry night reflecting on the wet beach a very special child in my eyes.
If you follow me online, you may have already seen this, but I also wanted to say it was so special that I decided to set up a limited time offer through Fine Art America for a canvas print for this one. So if you love Tybee Island, beaches in general or art, please take a look. And if you have friends who you think might be interested, please do share with them. Sharing is most appreciated!
Limited Time Promotion – Moon Over The Beach At Tybee Island Stretched Canvas Print
And if you discover the above link is no longer live, alas, it means the promotion has ended, but the artwork is still available. In that case, just click on the image up top.