Well, anything profound I had to say about art contests I got out of the way in the last update! So, this should be mercifully short.  Round one ended this evening and my photo from Galway Ireland which had the most votes for my entries topped out at 173 votes – short of the 250 needed in the contest.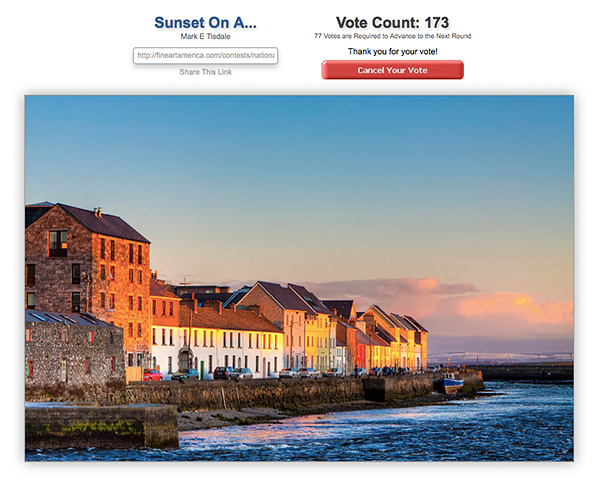 More Than A Contest
It may not have been enough votes to get me into round two of the contest, but I wanted to post a thank you message no matter what. I appreciate the support not only of the people who took the time to sit down and vote but for those who shared my message  in various social media and beyond. Of course, I did not get to see all of those messages, but the ones I did see were incredibly supportive, not just of my effort in this contest but of my work as a visual artist. In addition to some always supportive friends, people whose lives keep them so busy I rarely hear a peep from them had some beautiful things to say and, well, I was proud.
Even though my art hangs on quite a few walls, there are still times when making it all work can mentally be a pretty rough slog. I'm going to do my best to keep some of the comments you all made during this contest in mind the next time I feel like I'm going up hill in the mud!
Non-Contest Related
And one quick time sensitive update for those who love to read. You may recall I recently sent out an update that a book was available that featured my work on the cover. Well, the author is doing an American Independence Day special that ends on July 3rd. The book is free! So if you like reading mysteries, take her up on the offer and enjoy your reading! And by the way, it's the first in a series of books and she's already hard at work on the next book in the series!
Get the book here: Deep South Dead (Hunter Jones Mystery)
Thanks again everyone!