Cape Cod Salt Marsh Landscape Art
My latest landscape art features a sweeping natural scene depicting a Cape Cod Salt Marsh. Massachusetts's Cape Cod is a landscape made up of estuaries and salt marshes bound on the margins of both sides of the cape. My first experience with a salt marsh was actually in my home state of Georgia near Tybee Island. At the time I hadn't read anything about tidal wetlands. The landscape itself was what caught my eye and made me pull over. But once I was there and the grasses spread out seemingly beyond reach, I became aware of the tons of living creatures that call these places home. If you've stood in a marsh here or in Cape Cod or elsewhere, you've likely experienced the same and you understand the need to preserve them. Apparently the Cape Cod National Seashore is actively working to save views like the one depicted here not just for their aesthetic beauty but for the ecosystems that depend on these places.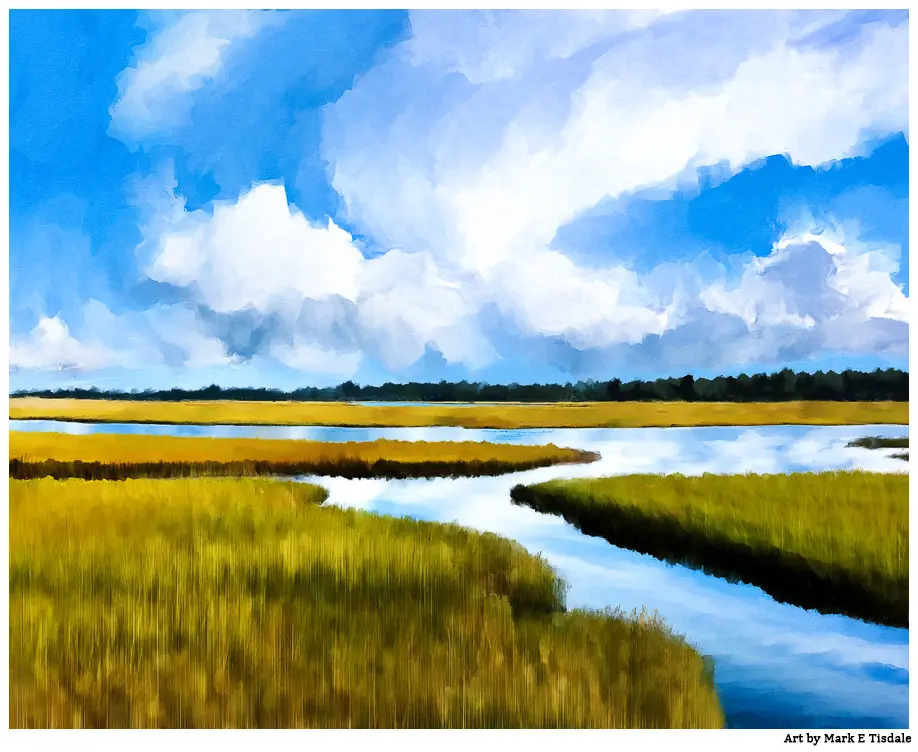 The starting point for this Cape Cod Salt Marsh landscape art was a lovely photo I discovered online while looking for some landscape inspiration. I loved the way the water and marsh grasses flowed in the photo, but in my mind's eye I saw an equally dramatic sky overhead. The final piece contains the same joy of nature, the natural hues of green and gold in the landscape and the blues of the sky both above and reflected in the water. But it comes together in a bit more abstract or dreamy interpretation.
Part of the inspiration was also my memories of the Georgia Coast. When I was working on my Sapelo Lighthouse artwork, I was reminded of the sweeping views of the marshes along our barrier islands. That was the reason I ended up searching for salt marsh scenes.
And I'm so glad for the all the inspiration. The resulting abstract landscape art is one that bring me a strong sense of inner peace when I look at it. I almost feel as if I'm standing there in the Cape Cod salt marsh and the only sound is the creatures that call this place their home.
What are your thoughts about this artwork? Does it remind you of Cape Cod if you've been? or perhaps there's another salt marsh that holds your heart and this takes you there? I hope you'll take a moment to leave your thoughts in the comments below or you can send a message with your thoughts or questions.
If you liked this Cape Cod Landscape Art, you might also enjoy viewing the below: