Dublin's very foundations lie many centuries ago along the River Liffey.  Though the Vikings wouldn't recognize Dublin today, the city still straddles the Liffey.  For many years the fashionable addresses in Dublin lay north of the Liffey.  For many years after the scene had moved south. And all the old Georgian properties north of the river became a bit seedy and neglected.  Happily in more recent times the city has been putting money towards reviving the falling star of Dublin's north side.  But there's a lot of insight into things in Dublin which can be gleaned from a joke I heard in Dublin, "What do you call someone from North Dublin in court?"  Answer, "The Defendant."
This is one of my favorite shots from the Liffey, this is a panorama combining multiple single exposures of the northern side of the river.  This is actually a distorted view, the river bank, being built up, is really quite straight, but such is the nature of a very large panoramic scene like this.  I was determined to shoot it large like this to capture those amazing clouds.  There was a lot of light from the south this afternoon striking the northern bank which was still shrouded in clouds, really a beautiful view.  I could have wandered with the camera for ages had the day been longer. I always feel jealous of the people who lie in some of the places I visit, to always have these places to photograph at their doorstep, but truthfully sometime, it really is a matter of luck with the weather, of being there at just the right time. I'll take solace in that…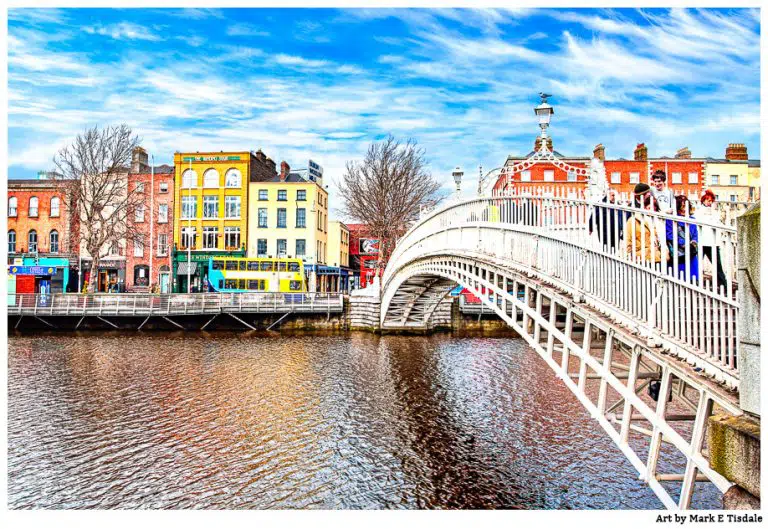 A daytime view of Dublin's Ha'penny Bridge (also seen in Dublin Nights collection). This was Ireland's first cast iron bridge, built in the early 1800's.  Originally called the Liffey Bridge, it came to be known as the Ha'penny bridge because it cost a half penny for each crossing of it for over a 100 years after it opened.  Today it's free to cross and is enjoyed by plenty of tourists crossing this historic river.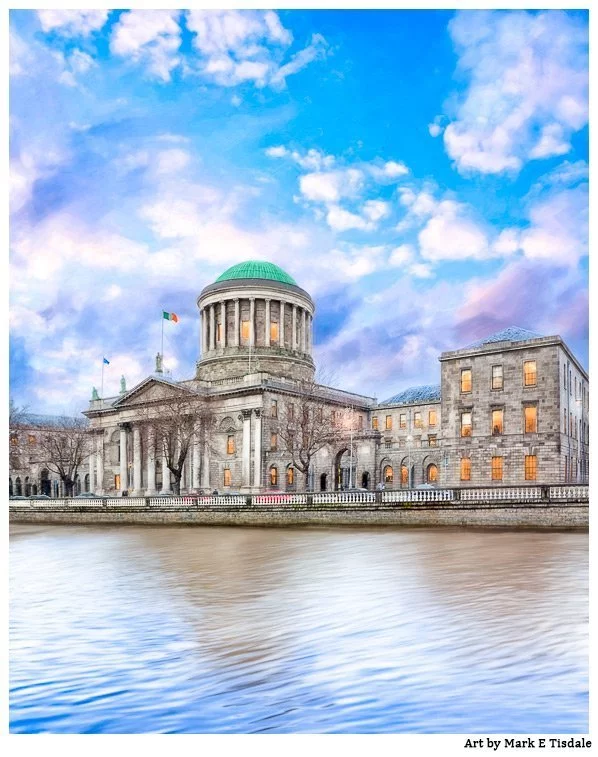 One more photo from Dublin's River Liffey.  In the winter the light is all going this way (i.e. to the north from the south), but it's also where some of the most magnificent buildings lie, like these law courts.  This domed building is known as the Four Courts.  Built in the late 1700's, it once housed documents covering 1,000 years of Irish history.  The building was damaged and the records lost in the war for independence.  The exterior was renovated and the interior was completely re-done to better suit modern court needs.  Still, beautiful to behold I think, and I felt the soft light in this photo was very well suited to a textured photo art approach. The result is quite painterly and feels like a classic image of the city.
If you enjoyed these, I hope you'll check out more prints from Dublin  in my Ireland prints collection.