Pensacola Beach Sunset Art
This Pensacola beach sunset art shows a joyful and calming scene of the Pensacola Beach Fishing Pier at Casino Beach. There's been a fishing pier here since the 1930's. In 1931, the Pensacola Bay Bridge opened allowing traffic and development to come to the then new Casino Beach Resort on Santa Rosa Island. The original pier was quickly a favorite for beach-goers. That pier made it through decades of weather and storms before needing to be rebuilt in the 1990s, which is the one seen here. Apparently the existing one is due for an extensive remodel as well. Aside from the fact I personally love to know the history of places, this is to say that regardless of when you've visited or called Pensacola home, this landmark pier is likely one that you'll recognize.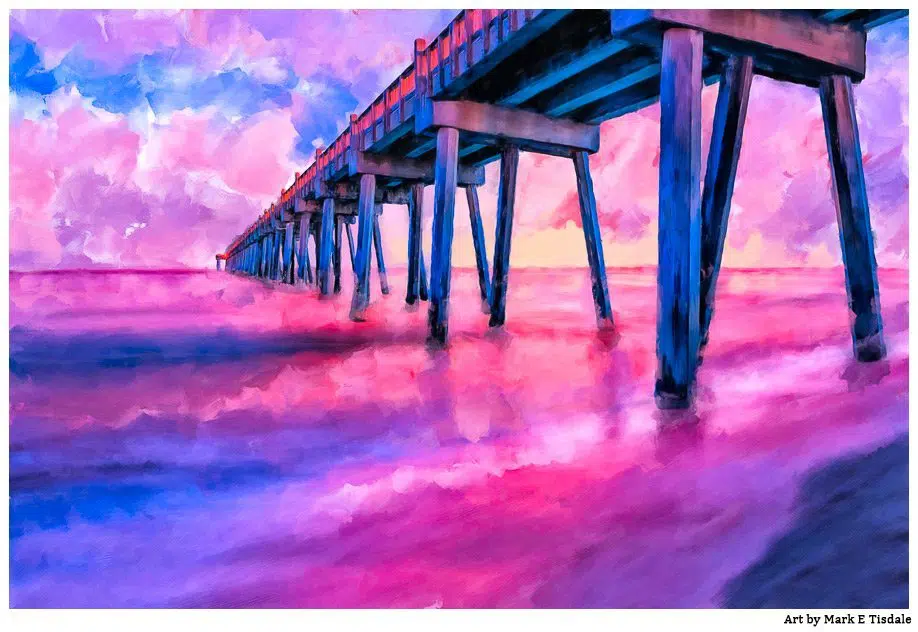 The ocean and sky in this Pensacola Beach sunset art is a wash of pink and blue. When I look at this, my cares melt away just as they do when I'm on an actual beach watching the sun sink over the horizon. Between the pilings of the pier you can get a glimpse of a little warm gold on the horizon that suggests we've just missed the sun make its exit.
I'd love to hear your thoughts on this artwork. If you're familiar with the location, I'd love to know if this artwork of the pier stirs any memories? Of course sunsets on the water are something many of us like whether the location is somewhere we've been or not or for that matter whether the location is real or imagined. For me, it's down to uplifting colors and I love the way structures like piers lead ones eyes through an artwork that includes water.
But I hope you will pause to share your thoughts, too. What about this scene speaks to you? You can share your thoughts in the comments below or you can send a message to me instead if you'd prefer.