Ballet Dancer – Teddy Bear Greeting Card
Not mass produced – All prints and other physical items are made individually for your order.
Ships Within: 2 to 4 business days
About This Image
Ballet Dancer – Teddy Bear 5×7 Greeting Card by Mark Tisdale.
This Teddy Bear greeting card depicts a ballet dancer. This cute Teddy bear is wearing a pink tutu and has a look that suggests they've had a great time! Just finished recital or a good practice? I'll let you be the judge! Or maybe this little Teddy Bear is just proud of their new clothes? The important thing is they are having a good time which I hoped to convey in the artwork printed on this Teddy Bear greeting card.
What do you think of this scene? Is it something you'd like for your child's room or if you are young at heart maybe you want it for yourself? I definitely try to count myself in the young at heart category, especially where art and fiction are concerned. Why let the kids have all the fun, eh?
If you have questions about my work, this greeting card or indeed any of the products I offer on my shop, please drop me a message.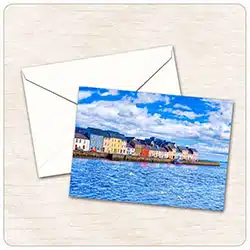 Greeting Cards – Product Information
Greeting cards are 5″ x 7″ in size and are produced on digital offset printers using 100 lb. paper stock. Each card is coated with a UV protectant on the outside surface which produces a semi-gloss finish. Each card comes with a white envelope.
These greeting cards may be ordered as a single card or in packs of 10 or 25 cards.
If you encounter difficulty accessing the on-site purchase button at the top of the page, please use this button to shop directly from Pixels/Fine Art America, the vendor who handles fulfillment for these products. And please notify me!