Britain In Autumn – Red Telephone Box Greeting Card
Not mass produced – All prints and other physical items are made individually for your order.
Ships Within: 2 to 4 business days
About This Image
Britain In Autumn – Red Telephone Box 5×7 Greeting Card by Mark Tisdale.
This red telephone box greeting card features Britain in autumn. The time of the year when the leaves change color is definitely my favorite time of the year so there was never any question in my mind that this scene in my British seasons series was going to feature glorious fall color! In this artwork, the classic red telephone box is complemented by a riot of orange and gold leaves. The whole backdrop is essentially the color of autumn with a handful of leaves blowing past the phone booth. That echoes the flowers in the spring entry in this series.
This Britain in autumn artwork card  is an excellent choice for anyone who loves autumn and vintage red telephone boxes. This is a card that can be shared and displayed by the recipient whether it's for you or a friend.
Other seasons in this series: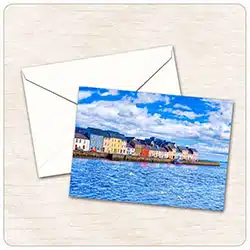 Greeting Cards – Product Information
Greeting cards are 5″ x 7″ in size and are produced on digital offset printers using 100 lb. paper stock. Each card is coated with a UV protectant on the outside surface which produces a semi-gloss finish. Each card comes with a white envelope.
These greeting cards may be ordered as a single card or in packs of 10 or 25 cards.
If you encounter difficulty accessing the on-site purchase button at the top of the page, please use this button to shop directly from Pixels/Fine Art America, the vendor who handles fulfillment for these products. And please notify me!