Britain in Spring – Red Telephone Box Greeting Card
Not mass produced – All prints and other physical items are made individually for your order.
Ships Within: 2 to 4 business days
About This Image
Britain in Spring – Red Telephone Box 5×7 Greeting Card by Mark Tisdale.
The subject of this red telephone box greeting card is Britain in Spring. I don't often think in series when I do my work, but a series of phone boxes through the seasons was great fun to do. My love affair with the British red phone booth goes back to a time well before I first saw one in person. To be honest, I don't remember when I first saw a picture of one but it may have been after my Uncle's trip to the UK and Europe when I was about five years old. That's my suspicion anyway.
Whatever the source by the time I saw them in person, it was not a disappointment. There's just something about the eye catching red color and the style of them that appeals to me more than may be reasonable. This Britain in Spring artwork was the first in the series and I knew instantly I wanted to see a stylized cherry tree with blossoms blowing past. I'm not sure I have a favorite in the series. Each has their own meaning for me. Spring is about renewal which the flower blossoms capture. And the red telephone box in this print, like the real thing is more solid and concrete – an observer of the passing seasons year in and year out.
The red telephone box image on this card makes a great keepsake that can be shared and displayed by you or the recipient.
Other seasons in this series: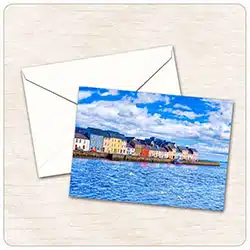 Greeting Cards – Product Information
Greeting cards are 5″ x 7″ in size and are produced on digital offset printers using 100 lb. paper stock. Each card is coated with a UV protectant on the outside surface which produces a semi-gloss finish. Each card comes with a white envelope.
These greeting cards may be ordered as a single card or in packs of 10 or 25 cards.
If you encounter difficulty accessing the on-site purchase button at the top of the page, please use this button to shop directly from Pixels/Fine Art America, the vendor who handles fulfillment for these products. And please notify me!