Chattahoochee by Moonlight – Georgia Greeting Card
Not mass produced – All prints and other physical items are made individually for your order.
Ships Within: 2 to 4 business days
About This Image
Chattahoochee by Moonlight – 5×7 Georgia Greeting Card by Mark Tisdale
This Georgia greeting card depicts the Chattahoochee by moonlight. This is a magical landscape of one of Georgia's meandering old rivers. The Chattahoochee River starts in the southern Blue Ridge Mountains and 430 miles later merges with the Flint River and smaller tributaries at Georgia's southwestern corner where the combined rivers become the Apalachicola River. Considering it crosses Atlanta in its path a significant part of our state's population must live near the banks of the Chattahoochee.
I would love to hear what attracted you to the image on this Chattahoochee River greeting card? Were you looking for Georgia art specifically or did you simply enjoy the magical moonlit river despite never having seen it? I hope you'll share your thoughts and any questions you may have by dropping me a message.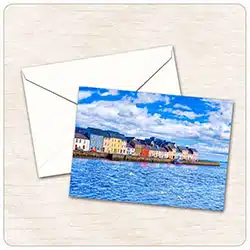 Greeting Cards – Product Information
Greeting cards are 5″ x 7″ in size and are produced on digital offset printers using 100 lb. paper stock. Each card is coated with a UV protectant on the outside surface which produces a semi-gloss finish. Each card comes with a white envelope.
These greeting cards may be ordered as a single card or in packs of 10 or 25 cards.
If you encounter difficulty accessing the on-site purchase button at the top of the page, please use this button to shop directly from Pixels/Fine Art America, the vendor who handles fulfillment for these products. And please notify me!