Kilt Rock and Mealt Falls – Coastal Isle of Skye Greeting Card
Not mass produced – All prints and other physical items are made individually for your order.
Ships Within: 2 to 4 business days
About This Image
Kilt Rock and Mealt Falls – Coastal Isle of Skye 5×7 Greeting Card by Mark Tisdale
This coastal Isle of skye greeting card features a view of Mealt Falls and what is known as Kilt Rock on the rugged and simply amazing coastline. Kilt Rock, if you are not aware is named such because it resembles the pleats of a kilt.
What I saw of the Scottish Highlands and Islands has left me wanting more every since. If I had been traveling on my own, though, I probably never would have left Skye. And look at that view, does that seem like a bad thing? It was just that singularly beautiful to me. There's a reason that fantasy films are sometimes filmed in this amazing landscape. Those waterfalls tumbling into the sea on their own look like something that was dreamed up rather than reality don't they?
Whenever I look back at the image on this Isle of Skye greeting card, I'm reminded of a number of epic fantasies where the hero arrives at the edge of the world. Inevitably, the climax of the film seems to always be a sheer drop and tumbling waterfalls. In other words, it always looks something like this rugged and picturesque Scottish coast.
I would enjoy hearing what attracted you to this Isle of Skye greeting card? Have you seen Kilt Rock and Mealt Falls in person? Or do you simply enjoy epic and amazing landscapes like this? If you have thoughts you'd like to share or questions you'd like answered, please drop me a message.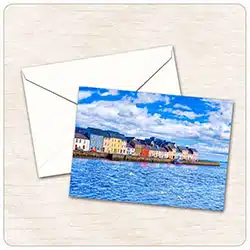 Greeting Cards – Product Information
Greeting cards are 5″ x 7″ in size and are produced on digital offset printers using 100 lb. paper stock. Each card is coated with a UV protectant on the outside surface which produces a semi-gloss finish. Each card comes with a white envelope.
These greeting cards may be ordered as a single card or in packs of 10 or 25 cards.
If you encounter difficulty accessing the on-site purchase button at the top of the page, please use this button to shop directly from Pixels/Fine Art America, the vendor who handles fulfillment for these products. And please notify me!