Paris In The Rain – Eiffel Tower Greeting Card
Not mass produced – All prints and other physical items are made individually for your order.
Ships Within: 2 to 4 business days
About This Image
Paris In The Rain – Eiffel Tower 5×7 Greeting Card by Mark Tisdale
This Eiffel tower greeting card features a night view of Paris in the rain. While the rain is coming down there's a couple together under an umbrella together enjoying Paris together. There's a real feeling of romance and fun in this artwork. It gives both a sense of place and the spirit of the moment. Can you see yourself in this scene? Do you think the couple is visiting Paris or do they call it home?
I would enjoy hearing what attracted you to the Eiffel tower artwork on this card? Does it remind you of a trip to Paris with someone special? Or do you simply like the vibe of the moment captured? If you'd like to send me a comment or a question, please drop me a note.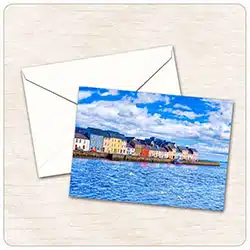 Greeting Cards – Product Information
Greeting cards are 5″ x 7″ in size and are produced on digital offset printers using 100 lb. paper stock. Each card is coated with a UV protectant on the outside surface which produces a semi-gloss finish. Each card comes with a white envelope.
These greeting cards may be ordered as a single card or in packs of 10 or 25 cards.
If you encounter difficulty accessing the on-site purchase button at the top of the page, please use this button to shop directly from Pixels/Fine Art America, the vendor who handles fulfillment for these products. And please notify me!