1955 Chevy Pickup – Classic Truck Greeting Card
Not mass produced – All prints and other physical items are made individually for your order.
Ships Within: 2 to 4 business days
About This Image
1955 Chevy Pickup – 5×7 Classic Truck Greeting Card by Mark Tisdale.
The subject of this classic truck greeting card is a blue 1955 Chevy Pickup. It's depicted in a farm landscape with a classic red barn and old silo. The concept for the farm art on this card started with the backdrop. I knew when I started that I wanted to feature a classic truck and that I wanted it to be blue, but the actual choice for the truck came last.
But as soon as I saw the beautiful styling of that old Chevrolet truck, I knew I had the perfect truck to pair with this colorful farm scene. The red white and blue motif hit me as not only a very American color scheme but a nice set of bright cheerful colors that could appeal to many. A great image for a cheery card to share and that can also be framed and treasured.
What stands out in the art on this classic truck greeting card for you? Do you have a think specifically for 1955 Chevy Pickups? Or do  you just generally like art that depicts farm life? I hope you'll take a moment to share your thoughts about what attracted you and what sort of art you were looking for? Keep in mind that I welcome requests if you like my style but the subject you were looking for is different than seen here.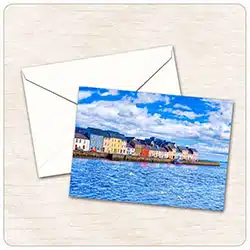 Greeting Cards – Product Information
Greeting cards are 5″ x 7″ in size and are produced on digital offset printers using 100 lb. paper stock. Each card is coated with a UV protectant on the outside surface which produces a semi-gloss finish. Each card comes with a white envelope.
These greeting cards may be ordered as a single card or in packs of 10 or 25 cards.
If you encounter difficulty accessing the on-site purchase button at the top of the page, please use this button to shop directly from Pixels/Fine Art America, the vendor who handles fulfillment for these products. And please notify me!