1956 Chevy Bel Air – Classic Car Greeting Card
Not mass produced – All prints and other physical items are made individually for your order.
Ships Within: 2 to 4 business days
About This Image
1956 Chevy Bel Air – 5×7 Classic Car Greeting Card by Mark Tisdale.
This classic car greeting card features a two tone blue 1956 Chevy Bel Air. It's depicted on the streets of a city at night with a colorful cast of colors reflecting on the metal and glass of that classic Chevrolet.
I'm perhaps not a traditional fan of classic cars. I don't know the ins and outs of their motors, etc. But I do love the style of those classics – you can see the dawning jet age in all those details can't you! The design of these classic cars were artwork unto themselves.
Today's cars by comparison all look so much alike. There's some irony in that. The Classic Chevy and its brethren were inspired by the dawn of the jet age. Everything looked sleek and aerodynamic. Today's cars have been wind tunnel tested and designed for maximum efficiency and that pretty much makes them all look the same. Aerodynamics doesn't care if you're a Chevy or a Ford!
And I have a personal fondness for classic Chevy cars. I grew up hearing about them from my Mom whose father, who owned a string of Chevy cars during his lifetime – he spent 46 years as a rural mail carrier and traded cars every two years. So, I look at these classic 1950's cars and remember the stories I heard about my Mom's childhood.
I'm sure many of you out there looking at the image on this Chevy greeting card have your own sentimental connections to them, don't you? What is it that brought you to this particular piece of classic car art? Did you once own a 1956 Chevy? Maybe it's because it's connected with a significant year in your life? Or do you just love classic cars in general and want to surround yourself with them? I hope you'll pause a moment to share your story and thoughts on the artwork on this 1956 Chevy Bel Air greeting card.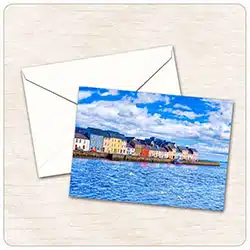 Greeting Cards – Product Information
Greeting cards are 5″ x 7″ in size and are produced on digital offset printers using 100 lb. paper stock. Each card is coated with a UV protectant on the outside surface which produces a semi-gloss finish. Each card comes with a white envelope.
These greeting cards may be ordered as a single card or in packs of 10 or 25 cards.
If you encounter difficulty accessing the on-site purchase button at the top of the page, please use this button to shop directly from Pixels/Fine Art America, the vendor who handles fulfillment for these products. And please notify me!