Alabama Theatre Marquee Blueprint Greeting Card
Not mass produced – All prints and other physical items are made individually for your order.
Ships Within: 2 to 4 business days
About This Image
Alabama Theatre Marquee Blueprint 5×7 Greeting Card by Mark Tisdale.
This greeting card features an Alabama theatre marquee blueprint design. There's just something about the style of old signs like the Alabama Theatre Marquee that speak to some of us. Those old marquees hearken back to the golden age of American movie palaces. It was a time when those old theaters were a new and different experience. Vaudeville stages were not yet a thing of the past and any night out at the movies was an unparalleled adventure. Not only did the movies provide an experience of being transported to another world, the theaters themselves were built in a fantastical style.
And the Alabama Theatre Marquee in Birmingham exemplifies that style. Imagine this classic old sign in the night sky in the 1920s in a world where the electric light is still a relatively new invention! It's a beautiful sight today but it must have been truly magical back then!
The vintage style of the Alabama Theatre marquee was what I wanted to capture in this blueprint inspired design. It evokes a feeling of a long ago blueprint plan made of that classic old sign before it ever reached into the skies in downtown Birmingham. After being well worn by the builders, perhaps it has spent the passing decades in the back of an old cabinet? Thus the signs of patina you see in the artwork on this Alabama greeting card.
The image on this Birmingham greeting card  is based on detailed drawings done by the US Government's Historic American Building Survey in the 1990s. They documented the historic building as well as the Alabama Theatre Marquee in some detail at the time. Each and every bulb in this detailed artwork reflects the actual vintage sign. Even with such a detailed starting point, the level of precision made creating such a refined piece of art quite time consuming but nonetheless enjoyable.
Do you have fond memories of the Alabama Theatre Marquee? I would enjoy hearing what attracts you to this print? Do you have an architectural background or do you love art that has a vintage feeling?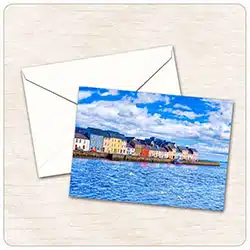 Greeting Cards – Product Information
Greeting cards are 5″ x 7″ in size and are produced on digital offset printers using 100 lb. paper stock. Each card is coated with a UV protectant on the outside surface which produces a semi-gloss finish. Each card comes with a white envelope.
These greeting cards may be ordered as a single card or in packs of 10 or 25 cards.
If you encounter difficulty accessing the on-site purchase button at the top of the page, please use this button to shop directly from Pixels/Fine Art America, the vendor who handles fulfillment for these products. And please notify me!