Andalusia High School – Old Main Greeting Card
Not mass produced – All prints and other physical items are made individually for your order.
Ships Within: 2 to 4 business days
About This Image
Andalusia High School – Old Main 5×7 Greeting Card by Mark Tisdale
This Alabama greeting card features the classic "Old Main" building at Andalusia High School. This building is one of those places I grew up hearing about even though I never attended. My Mom was born and raised in Andalusia, and attended the local schools there, graduating from Andalusia High School. Since my grandmother lived there when I was small, some of my earliest memories are from that beautiful city in Covington County just above the Florida panhandle. As years passed, there were fewer family members still living there and we visited less often. but Andalusia will always be the place where some of my earliest personal memories reside.
I've always been impressed by the spirit of continuity and tradition that seems to revolve around Andalusia High School. I heard about it growing up and I saw it first hand while visiting during homecoming once several years ago. In fact this print of "Old Main" is based on photos I took on that visit. The sense of community among both the locals and the visiting alumni was palpable. Even though many didn't live there anymore it was clearly still "home" to them.
The continuity of Andalusia High School extends even to the building. The current building, Old Main, built in 1939, is not the first high school. Yet it seems like it! In fact, where the Elementary schools in Andalusia have been replaced in my lifetime, Andalusia High School has had new wings added and renovations. The citizens of Andalusia seem inclined to keep that part of their heritage intact. And it's a beautiful building, can you blame them?
Did you attend school in the building depicted on this Andalusia greeting card? Or does the strong sense of classic Americana appeal to you? I hope you might take a moment to share what attracted you to this particular art.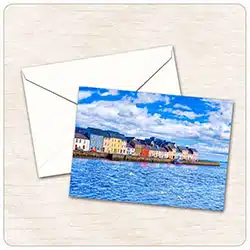 Greeting Cards – Product Information
Greeting cards are 5″ x 7″ in size and are produced on digital offset printers using 100 lb. paper stock. Each card is coated with a UV protectant on the outside surface which produces a semi-gloss finish. Each card comes with a white envelope.
These greeting cards may be ordered as a single card or in packs of 10 or 25 cards.
If you encounter difficulty accessing the on-site purchase button at the top of the page, please use this button to shop directly from Pixels/Fine Art America, the vendor who handles fulfillment for these products. And please notify me!